Cleaning your fridge and cooking a simple and delicious one-pot dinner? Yes and yes!
You can basically use ANY vegetable lying in your fridge drawer and combine it with a grain of your choice to make this fantastic meal…
To continue on the topic of sustainable living and eating (started in this post), I came up with the idea to give you an example of how to cook and eat more sustainably. This recipe is a good example of how you can combine vegetables you have at home, with the grain of your choice (you preferably also have at home), and with a few selected spices and other add-ins prepare a delicious, nutritious and #nofoodwaste meal.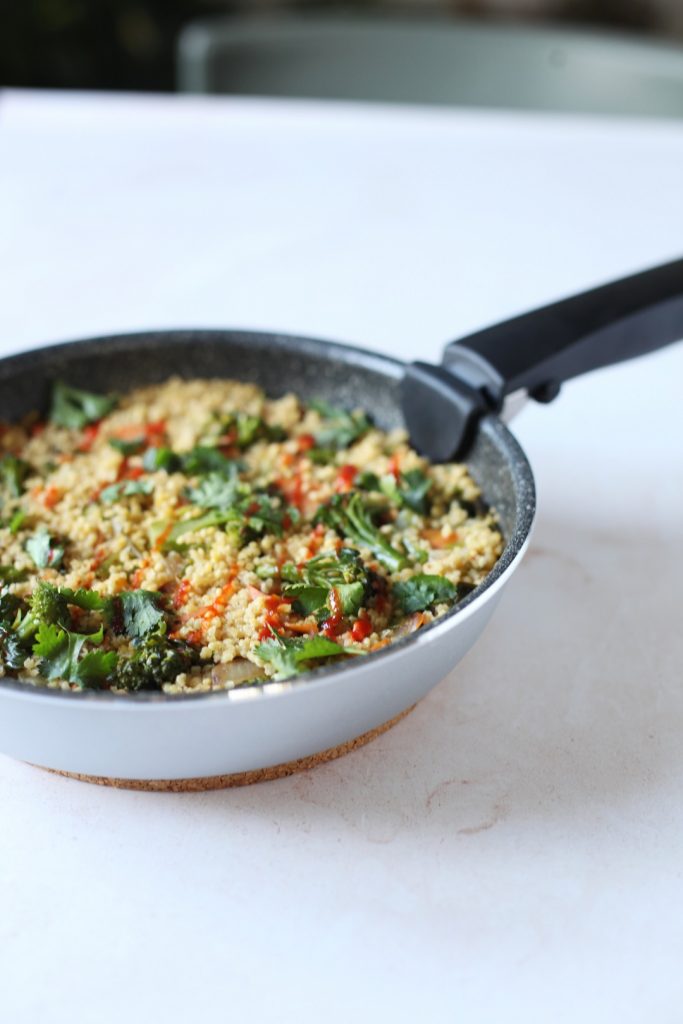 Which vegetables can I use?
For the best taste (and smell) of the dish, at least one type of onion should be used for the base – red onion, shallot, or leek. I used red onion and leeks, along with root vegetable(s) and other vegetables as desired. I went simple, with scallions (now in season) and carrots, and at the end I added a couple of broccoli florets as well. Instead of broccoli, you can add cauliflower, (froze) peas, or something leafy green like spinach or Swiss chard, and in summer also peppers, tomatoes, zucchini… The possibilities are numerous, so be guided by using what you have at home first!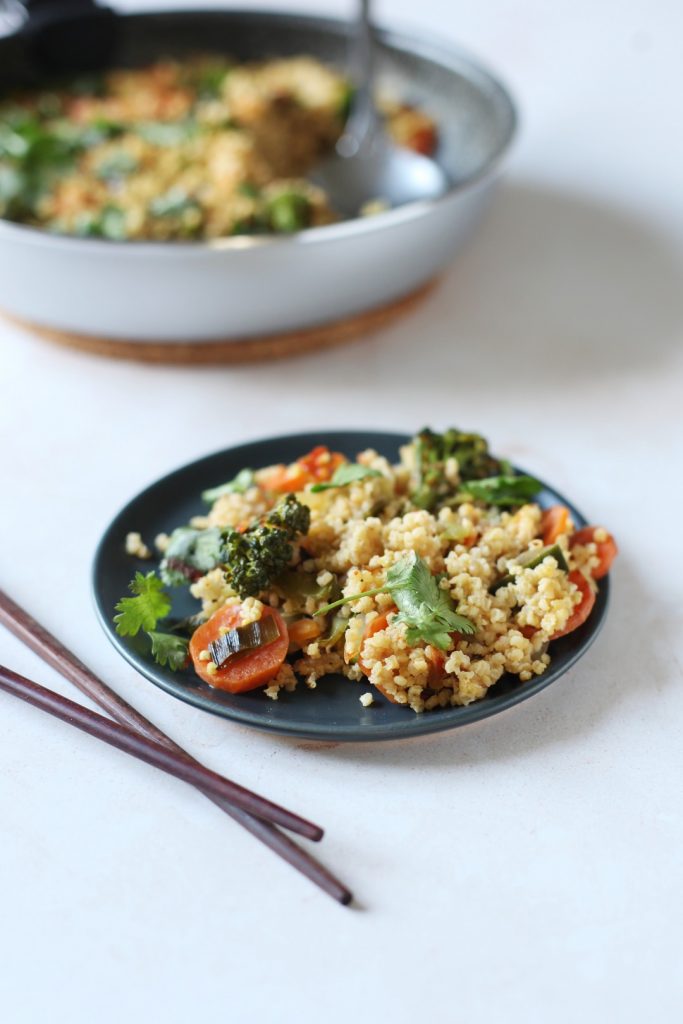 Where's the secret of this one-pot meal?
Special touch to this simple dish is given by using a few spices, some coconut milk for creaminess, Sriracha for spiciness and fresh herbs for the final touch! These will work with most of the vegetables as well as with all types of grains (except buckwheat, I'd say). So let's see that recipe!
MILLET AND VEGETABLE ONE-POT (vegan, gluten-free)
– serves 2 as main –
Prep time: 10 minutes > Cook time: 15 minutes > Total: 25 minutes

Ingredients:
½ red onion (or more), chopped
bunch of green part of leek stalks, finely chopped
3 smaller carrots, sliced ​​into rings
a small piece of cabbage, cut into strips
a couple of broccoli flowers, chopped
good lug of olive oil
½ teaspoons of salt (or more to taste)
½ teaspoons of chilly flakes or powder,
½ teaspoons of garlic powder
1 tablespoon soy sauce
½ cups (120ml) millet, rinsed
2 cups water
1/4 cup full-fat coconut milk
fresh coriander (or parsley)
freshly ground black pepper and Sriracha to taste
Method:
Heat the olive oil in a non-stick pan, then add onion, leeks and carrot, and sauté for a few minutes over medium heat, stirring as needed.
Add the cabbage and spices and continue to simmer for a few more minutes.
After the vegetables are slightly softened, add the millet, soy sauce and water, combine everything, and add the broccoli on top, cover the pan with the lid, and cook for 7-8 minutes.
Towards the end of cooking, pour coconut milk over everything and cook for another 1-2 minutes.
Turn the heat off and finish your one-pot with coriander, freshly ground pepper and Sriracha.