Think of a cookie-like crust, sweet cherry chia jam and rich silky chocolate pudding – all in one bite! You need only wholesome ingredients to make this decadent treat!
if you like cherry and chocolate combination, you will love this tart! I usually prepare very simple desserts, as you can see from my blog archives (I mean, most often I bake cookies, I make lots of raw desserts – like this Raspberry and Vanilla Vegan Cheesecake, or I simply turn pancakes into "cakes" ) and this one is also not far from a simple dessert, but playing with different textures, and especially adding this chocolate pudding on top (!), made this tart a bit more special dessert.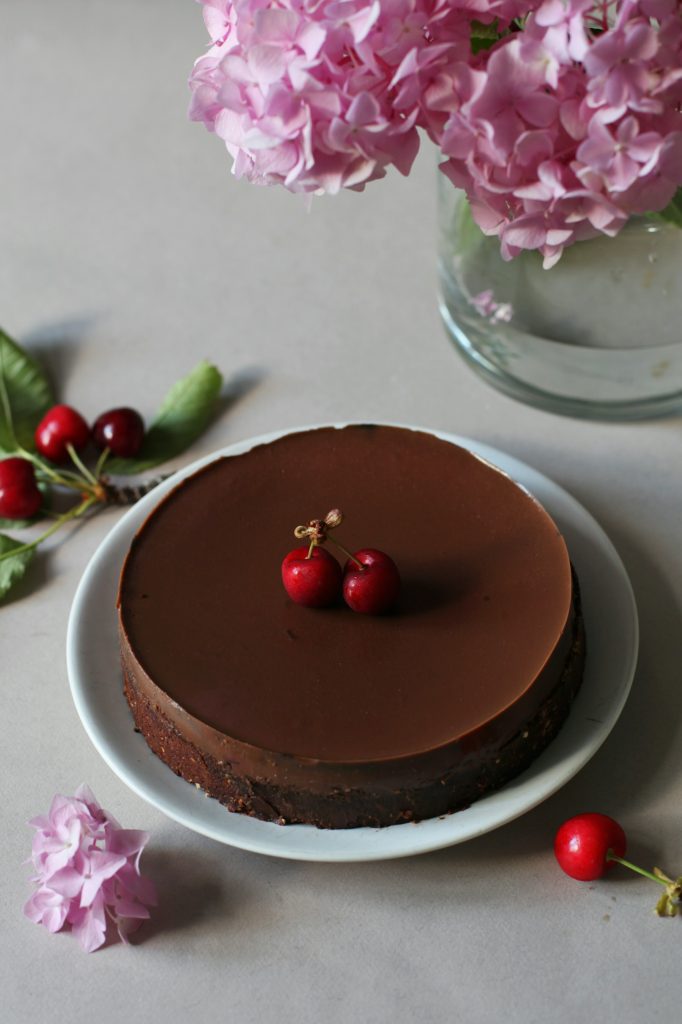 To be honest, this is one fine chocolate dessert, which can be suitable also for birthday celebrations or other special occasions. Silky chocolate pudding made with real chocolate makes this tart rich in flavor and moves it from the strictly "healthy" treat to a more decadent one.
If you enjoy lots of chocolate flavor, definitely stay with the chocolate crust and pudding but play with the filling as you like – You can use other fruits or spread a thin layer of a fruit jam to make a preparation more simple.. But now let's jump to the recipe, enjoy it!
VEGAN DARK CHOCOLATE CHERRY TART (vegan, gluten-free, refined sugar-free)
This recipe first appeared on culinary postcards. author Iva S.
Prep time: 40 minutes (doesn't include cooling time)
Serves 6-8 slices (6 inch round pan)
Ingredients
crust
2/3 cup (80g) oats
1/3 cup (45g) almonds
2 Tablespoons (20g) (raw) cacao
6 Medjool dates*, pitted (or other fresh dates, not full 1/2 cup (110g))
1 teaspoon coconut oil
2 Tablespoons water (or any plantbased milk)
cherry chia jam filling
2 cups (300g) cherries, pitted
¼ cup (60ml) water
2 tablespoons birch sugar (Xylitol)
1 heaping tablespoon chia seeds
dark chocolate pudding layer
3.5 oz (100g) dark chocolate (min. 70% cocoa content)
1 can (400ml) full fat coconut milk
a pinch of salt
1/2 cup minus 1 Tbsp water
2 tsp (4g) agar agar (powder)
2 tsp (5g) tapioca starch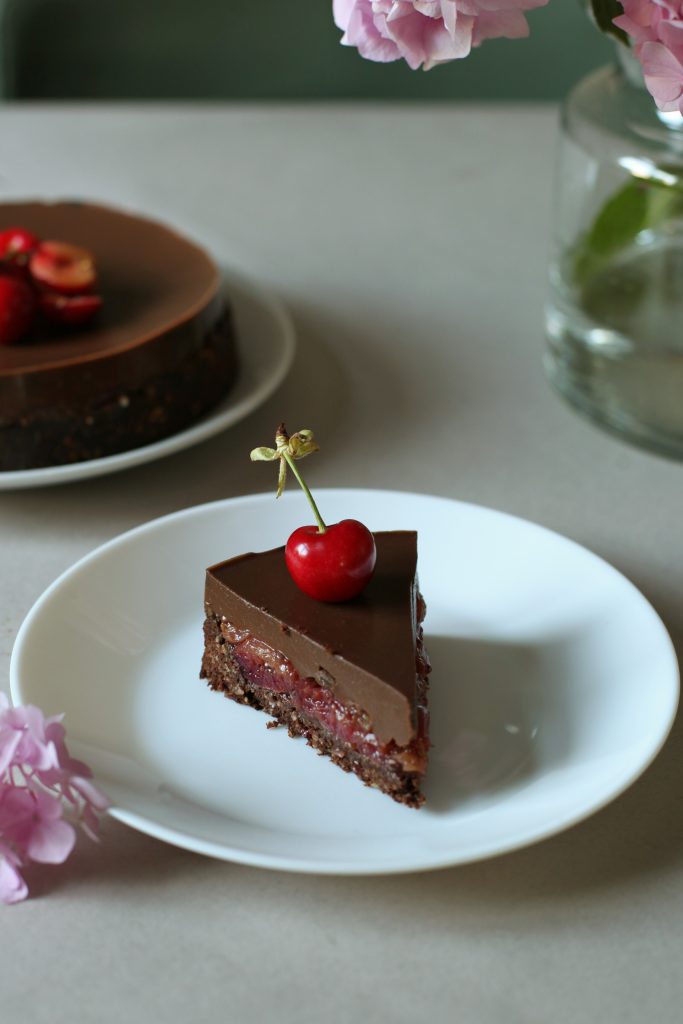 Method:
Preheat the oven to 350F (170C) and line the bottom of a 6 inch round cake pan** with baking paper.
In a blender, combine oats, almonds and dates and pulse a few times until mixture starts to become crumbly. Now add cacao, coconut oil and water and continue pulsing until the dough comes together (in a ball).
Press the crust mixture into the cake pan, also making an edge, and compress it until you get an even layer.
Blind bake for 10 minutes (using pie weights or dried beans to keep the dough down), take it out and leave it to cool.
In the meanwhile, place cherries, sugar and water in heavy bottom pan and simmer for 12-15 min. Stir in chia seeds and leave to sit for at least 5 minutes. You can also do this ahead to save yourself some time; it keeps well in fridge for up to 3 days/alternatively, you can make this kind of cherry filling using tapioca starch/
Place cherry jam filling over a tart base.
Now place chocolate in a bowl over a double boiler (bain marie) until it melts completely (keep your flame on low), stirring occasionally.
Pour the coconut milk into a saucepan, add salt and heat it. over low flame. When chocolate melts, add it to the pan and stir well.
Combine water with agar agar powder in a small cup and slowly add to the coconut-chocolate mixture, stirring until no lumps remain.
Bring the mixture to boil and cook for 3-4 minutes.
Pour the mixture over a cherry jam layer and let cool before transferring to fridge. Keep it in the fridge for a minimum of 4 hours before serving.
Notes
* if you don't have a strong blender, soak dates in hot water for a few minutes before blending.
** Round or rectangle tart pan would be even better, if you have it.
I love hearing your feedback! Leave a comment, e-mail me your pictures, or tag @culinarypostcards and use #ieatbettertofeelbetter when you post it to Instagram.