Kale, quinoa, almond flour, sesame seeds…and a bit more wholesome ingredients, make these fritters a perfectly balanced vegan snack, or a good base for a complete lunch or dinner.
Seeing a fritter standing on its own on a plate does not make a lot of sense, but it's great to have them on hand to put in a sandwich, wrap in a tortilla, eat with some pasta or salad. And when we "stuff" a lot of various and nutritious ingredients into the fritters – quinoa, kale, almonds, sesame seeds – we get the base for a great meal!
I really like using kale in fritters, but if that's not your case, you can switch it for Swiss chard, spinach or even broccoli – anything green will work great in this recipe! Since quinoa is gluten-free, I also used gf oats and almond flour to make the recipe gluten-free, instead of using a regular flour to combine the ingredients well (and keep shape during frying), but if you eat gluten, you can replace almond flour with any (gluten-free) flour or bread crumbs.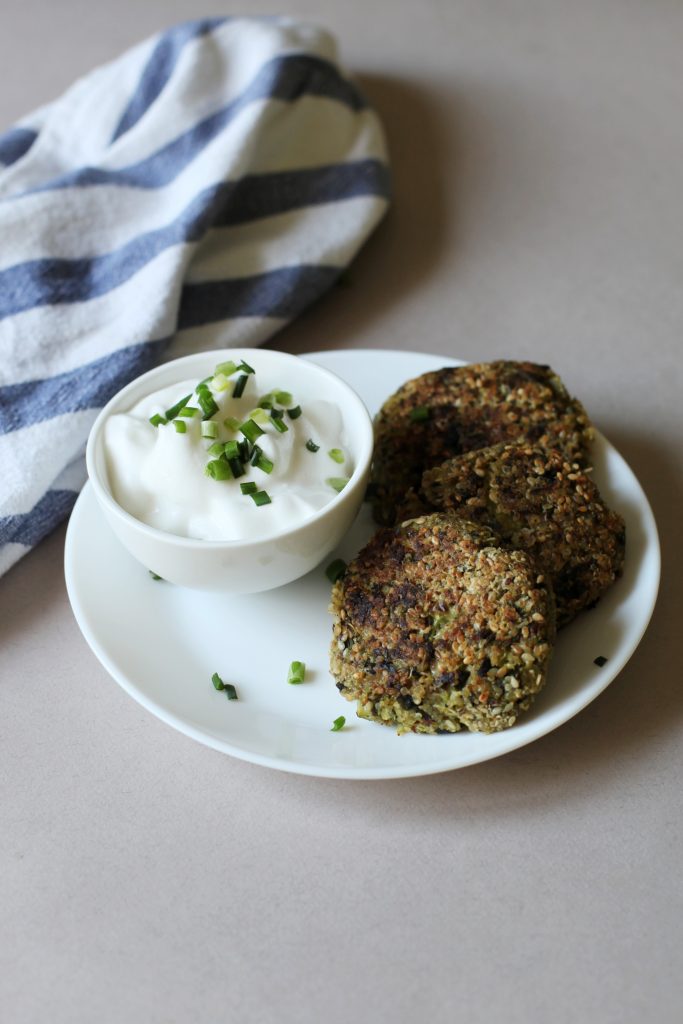 The mixture is suitable for keeping in the refrigerator for up to 3 days, and you can freeze any leftovers (I recommend shaping them before freezing). So who would not love fritters after this!?
KALE AND QUINOA FRITTERS (vegan, gluten-free)
this recipe first appeared on culinary postcards, author: Iva Savić
– makes 10 fritters –
Ingredients:
1 cup (200g) cooked quinoa (for this amount you will need 1/2 cup dry quinoa)
200g blanched, chopped kale*
1 smaller red onion (60g)
2 cloves garlic
¼ cup oats, soaked in ¼ cup of water with 1 Tbsp (8g) chia seeds, ground
30 g almond flour**
½ teaspoon salt
freshly ground black pepper
1 Tbsp nutritional yeast (optional)
4 Tbsp sesame seeds
about 4 Tbsp olive oil – split use for sautéing onions and frying fritters (you can also bake fritters in the oven, in which case just before baking, coat them with a little olive oil, using a brush)
Notes

* replace with spinach, Swiss chard or even broccoli florets
** if you do not mind gluten, replace with bread crumbs or spelt flour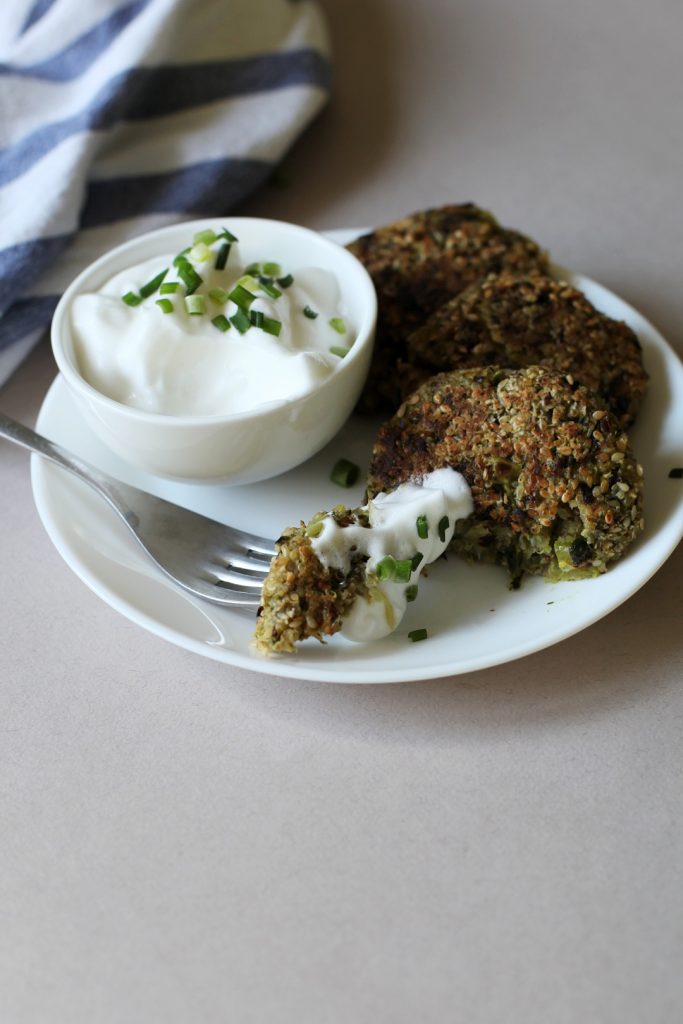 Method:
Soak the quinoa for a couple of hours (or up to 24 hours) before cooking, rinse well, then cook in salted water, in the ratio of quinoa: water = 1: 2
Wash the kale and separate the individual leaves. Boil water in a pot and blanch the cabbage leaves in it for 2-3 minutes. Drain and set aside. When cool, chop finely.
Soak oatmeal and ground chia seeds in water for 10 minutes, while preparing the rest of the mixture for fritters.
Sauté finely chopped onion in a little olive oil and after a few minutes add garlic.
In a bowl, mix the quinoa, sliced ​​blanched kale, braised onion and garlic, and soaked oatmeal (and chia seeds).
Add almond flour and spices to the mixture, mix everything well and let it stand for at least 20 minutes before shaping the fritters.
Take the mixture with a large spoon and shape it into fritters with your hands. Dip the shaped bun into the sesame on both sides.
Heat the olive oil in a non-stick pan and fry the fritters over a medium heat, for 3-4 minutes on each side, until dark.
Serve with vegan mayo or other yogurt based sauce as desired.
MORE RECIPES from the blog USING QUINOA: