This soft and fluffy vegan omelet is made with one magic ingredient: chickpea flour. Served with boiled potatoes and greens, this becomes a perfectly balanced nutritous vegan meal –
and it's all done in less than 30 minutes.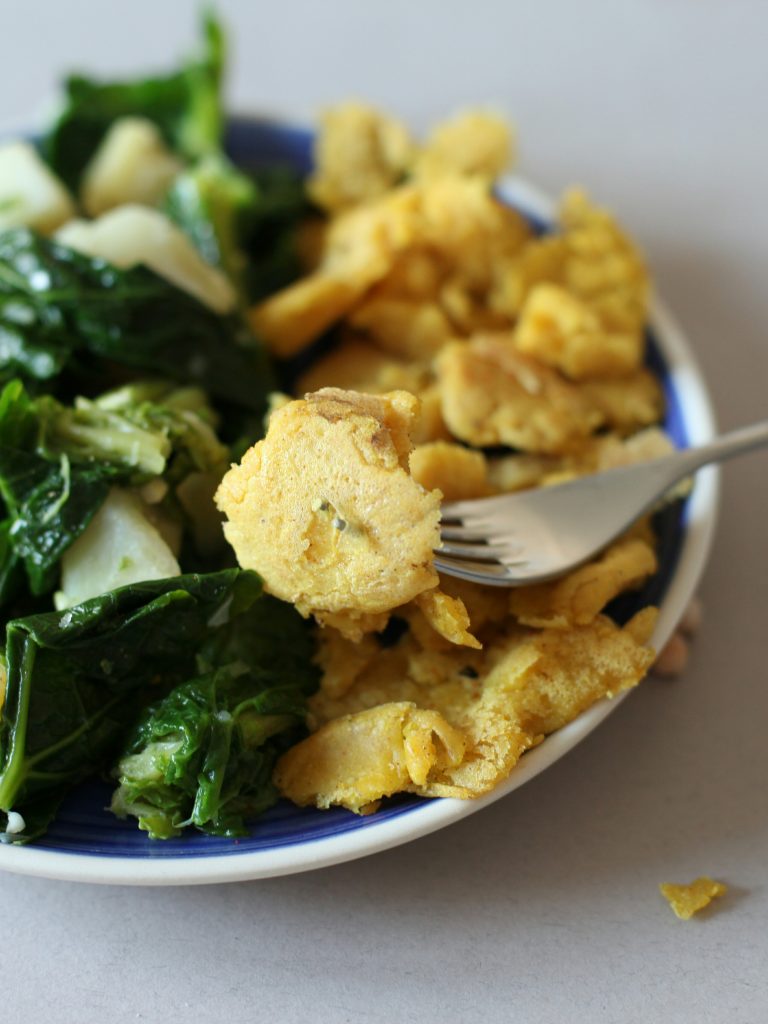 I believe you have already witnessed diversity of chickpea flour in some recipes – you can make fantastic vegan French toast with it (recipe here), use it for pizza dough (recipe here– from my vegetarian times), use it in cookie batter.. And now you can even make omelet with it. I mean, could it get any more amazing than this!?
This is my to-go working day dinner, because it takes less than 30 minutes, kids like it, and it has all nutrients balanced. Boiled potatoes and collard greens are typical for southern Croatia and my mum makes them as a side dish since my childhood, regularly. You can swap collard greens for spinach, swiss chard or cabbage, or make roasted veggies instead. This is just one of the ideas for serving a vegan omelet as a complete meal.
Enjoy it!
CHICKPEA FLOUR OMELET w/ BOILED POTATOES AND COLLARD GREENS
(vegan, gluten-free)
Prep time: 5-10 min > Cook time: 15-20min > Total: 25-30 min
– serves 2
Ingredients:
chickpea flour omelet
1 1/4 cup (150g ) chickpea flour
1 heaping Tbsp (15g) rice flour
1/2 tsp baking soda
1/2 tsp lemon juice*
smoked ground pepper, turmeric, salt and pepper to taste**
1 Tbsp olive oil + 1 Tbsp for frying
3/4 cup (180ml) water
1/3 cup (80ml) plantbased milk (soy milk or rice milk, preferably)
boiled potatoes&collard greens
2 medium potatoes
4 cups swiss chard (or other greens, such as Tuscan or Curly kale)
2 garlic knobs
olive oil, lemon juice, salt and pepper to taste
Method:
Peel the potatoes, dice to bite-sized pieces and put in the pot with cold water. Place on the stovetop and bring to boil.
Wash, trim and chop collard greens.
Once the potatoes become a bit softer (after 7-8minutes), add salt and add collard greens, pressing them down in the water, to cover. Cook for another 5-8 minutes, or until potatoes are done.
Pour out the cooking water, reserving just a bit on the bottom, add olive oil, minced garlic, lemon juice and salt and pepper to taste.
While potatoes and greens are cooking, in a small bowl, mix well all ingredients for omelet, so no lumps remain.
Add olive oil to a non-sticking pan and once hot pour the batter in.
Cook for about 3 minutes on medium heat, flip and if you wish tear into smaller pieces (as pictured) or leave as it is, and cook for another 2 to 3 minutes.
Serve omelet hot, with boiled potatoes and greens on a side.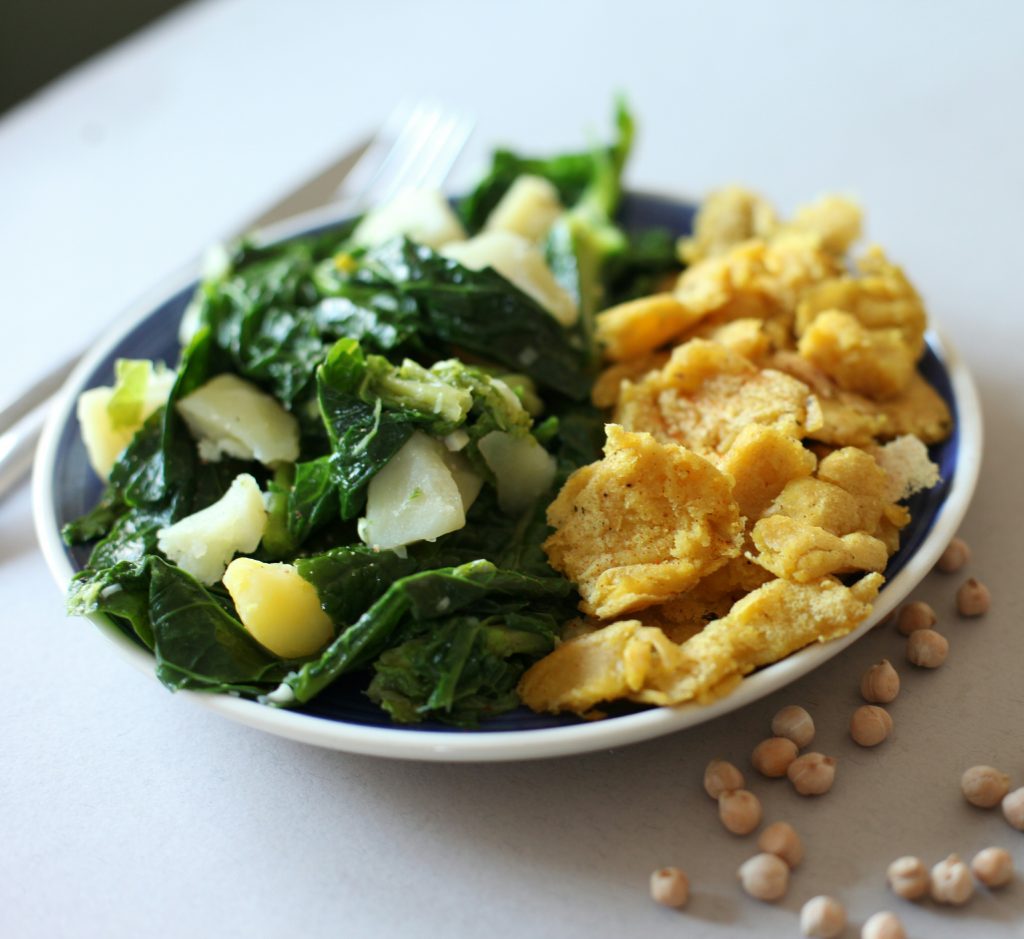 love to see you make my recipes – tag them with #ieatbettertofeelbetter and/or @culinarypostcards or send them in email to iva@culinary-postcards.com
Recipe Notes
* Adding baking soda and lemon juice to the batter makes the omelet softer and fluffier
**If you wish to have that taste of eggs, use kala namak (Indian black salt). Personally I prefer my chickpea flour omelet without it.