These 7-ingredient soft cookies smell and taste like caramel and coffee, but are made with healthy ingredients only, and are also vegan and gluten-free!
OK, here's a strange thing – I almost never drink coffee, but coffee smell is one of my fav! That's why I wanted to make these cookies smell and taste like coffee – without the coffee. How? Well, using Maca root powder in combination with raw cacao and coconut sugar… Interested? Then keep on reading…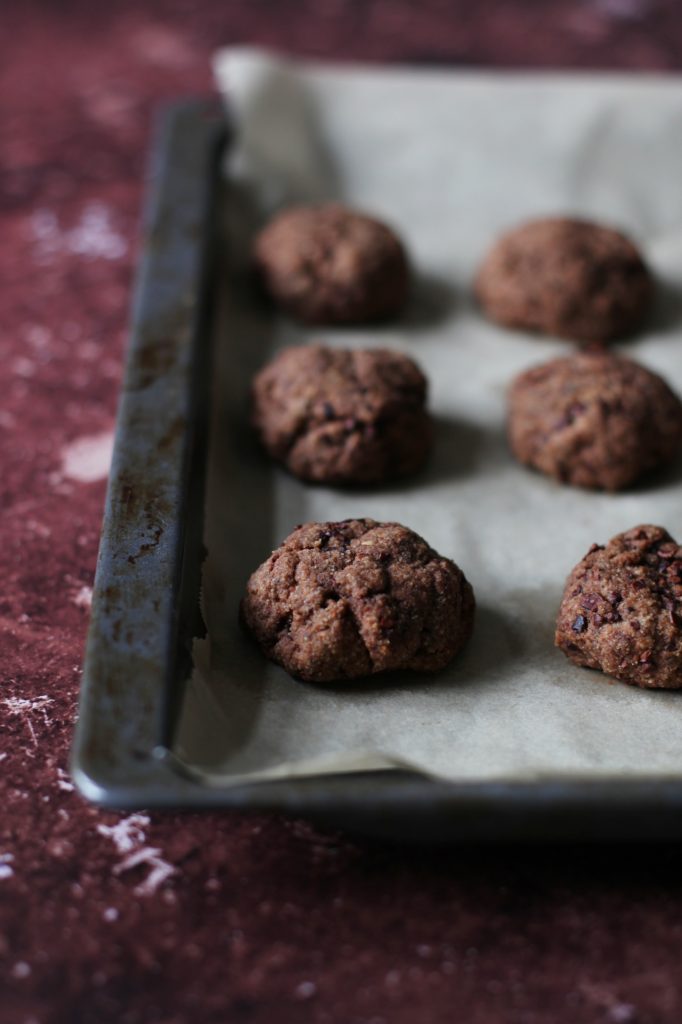 Maca root is a plant that has long history of culinary (and medicinal) use in Peru, where it grows. It is rich in vitamin C, copper and iron, and has good effects on your mood, almost like coffee but only better 😉 However, it has quite a strange taste that I wouldn't describe as nice really, but when combined with cacao it reminds a lot of coffee flavor, especially when sweetened with coconut sugar.. So, now when I told you the secret of "caramel and coffee" flavor of these cookies, let's see the rest of the ingredients used here:
pure peanut butter (or sunflower seed butter)
coconut oil
coconut flour
chia seeds
coconut sugar
cacao nibs
…see? Only healthy, nutritiously rich ingredients! Ready to bake them and enjoy warm with a cup of tea or glass of milk?
I love hearing your feedback! Leave a comment, e-mail me your pictures, or tag @culinarypostcards and use #ieatbettertofeelbetter when you post it to Instagram.
CARAMEL AND COFFEE COOKIES (vegan, gluten-free, paleo)
author: Iva Savić, culinary postcards
Prep time: 6-7 min > baking time: 13-15 min > total: 20 min
yields: 10 cookies (as pictured)
Ingredients:
1/2 cup (100g) peanut butter*
2 Tbsp chia seeds** + 6 Tbsp water
1/4 cup + 1 Tbsp (60g) melted coconut oil
50g coconut flour
"coffee flavour mix": 2 tsp maca root powder, 2 tsp raw cacao powder, 1 Tbsp coconut sugar
1/4 cup (35g) coconut sugar
1 tsp baking soda
pinch of salt
2 Tbsp cacao nibs (optional)***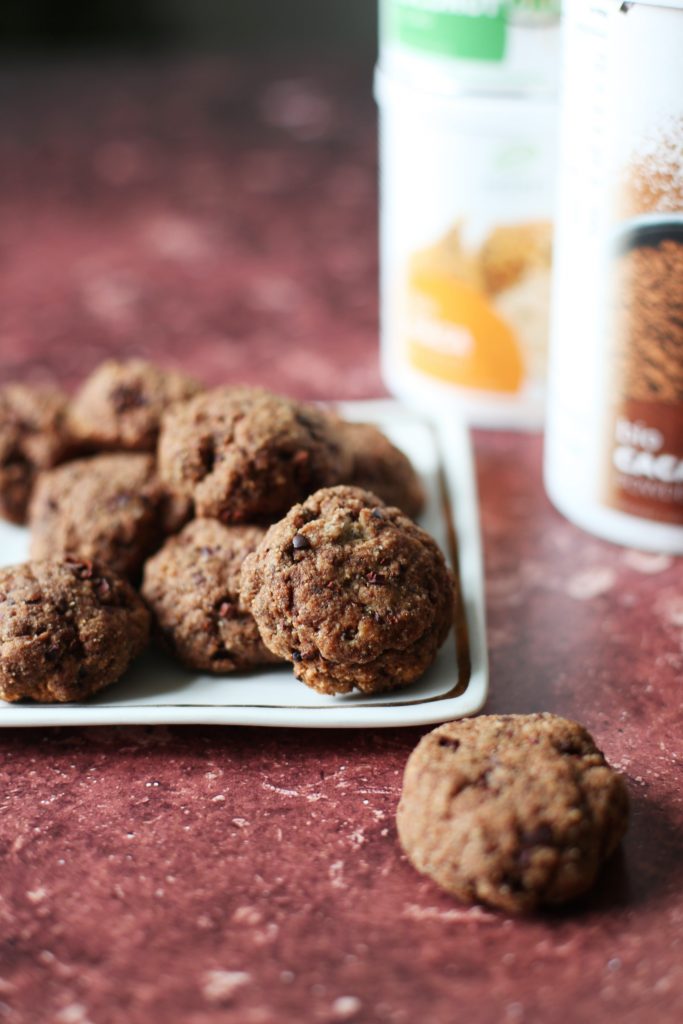 Method:
Mix chia seeds with water and set aside for 10 minutes until thick gel forms ("chia egg")
Melt coconut oil and leave it cool.
Combine peanut butter with chia "egg" and coconut oil, so everything combines well.
Add coconut flour, coconut sugar, "coffee flavour mix", pinch of salt and baking soda to the mixture and stir it all well.
Preheat your oven to 390F (180C).
Wet your hands to form cookies and place them on the baking sheet lined with parchment paper
Place them in the oven and bake for 13-15 minutes. They will still be soft on touch once you get them out of the oven, but will harden as they cool,
Notes
*Peanut butter can easily be replaced with sunflower seed butter – the taste is even deeper, more "caramelly" and so interesting! To get the soft cookie texture, nut/seed butter needs to be the thick one, homemade.
** If you dislike the crunchiness of baked chia seeds, grind them before making chia egg with them.
*** Cacao nibs are optional here but are such a lovely addition to these cookies!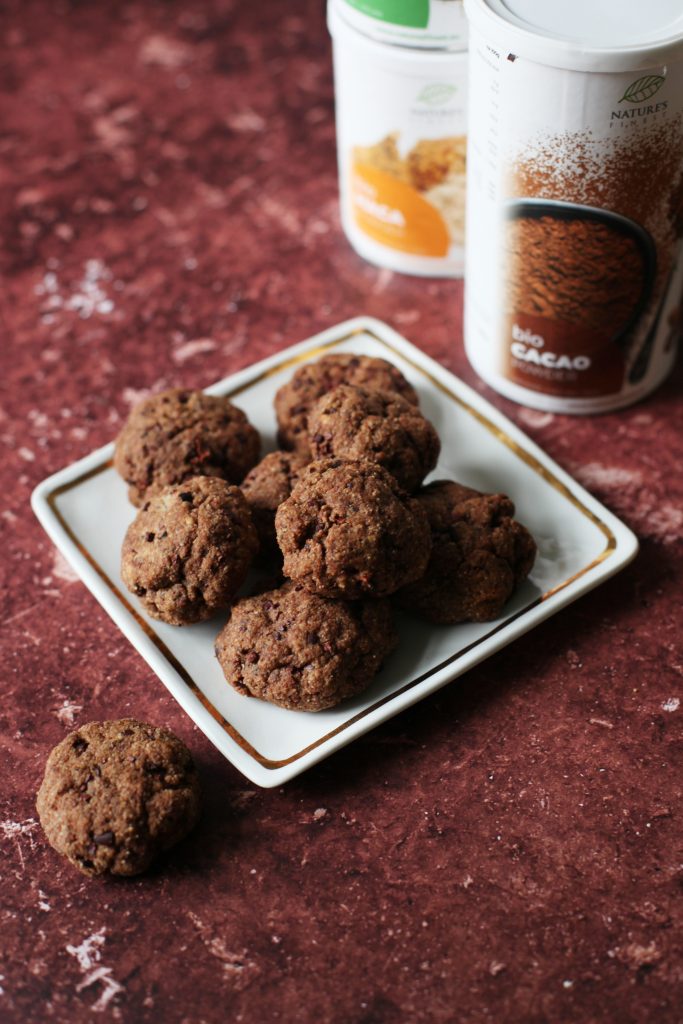 Fancy more delicious cookies? Why not try some of these
or browse the blog archive for more, by simply clicking here