Rich in fiber and protein, low in sugar and oil, these bars make a perfectly balanced snack – that you can also have with your cup of tea 🙂
After seven years of blogging I am still struggling to find a perfect name for my recipes! And this was a case with this (energy) bars as well.. No name was good enough to cover everything that could be important for you readers when you first see these bars.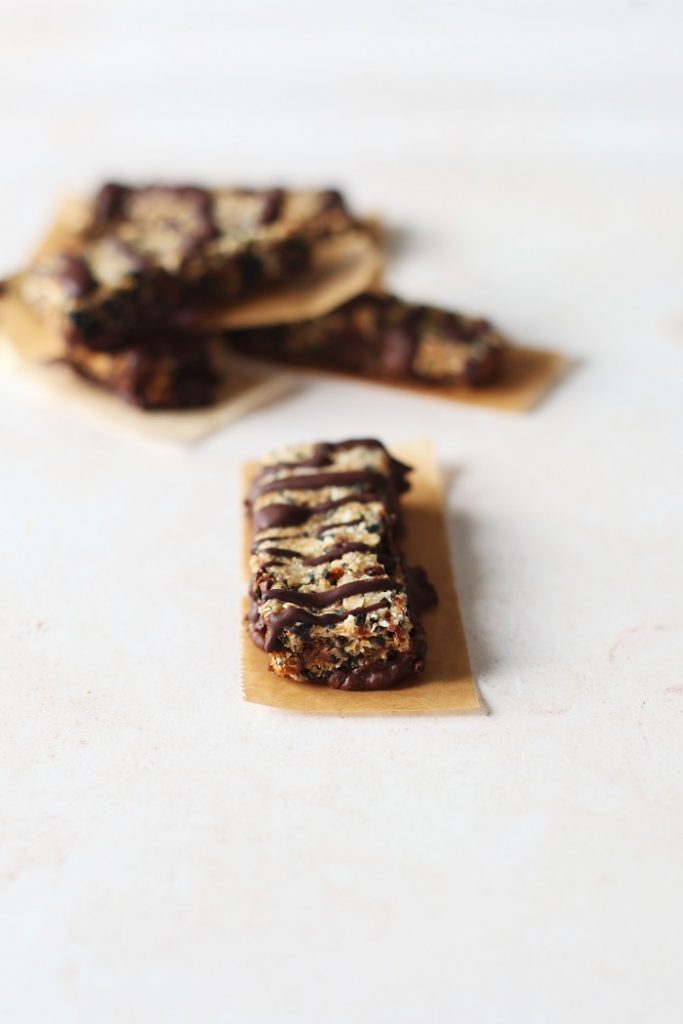 To sum things up, you should know these bars are:
– gluten-free (in fact grain-free),
– free of dairy products and eggs (vegan),
– rich in fiber and protein
– very simple and quick to prepare,
– very delicious, and
– can be made in many different combinations of dried fruits and seeds/nuts
For some reason I really like the combination of prunes and chocolate (hence also these "Chocolate and Prune Truffles " ) but in case this flavor combination sounds too exotic to you, go with other of your fav dried fruit + seed/nut combinations. Here are some ideas, enjoy!
– raisins and hazelnuts
– apricots and sesame (or pistachios!)
– mango and almonds
– dates and walnuts
(keep adding ideas to the list! 🙂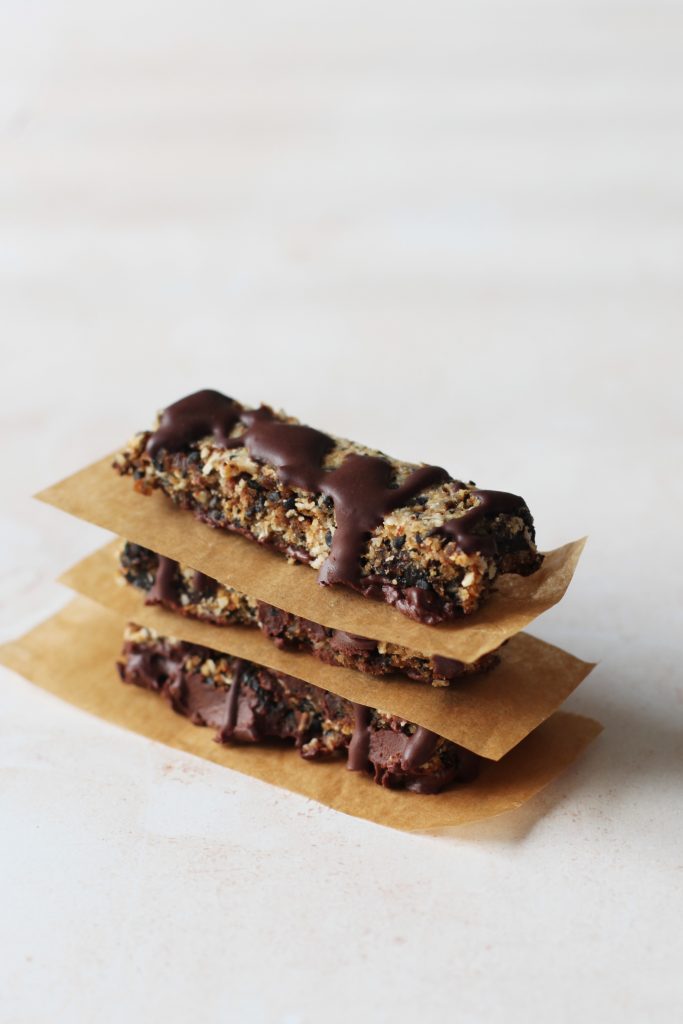 Black sesame, prune and chocolate bars (vegan, gluten-free)
this recipe first appeared on culinary postcards. author Iva Savić
Prep time: 5 min > Baking time: 25 min > TOTAL TIME: 30 min

Ingredients (makes 10 bars as pictured)
½ cup (60g) almond flour
¼ cup (20g) dried coconut
3 tablespoons (25g)hemp seeds
2 tablespoons (20g) black sesame seeds
¼ cup (50g) dried plums
¼ cup (60g) apple puree (you can buy it or prepare it yourself – see jhow below)
2 tablespoons (20g) coconut sugar
2 tablespoons (25g) oat syrup*
20g coconut oil
optional – chocolate topping: 60g dark chocolate, ¼ cup (60ml) platbased milk
Notes:
*I recently bought oat syrup for rehearsal, so I used it in this recipe, but in texture and sweetness it is very similar to rice, so feel free to use it as well as coconut nectar

Method:
Add all dry ingredients to a bowl: almond flour, coconut, hemp seeds and sesame
Chop the plums as finely as possible and add them to the dry ingredients.
For apple puree: cut a smaller apple into pieces and boil it briefly in about 1/2 cup of water. Transfer the apple to a food processor or blender and puree.
In a small saucepan, mix coconut oil, coconut sugar and oat syrup and heat while stirring.
Add the apple puree and the mixture of liquid ingredients to the bowl and mix everything well (if necessary with your fingers so that all the ingredients are well mixed and the mixture becomes compact.
Preheat the oven to 160C (320 F), line a small baking mold with baking paper.
Pour the mixture into a mold, spread over the entire surface and press well (using the back of your cup), then place in the oven. Bake for 25 minutes, when the top should turn brownish.
Allow to cool, then cut into bars and, if desired, dip them in chocolate topping and sprinkle the rest of the chocolate topping on top.
Watch a short video recipe of me making these bars here on my Instagram