This miso soup is so packed with many delicious ingredients that it was impossible to list them all in the recipe name! However, do not get intimidated by that fact because it is absolutely OK if you skip some of the ingredients which you do not have at hand or do not like. The soup will still be very delicious!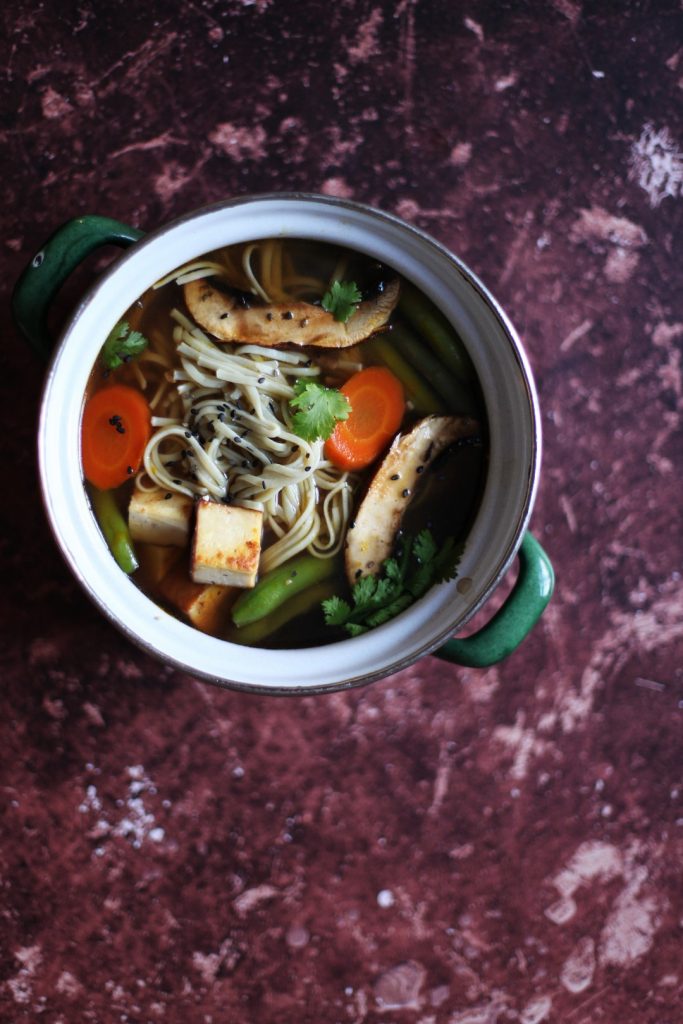 Let's see what you need to make this vegetable and tofu miso noodle soup:
vegetables: carrots, green beans, ginger and garlic
mushrooms: Portobello and shiitake
tofu – fresh, firm tofu
rice noodles
miso paste
vegetable broth
kitchen staples for cooking: sesame oil, soy sauce, rice flour (or all-purpose flour if you are not gluten-intolerant)
It can't be bad with these fantastic ingredients, right!? Although I encourage you to prepare the soup even if you don't have all of them, I highly recommend that you use at least two different vegetables and add mushrooms to it. They (together with tofu), will make this soup a complete meal!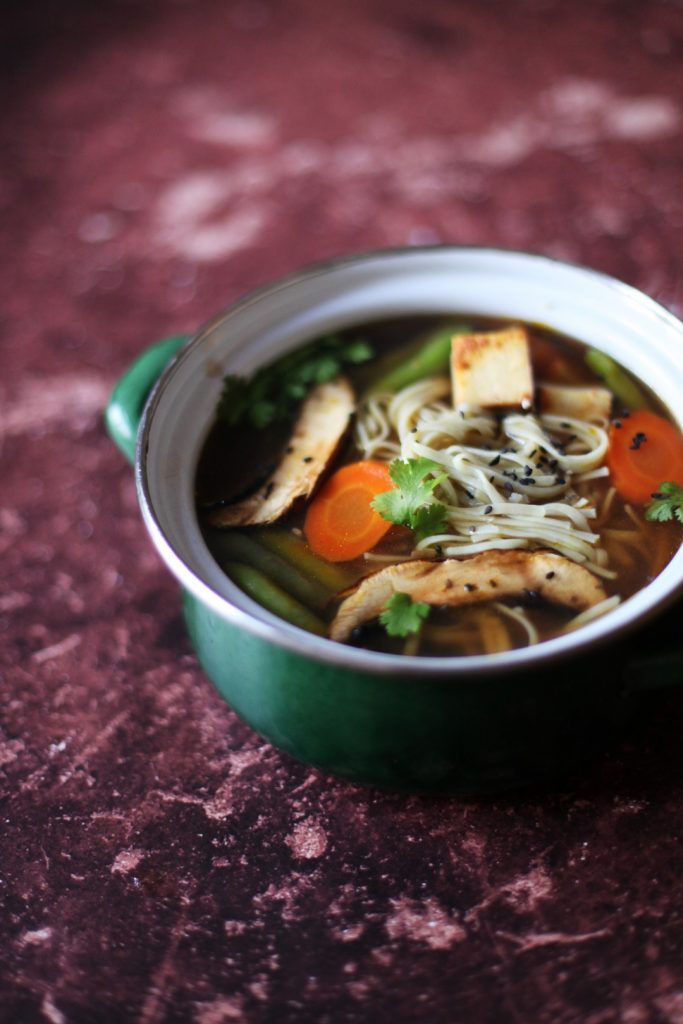 VEGETABLE AND TOFU MISO NOODLE SOUP (VEGAN, GLUTEN-FREE)
Ingredients:
2 carrots
2 Portobello mushrooms
4-5 smaller shiitake mushrooms
100g green beans
200g fresh tofu
2 tablespoons (rice) flour
1-2 tablespoons sesame oil (for roasting vegetables, mushrooms and tofu)
2-3 cloves of garlic
a piece of fresh ginger 3-4 cm long
2 tablespoons soy sauce
1.5 tablespoons miso paste or more* (I used dark rice miso)
1 3/4 cups of vegetable stock**
1 3/4 cups of water
300g rice noodles (and buckwheat work great in this soup)
black sesame seeds and fresh coriander to serve
Cut carrots and Portobello mushrooms into thin slices.
Clean the green beans and shiitake and set them aside.
Drain the tofu, slice into larger cubes and roll in (rice) flour.
Fry carrots, Portobello and tofu in sesame oil, each separately, then set aside.
Bring a pot of water to boil, add rice noodles, cook for 3-4 minutes (according to packaging instructions) and set aside.
In a large saucepan, mix the vegetable stock, water, soy sauce and miso paste (whisk to melt), add the garlic and ginger and bring to a boil.
When it boils, add the shiitake and beans and cook for 10 minutes. Add the carrots and cook for 2-3 minutes until slightly softened (but don't overcook!).
Add cooked rice noodles, Portobello mushrooms and tofu to the finished soup.
Before serving season with black sesame, some fresh coriander, and more soy sauce if desired.