You need only 6 ingredients to make this amazingly creamy, luscious and healthy ice cream with no refined sugar and dairy produce. Don't believe me? Then better check this recipe!
Nice creams have been around already for a while and I love the fact that this trend is still here, because there is no easier and healthier way to make and enjoy ice cream.
Although I love soft-serve nice cream and make it regularly (CHECK this post on all details and tips how to make it!), sometimes I miss that "real" ice cream texture when eating it. That's way this time I am bringing you a recipe for nice cream that resembles the same creamy, thick texture, almost identical to that one of "real" ice cream.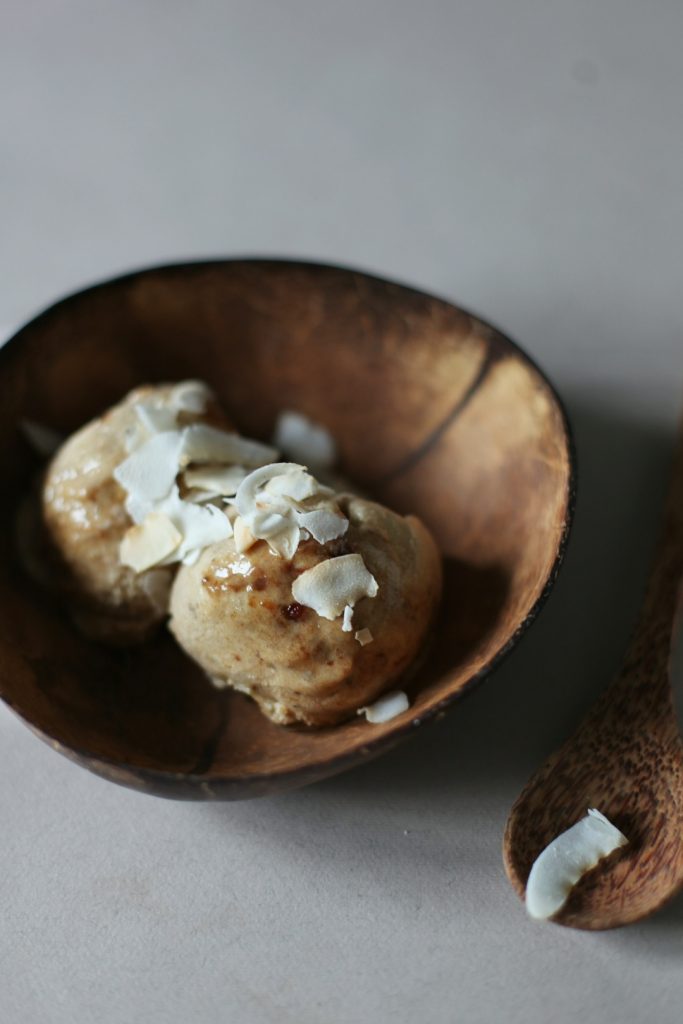 The secret to making creamier and thicker nice cream is in using coconut milk and freezing ice cream once it is made. That's why you can not enjoy it right away after blending those ingredients but will have to wait for another couple of hours – however, it is really worth it, trust me!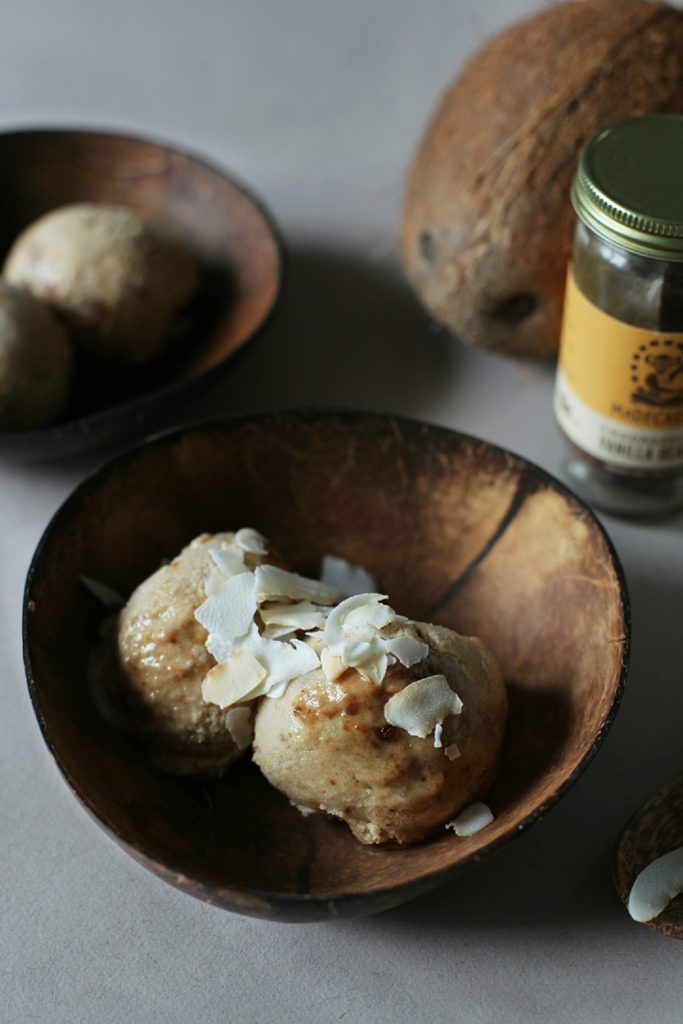 Now let's talk about that caramel flavor! Natural caramel flavor of this Banana-Caramel ice cream is hiding in the nature's best candy – dates, along side which I have added some coconut sugar and a pinch of salt (it is just a little so you will not get the taste of salted caramel, though!). That caramel layer is made separately and then swirled around the banana-base ice cream, and that's practically all. Let's put those bananas into freezer and jump to the recipe now!
BANANA-CARAMEL ICE CREAM (vegan and gluten-free)
Author: Iva S., culinary postcards
serves 4 as dessert
Ingredients:
ice cream base
3 medium or 4 small bananas, peeled, sliced ​​into chunks and frozen
1 cup full fat coconut milk (min. 60% fat), well chilled
1 tablespoon coconut sugar *
½ teaspoons of vanilla powder or a few drops of extract (optional but really nice)
caramel (swirl)
150g fresh dates, preferably Medjool
1 tablespoon coconut sugar
1/4 cup soy (or almond) milk
1 teaspoon dark molasses (optional – it will intensify the caramel flavor but it is not essential to the recipe)
a pinch of salt
Method:
Pit the dates and pour hot water over them to soften them a bit.
While the dates are soaking, heat the milk, sugar, salt and molasses (if using) in a saucepan.
After 10 minutes, drain the dates and transfer them together with the milk-mixture to a blender. Blend until you get something resembling a date spread. It's okay if there are a few date crumbs left. Set aside to cool while you prepare the ice cream.
Put the frozen banana pieces in a blender and after a short blending (10-15 seconds, or more, depending on a blender) you will get the texture of ice crumbs. Now add the coconut milk, sugar and vanilla and continue blending until you achieve a creamy consistency.
You may need to stop the blender once or twice to remove the ice cream from the sides. (If you got that stick with the blender, use it by pushing the mixture down, toward the knives.)
Pour half the amount of the ice cream into a bowl suitable for freezing, flatten it a bit, then spread about half the amount of prepared caramel over it, covering the entire surface of the ice cream. Repeat the process with the rest of the ice cream and caramel.
Place the ice cream in the freezer for a minimum of 3 hours. If you keep it there longer, take it out 5-10 minutes before serving it, so it softens a bit and becomes scoopable.
Serve with toasted coconut flakes if desired.
Don't forget to check this post with more recipes for vegan ice cream!
I love hearing your feedback! Leave a comment, e-mail me your pictures, or tag @culinarypostcards and use #ieatbettertofeelbetter when you post it to Instagram.