This raw vegan cheesecake is healthy and easy to make dessert that will always make your festive table look pretty and everyone happy
When quarantine started I actually enjoyed the slower life rhythm, spending more time at home with my family, and having time for all those things which I usually can't enjoy during working week (cooking was definitely high on that list). I am still OK with this regime but celebrating birthday at home with no friends around was not that fun. The only good thing was that I had time to make myself a birthday cake 🙂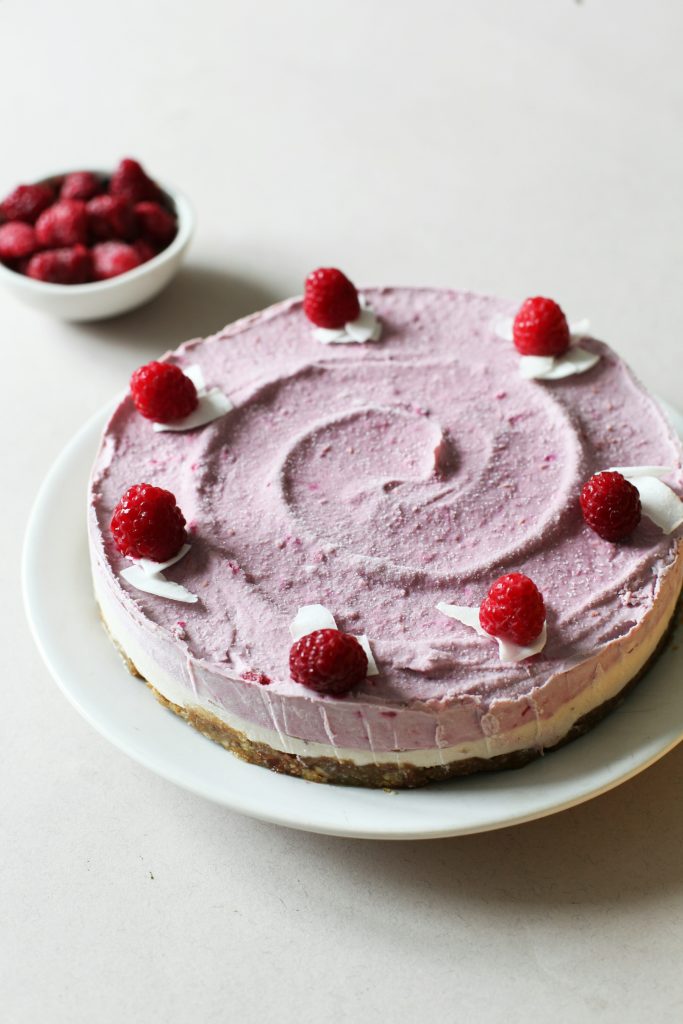 I had some raspberries in the freezer so I immediately decided to make a raw cake! Since I love them in combination with almonds and pistachios (which I always have in my cupboard), it was a clear case. To make it a bit prettier, I decided to make the filling in two colours – hence, vanilla and raspberry.
Although they might seem "special", raw cakes are actually very easy to make. You don't need any baking skills, and hand-on time is under 30 minutes. What they require is just some planning in advance since you need to do some soaking and wait for the cake to set. So let's get on that recipe!
RAW RASPBERRY AND VANILLA CHEESECAKE (vegan, gluten-free) – This recipe first appeared on culinary postcards
Ingredients:
for the crust
3/4 cup (80g) almonds
1/4 cup (30g) unsalted pistachios, hulled
5 pcs Medjool dates* (80g)
1 tsp coconut oil
pinch of salt and cinnamon
raspberry and vanilla layer
2 cups (250g) cashews, soaked for at least 4 hours**
1/2 cup (110g) full-fat coconut milk
1/3 cup (80g) maple syrup (can sub with rice syrup)
1 Tbsp lucuma powder***
1/2 tsp vanilla powder
1/3 cup (55g) coconut oil, melted
3 Tbsp lemon juice
1 cup (100g) frozen raspberries + more for decoration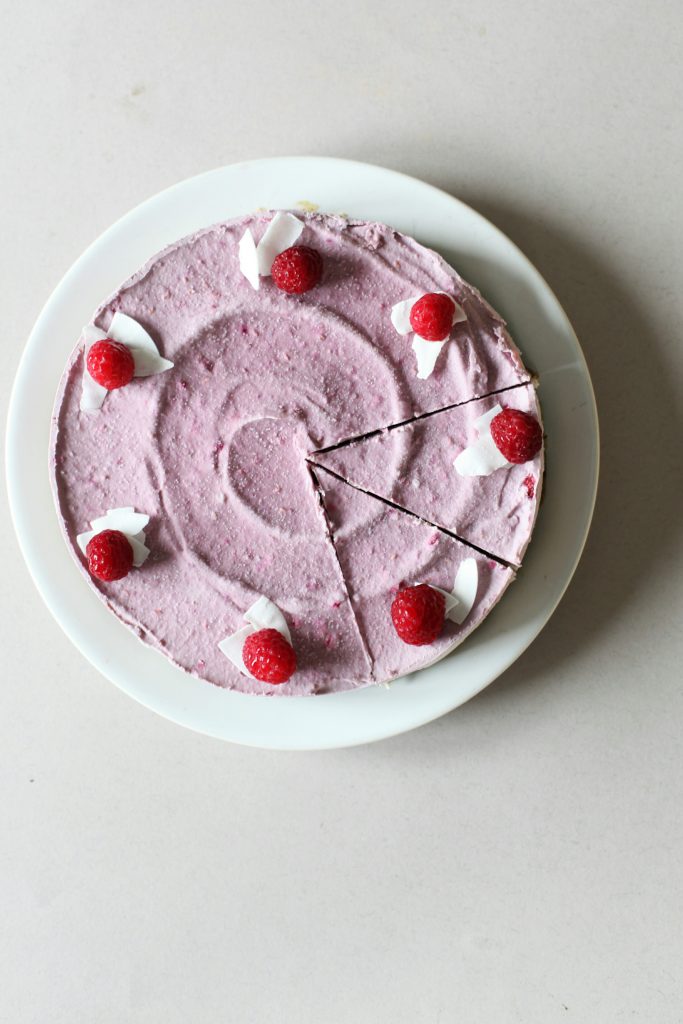 Method:
For almond-pistachio crust:
1. Line the bottom of the cake pan with baking paper.
2. In a blender, combine all crust ingredients and pulse a few times until mixture starts to come together (in a ball).
3. Press the crust mixture into the cake pan and compress it until you get an even layer. Refrigerate for at least 20 minutes.
For vanilla layer
1. In a blender/food processor, blend the soaked and drained cashew nuts until smooth.
2. Add coconut milk (room temperature), coconut oil (cooled after melting) and the rest of the ingredients, except raspberries.
3. Blend until everything is well-combined and smooth.
4. Pour approx. half to 2/3 of this mixture over the crust and put in the freezer.
For raspberry layer
5. Add raspberries to the remaining of the filling in your blender and blend until smooth.
6. Pour the raspberry filling over vanilla filling and spread/smooth out the top carefully.
7. Put the cake back in the freezer for at least 4 hours, best overnight.
8. When ready to serve, take the cake out and allow to stand at room temperature for 30 minutes. Leftovers can be stored in the fridge for up to 3 days or in the freezer up to 3 weeks.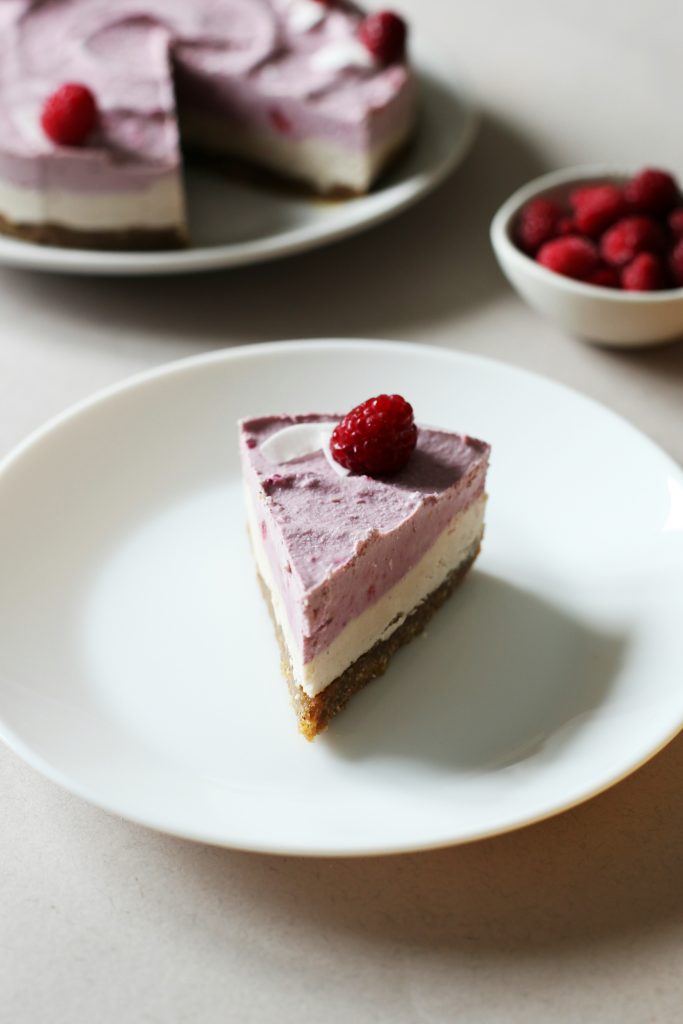 Notes:
* you can use other raw dates as well, I prefer Medjool for its caramel flavour
** if you are in a hurry, you can soak cashews in hot water for 30 minutes
*** Lucuma powder is a natural plant sweetener but you can simply use 1-2 Tbsp more of maple syrup
——————————————–
It makes me happy to see you trying out my recipes – send me your pictures on iva@culinary-postcards.com or to my instagram account and using hashtag #ieatbettertofeelbetter