I am so excited about bringing back some fall veggies and fruits into my kitchen. I do love summer, maybe even more than any other season, but change – coming in the right moment – is one of those things which keeps me going forward, in my private life, in my business life and in my kitchen as well.
Although I have been making this soup through the whole summer in few different versions, combination of zucchinis and beans are just perfect solution for this "transitional" period – you can feel summer is slowly slipping away with its fresh flavors and vibrant colors and autumn is just right around the corner, bringing us more needed hearty, warming tastes, for the coming rainy days. OK now, if you managed to read through my entire poetic introduction, you definitely deserve to have and try out this recipe. It is simply lovely!
ZUCCHINI and BEANS SOUP WITH QUINOA (gluten-free, dairy-free)
– serves 4 as main –
Ingredients:
2 medium zucchinis (about 150 g each), peeled and cut into 1 inch chunks
1/2 cup (100 ml) white beans, cooked (or use canned)/ if you substitute them with green peas use a bit more: 3/4 cup frozen or fresh peas), or 1 big potato, but I warn you the taste is not even close to good as with beans
1 clove garlic, peeled
1 1/4 cup (300 ml) water or veggie/chicken stock (use whichever you have on hand at the moment, it works good with any!)
1 handful of fresh mint+basil leaves
1 cup (250 ml) cooked quinoa (made from cooking about 1/2 cup of quinoa)
1+1 tablespoon extra virgin olive oil
1 teaspoon apple cider or lemon juice
salt to taste
Parmesan and/or few zucchini slices to garnish (vegan, dairy-free option)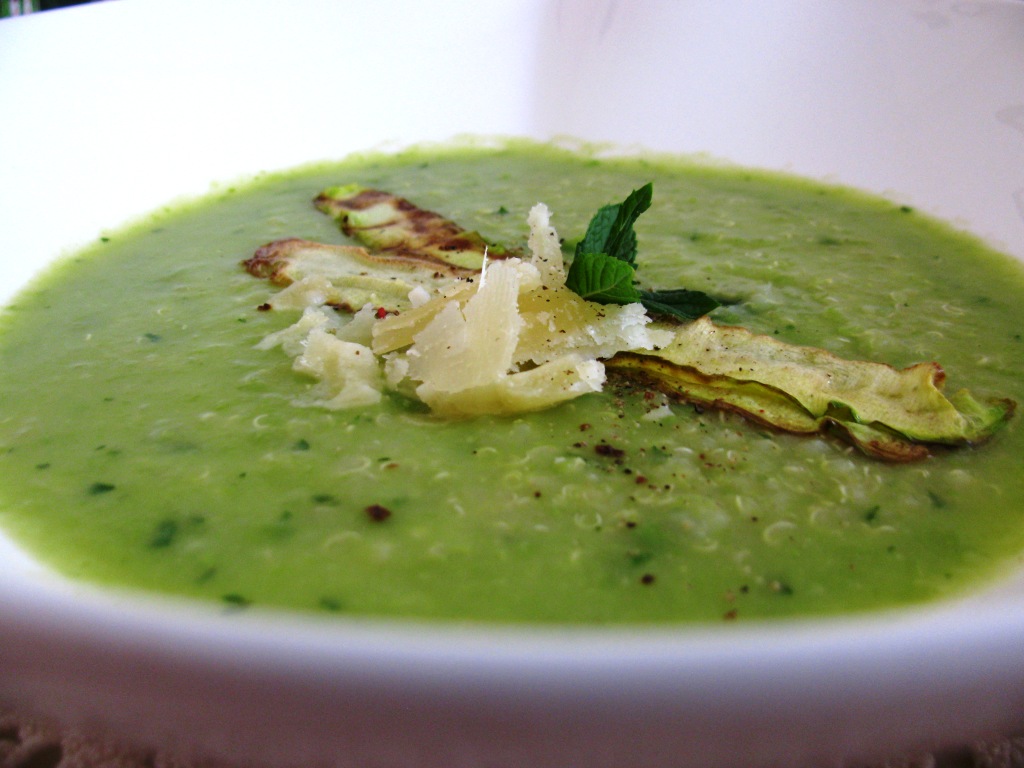 Instructions:
1. Soak and cook quinoa as usually. It makes it faster to cook it night before so you can just add it when the soup is hot and ready to serve)
2. Cook your beans in water until almost done. If you use canned, wash them in the sieve and add them in the end of cooking zucchinis (see next step).
3. In a hot pan, fry zucchinis on some olive oil and season with fresh garlic. Add zucchinis in a pot where you cook your beans (if you use canned beans, pour water/stock over zucchinis, and when almost cooked, add beans).
4. Add herbs, apple cider and another spoon of olive oil, then using hand mixer puree it. If soup appears too thick, use some water/stock to thin it down a bit.
5. Mix in cooked quinoa.
6. Serve with few slices of Parmesan and/or fried zucchini slices.