One of those days when you need to make a "proper" cake, you know, with sugar, chocolate, flour, and all those unhealthy ingredients 😉 This is one truly chocolate cake – its deep dark brown color, rich taste, moistness and softness make you want more. A must try!
RICH CHOCOLATE CAKE
(adapted from London bakes, Chocolate and sour cream cake)
Ingredients:
30g dark chocolate (I used with 64% cocoa), chopped coarsely
35g cocoa +little for pan
120 ml milk (I used regular cow's milk, but you can use almond, oat, rice or any other instead)
60g (semi-white) cake flour  / use oat flour or a gluten-free blend of flour for a gluten-free version
30g ground almonds
1 teaspoon cream of tartar (or 1/2 teaspoon baking powder+1/2 teaspoon baking soda)
1/2 teaspoon salt
100g sugar (I used dark muscovado)
3 tablespoon melted butter (about 20g solid butter)+a piece to butter the cake pan
2 tablespoons sour cream
1 egg
1 teaspoon Amaretto (or rum, Cointreau, or your favorite alcohol for cakes 😉
frosting:
70g dark chocolate
70g milk chocolate
100g sour cream
pinch of salt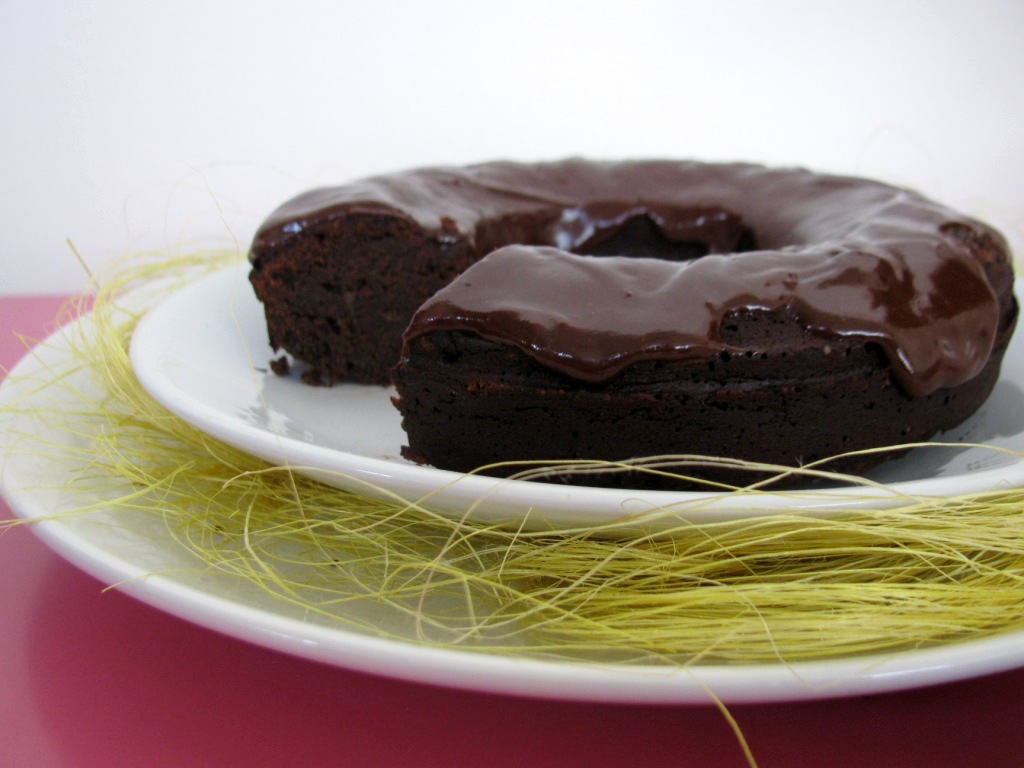 Instructions:
1. Melt the butter over low heat and leave it aside to cool to a room temperature.
2. Warm the milk in the little pot, putting the bowl with a chocolate on top to melt it slightly. when milk almost reaches the boil, set it aside and add chocolate and cocoa in it, until they melt completely (stir every few minutes).
3. Preheat the oven to 350 F. prepare your cake pan buttering it all over and sprinkle cocoa to cover fully.
4. In a small bowl combine flour, almonds, salt and baking powder
5. in a bigger separate bowl whisk together the "chocolate milk", butter, sugar, sour cream, egg and amaretto. Give it a good whisk until batter becomes smooth.
6. Start adding the flour blend to a batter, folding it gently and watching not to over-mix.
7. Pour the batter in the cake pan and bake for 17-20 min. Take it out of the oven and leave to cool in the pan, before removing it to cool completely.
8. While the cake is cooling, leave the sour cream on the room temperature. Melt the chocolate over a steam bath. When it melts, whisk in the sour cream and salt. Leave the frosting to cool slightly than pour it over the cake, leaving it to drip down the sides.
Serve with a bowl of vanilla ice cream or whipped double cream and treat yourself!