For those of you who are skeptic about desserts which do not contain butter, chocolate or eggs, I will not say anything because I do not want to discourage you from trying this one. If you do not like this, let me know, and I will make it up for you.
I found inspiration for this recipe on the blog I like to follow – Cookie+Kate. Kate made scones with pumpkin and pecans with a rich maple syrup glaze. I changed her recipe in few ways but the basic ingredients remained the same – pumpkin puree, whole wheat flour, walnuts (not pecans) and maple syrup. However, I baked my scones in one piece, but I only made cuts in the dough so they can come off more easily after baking.
If you do not like pumpkin (how is that possible?), try to replace it with apples or sweet potatoes, or even very ripe bananas. I have not tried it, but I assume it could work well.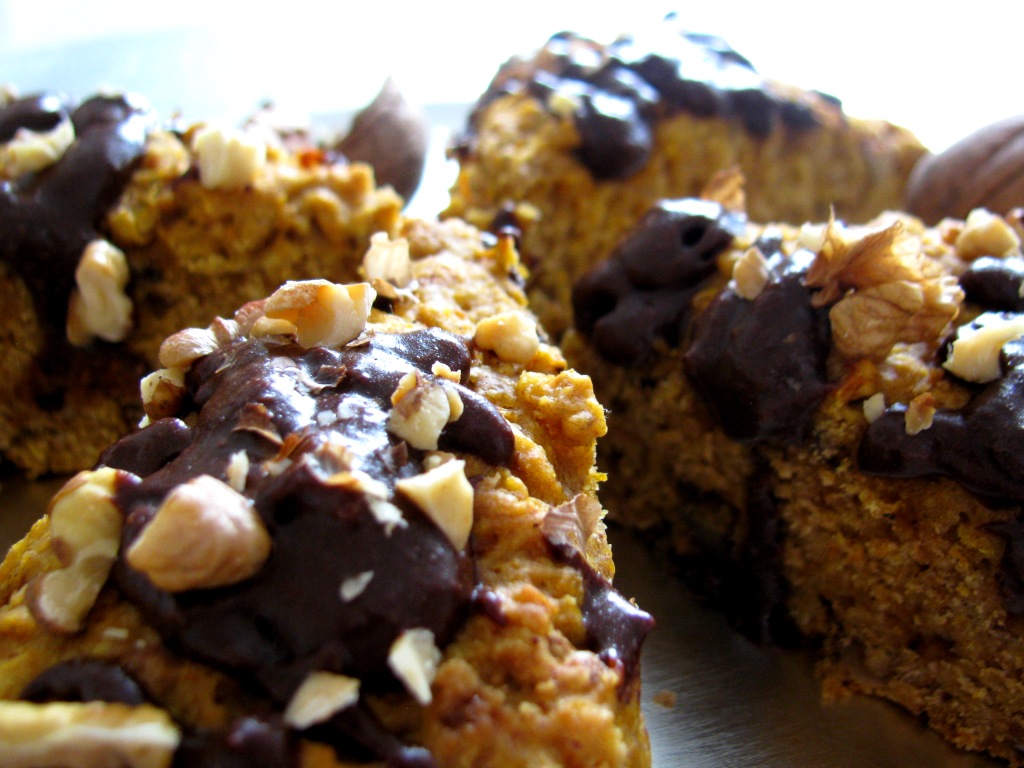 So, here is the recipe…
PUMPKIN AND WALNUT SCONES WITH CHOCOLATE GALZE
(makes 8 scones)
Ingredients:
1 cup walnut pieces
1 3/4 cup (250g) whole wheat flour
1 tablespoon aluminum-free baking powder
2 tablespoon brown sugar (if you prefer it sweeter, add another tablespoon)
1 teaspoon cinnamon
1 teaspoon spice mix for gingerbread
½ teaspoon salt
1/3 cup minus 1 tablespoon (1/3 cup) sunflower or coconut oil
1 cup pumpkin puree *replace it with sweet potatoes or apples if you prefer (in the latter case, add another tablespoon of flour because apples have more liquid)
1/4 cup minus 1 tablespoon (50 ml) milk – cow's or any other vegan option works equally good
for the glaze:
3 tablespoons cocoa
Pinch of salt
1 tablespoon melted coconut oil (or butter)
5 tablespoon maple syrup
Instructions:
Toast your walnuts in a heavy skillet for 6-7 minutes, stirring occasionally, until they start to smell really nice. Let them cool a bit then chop them.
Preheat the oven to 400F.
In a mixing bowl, combine flour, baking powder, spices, sugar and salt, then add walnuts, leaving a handful for later.
Add pumpkin puree, oil and milk, and stir it well. If it seems to dry, stir a bit more, it will get more wet as you stir. If it seems to wet, add another tablespoon of flour.
Prepare baking tray lining it with parchment paper, then transfer the dough carefully. Make a disc, around 1 inch thick. Using a sharp knife, make 8 squares, but do not cut them through.
Bake on 400F for 20-22 min. Baking time depends on your oven and if you are using fan or not (if using fan, bake on 375F). Just make sure not to over bake it so it does not become to dry.
While it is resting, prepare the glaze. Take a smaller bowl. Pour in the oil and maple syrup, add cocoa and mix it until becomes sticky and gooey.
Cover your scones with chocolate glaze and sprinkle the remaining walnut pieces on top.
Serve for breakfast, or an afternoon treat with a cup of tea or coffee. Place the rest in the closed box and keep refrigerated up to 3 days. But let's be honest, they will not last that long 😉