OK, to make something clear – my family's and mine diet is not restrictive. We are not vegetarians or vegans, paleo or raw.. Because in my opinion, being too restrictive in any way is not good. We eat everything, but we tend to eat balanced, with lots of fresh fruits and vegetables, unprocessed grains and beans, dairy, and fish and meat, in somewhat lesser amounts. Lately we have been trying to eat more fish and meat, but let's keep this for another post.
But sweets and desserts are our weak point. I am trying to keep everyone away from all industrial sweets – cookies, cakes, and even  baked goods. We are still fighting with chocolate and make compromise. We simply love it too much.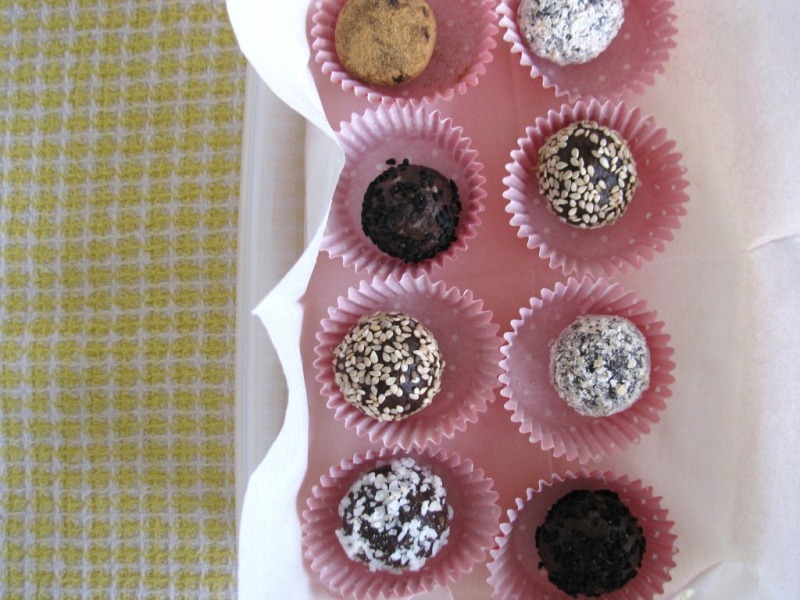 These are not chocolate-wannabe pralines. I like to call food what it is. These balls are made of dates, cocoa, and few other healthy ingredients. But they are sweet, they have a chocolate flavor, and they are yummy. And if they managed to satisfy my sweet tooth, I am sure they will be equally successful with yours. And what is most important here, not only your taste buds will be happy, but your entire body as well, because these are made only from healthy ingredients. OK, now it sounds almost like a science fiction, but for these bites you need only 5 ingredients and 5 minute time. See it yourself! 😉
DATE AND COCOA ENERGY BITES (sugar-free, gluten-free)
– inspired by 7-minte Choco Almond Truffles from the Green Kitchen Stories
– makes approx. 10 energy bites*
Ingredients:
5 Medjool dates – if you use small ones, use 7-8
2 heaped tablespoons almond meal or ground almonds
2 heaped tablespoons of shredded coconut
1 heaped tablespoon of cocoa
(some water if needed)
1 teaspoon coconut oil (room temperature)
sesame, oats, cocoa, cinnamon,…for the coating
Instructions:
A – If you do it by hands only- Take the pits out of dates, chop them, then mash them with a fork until you get a paste like consistency. Transfer them to a bowl, add almonds, cocoa, coconut and coconut oil. Mix it all together, and if it seems too dry, add a teaspoon or two of water.
B – using a chopper – Take pits out of dates and pulse them for a few times until you get a paste like consistency, Add the rest of the ingredients and pulse a few times until it all comes together.
2. Put it in the fridge for about 15 minutes. It will be easier to handle later.
3. Using a teaspoon, take small amounts and form balls. When you finish, roll them in any kind of coating you like. I used white sesame, black sesame, ground oats, cinnamon and cocoa. It will make them prettier, tastier and will prevent sticking to your fingers when you eat them.
4. Keep them in the fridge, and when you want to eat them, wait a minute or two until they soften a bit. They can stay in the fridge for 7 days.
*double the batch because you can keep them covered in the fridge for the entire week