I am still carrying memories of the smell of a sweet soft bread with raisins that stood on our table for Easter. Died eggs, egg salad, ham, radishes, spring onions..
All is there, but Pinca, this sweet bread was always something special to me.
Maybe because we had it on our table only on that one weekend in a year – for Easter.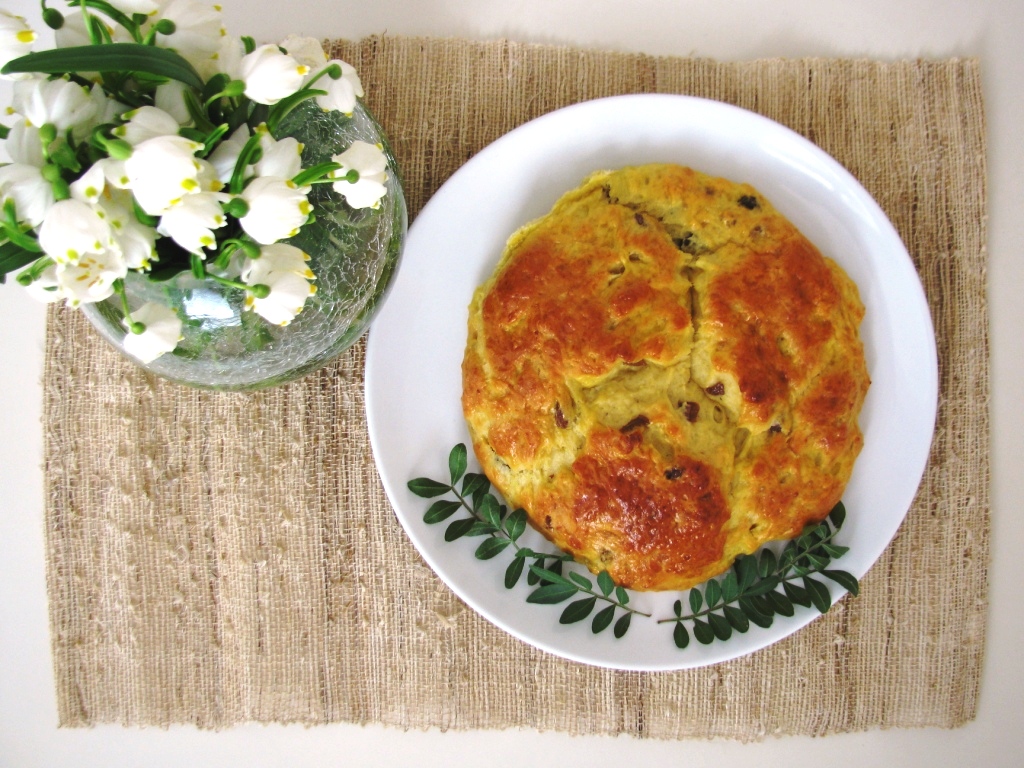 For a long time I thought the reason behind is that it was really difficult to make it.
So I postponed baking it myself for years… However, past two years I gave it a try and I was really happy how it turned out.
This year I decided to make it again. And I feel it is becoming our little tradition.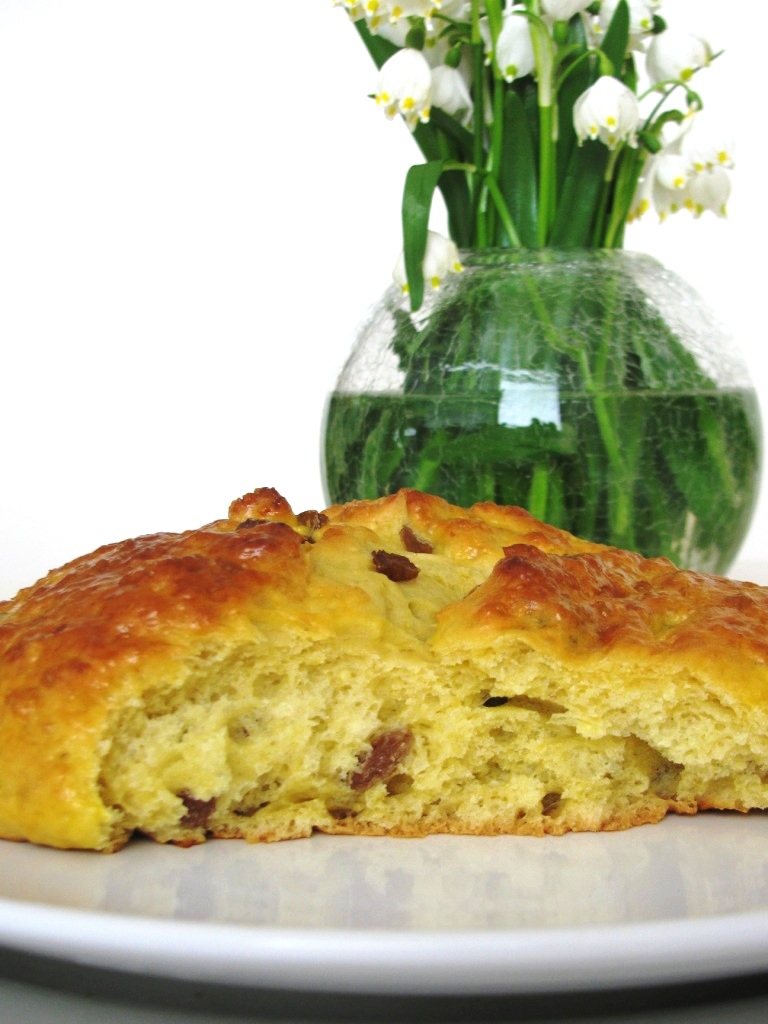 I gave my Pinca a little non-traditional twist with adding some rose water (because I simply love the combination of lemon and rose water!) and some more scented liquid – Limoncello, an Italian lemon liqueur.
I also used farmer's cheese, which you will not always find in recipes for this type of sweet bread. The rest is classics: flour, yeast, eggs, milk, fat (butter), lemon zest, raisins… If you are trying to picture the taste of this bread, think of something similar to Challah, or Panettone…sweet, flaky, soft.
Now go in your kitchen and bake it. It could easily become your Easter tradition as well.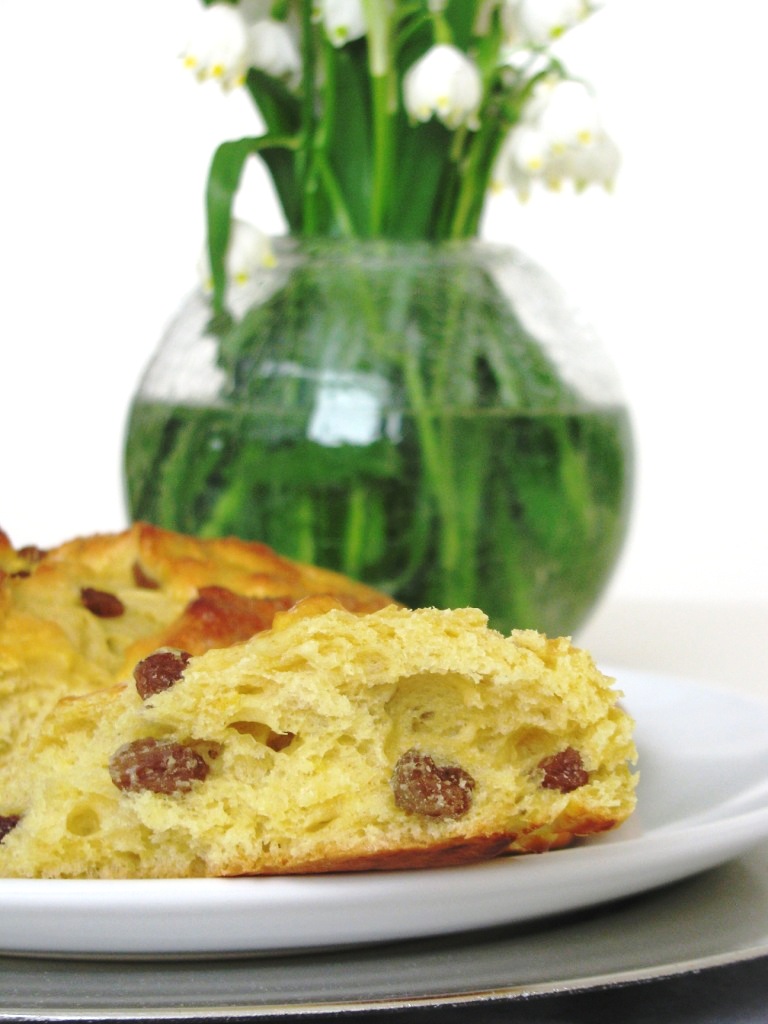 PINCA – EASTER SWEET BREAD
– makes 2 medium round breads (approx 6 inches in diameter)
Ingredients:
3 1/3 cups all-purpose flour + more for dusting when kneading
1/2 teaspoon salt
1/2 cup + 2 Tbsp milk
3 oz cfarmer's cheese*
2 oz raw sugar
1 Tbsp honey
sachet of dry yeast
3 eggs (separate use)
4 Tablespoons butter
zest of 1 lemon
2 Tbsp Limoncello (lemon liquor)**
2 oz raisins
3 Tbsp rose water
1 tsp vanilla extract (optional)
Method:
Prepare all the ingredients because it is important to have them at the room temperature.
Warm up the milk a bit in a small saucepan.
Activate the yeast in a cup, using a bit of lukewarm milk with some sugar and flour.
In a another cup soak the raisins in rose water
Beat two eggs with sugar until pale and fluffy, then add butter, cheese, milk, Limoncello and lemon zest
Pour the flour in a large mixing bowl, then add rest of the ingredients to it, starting with the activated yeast, wet mixture (made under 5), raisins (together with the rose water)
Mix with spirals until the dough becomes smooth and it starts to form into a ball.
Cover it and leave to rest for 1,5 hours some place warm. In that time It should double in size.
Dust the working surface with a lot of flour, then knead the dough a few times. Now form two balls and leave them to rise for another 1 hour.
Preheat the oven to 350 degrees Fahrenheit (160 C).
Whisk the egg with a tablespoon of water and use it to brush breads, Cut them on top and put in the oven for about 25-30 min (check after 20 min because you do not want to dry them out).
If you will not eat them straight away, Leave them to cool and then wrap in plastic bag, because otherwise they will loose the softness and texture.***
Notes:
* Ricotta cheese will work lovely too.
** If you do not have Limoncello, Rum will work nice as well.
*** You can also slice them and freeze for up to 3 months. That way you can always have a slice at hand. Simply take a slice and defrost it at room temperature or in your toaster.