It is more than a popsicle. It is so creamy and rich, a real dessert. Compared to usual popsicles (see my other recipes here), this one is much creamier and also heavier, due to the usage of Mascarpone cheese. Also, it has deeper fruit flavor which I got from stewing fruits (and not any fruits – cherries are a real winner here!) with the addition of cinnamon and honey. It all makes it taste much more like a "real" ice cream than a popsicle. But compared to its preparation, it is much simpler – only 5 natural ingredients and only 20 minutes of active preparation! Definitely my best pop-ice-cream-sicle ever 😉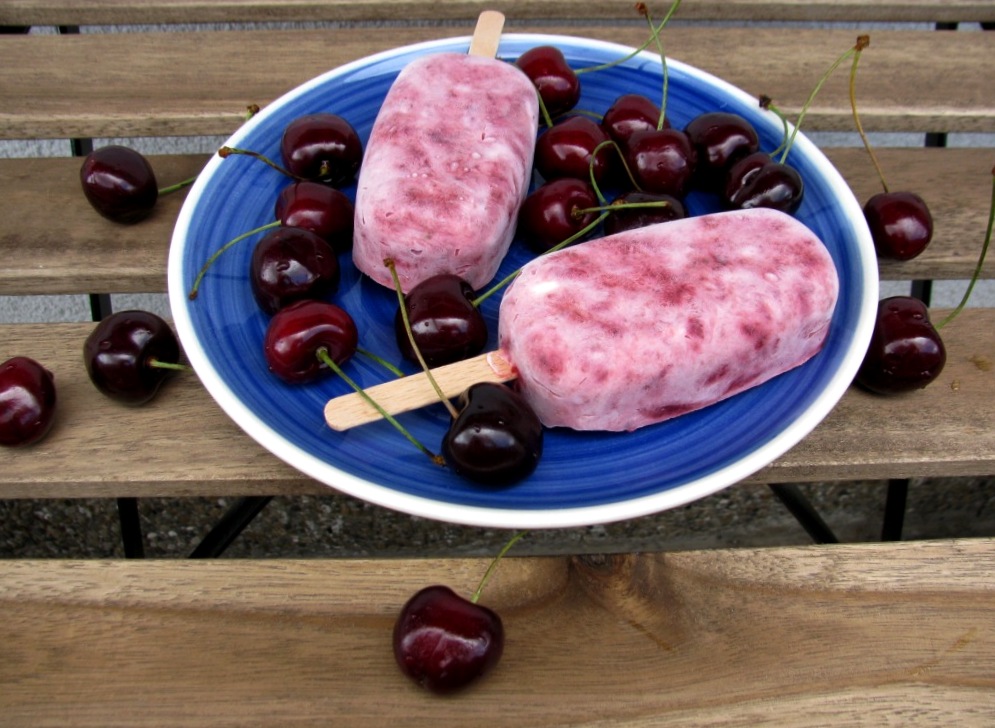 CHERRY CINNAMON CREAMSICLES (gluten free, refined sugar-free)
– makes around 3 cups (800 ml) ice cream (4-6 popsicles, depending on the size of your molds)
Prep time: 20 min (+ 2-4 hours inactive time needed for the ice cream to freeze)
Ingredients:
1 lbs. (440g) cherries (un-pitted)
2 tsp cinnamon
4 Tbsp (60g) honey (or other natural sweetener)
7 fl.oz (200g) yogurt (Greek style)
7 fl.oz (200g) Mascarpone cheese
Method:
Wash and un-pit cherries, add cinnamon and honey to them and set them over low heat for about 15-20 minutes until they soften. Leave aside to cool down.
In the meanwhile, take a mixing bowl for preparing ice cream mixture. Combine yogurt and Mascarpone cheese. Use a hand mixer to work them good. You can also use a spoon, but it is important that you incorporate Mascarpone nicely with yogurt.
Using a blender or a blender stick puree the cherries, leaving some pieces in whole. It is very satisfying to find them while eating the ice cream.
Slowly incorporate cherries in the yogurt mixture, just swirling them around.
Now pour everything in the container or in popsicle molds and put in the freezer for a few hours.*
If you are using popsicle molds 2-3 hours time will be enough for the ice cream to cool down and be ready to eat, but it will need longer (probably around 3-4 hours if you are using a big container).