Although I am pretty devoted to make healthier sweets for my family, in Christmas time I usually do not pay much attention to it, and we treat ourselves with all sorts of cookies and cakes. However, this year I decided to make our holiday sweets a bit healthier as well. I'll try to ditch all the sugar, white flour, and other empty calories. Maybe not all the way, but…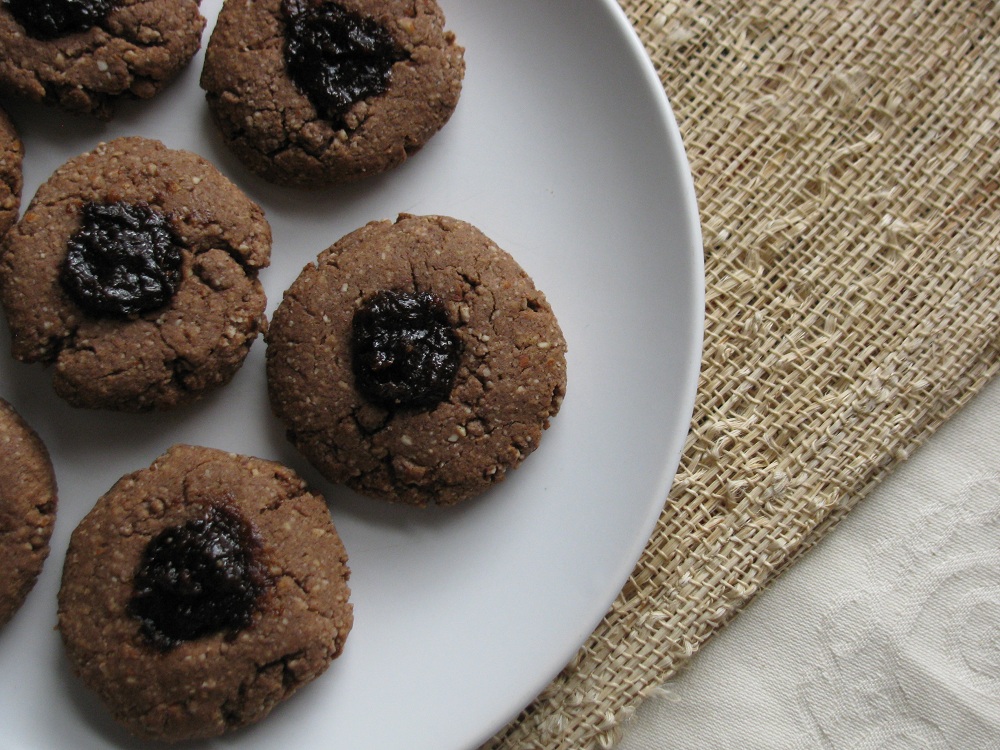 I decided to go first with thumbprints, and my wish to make them in a healthier version ended in a pretty successful experiment. I used buckwheat flour and grounded almonds, added some cinnamon and cacao to cover a bit the buckwheat taste (because not everyone likes it), and sweetened it all with a pure apple juice and a bit of maple syrup. How does that sound?
As for the filling part, I chose to make a prune jam, because prunes match buckwheat really nice, in my experience, and they are naturally sweet enough, so I did not need to add any more sugar in my cookies. However, you can also use plum jam, or any other jam you prefer (I am thinking cranberries now…maybe in the next batch 😉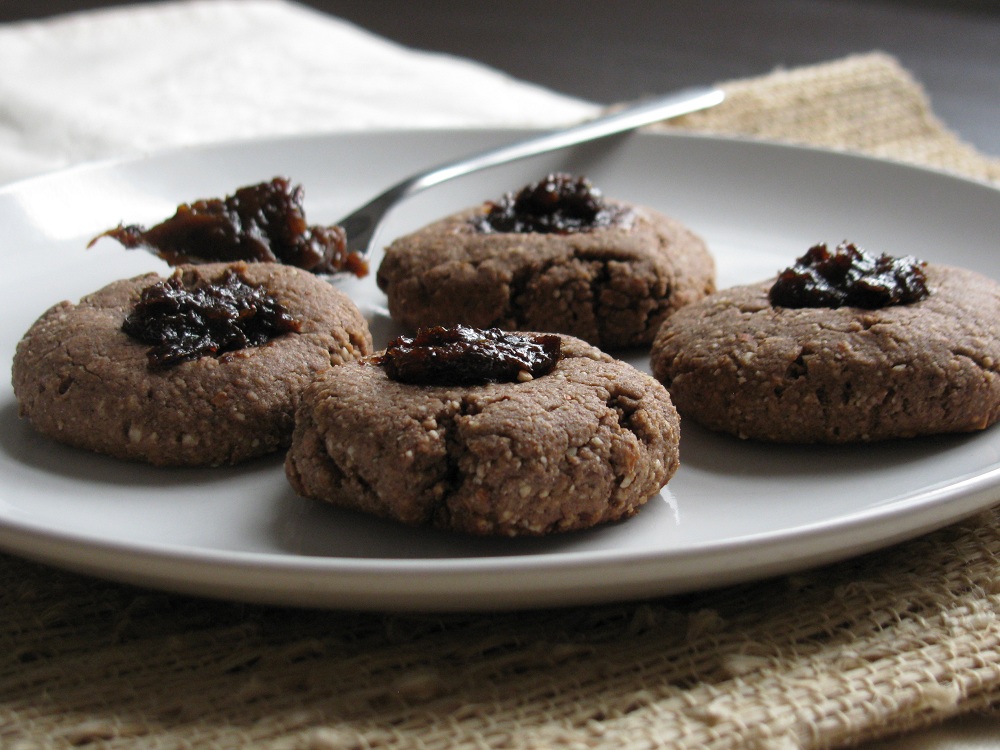 And I forgot to mention – not only they are sugar-free and gluten-free, they are also vegan! You are all very wellcome 😉
Now, let the healthy tasty holidays begin!
BUCKWHEAT AND ALMOND THUMBPRINTS (sugar-free, gluten-free, vegan)
author: Iva S. culinary postcards
– yields 16 cookies –
Ingredients:
1 cup (110g) grounded almonds
3/4 cup (90g) buckwheat flour
1 Tbsp cocoa
2 tsp cinnamon
pinch of salt
1/4 cup – 1 Tbsp liquid coconut oil*
1/3 cup apple juice or cider
3 Tbsp maple syrup (you can substitute with honey)
prune jam**
1/2 cup pitted prunes
1/2 cup water
* if your coconut oil is solid, melt 3 Tbsp over heat and let cool before using in the recipe
**use any other jam you like. try apricot jam, cranberry jam, apple butter, etc.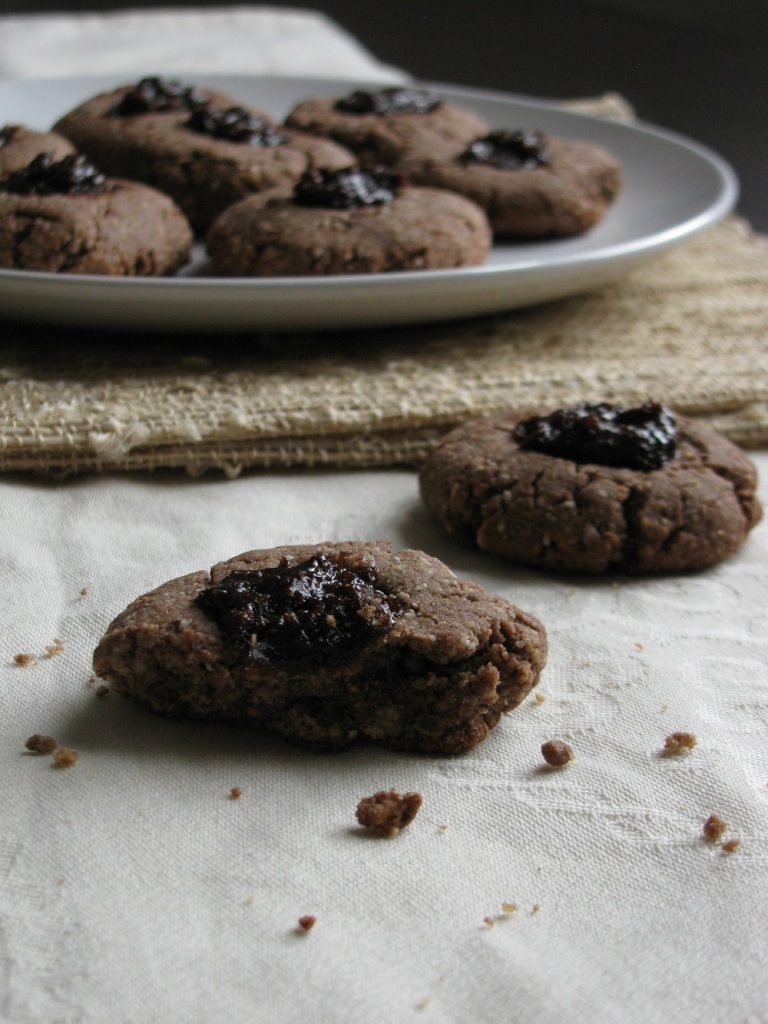 Preparation:
1. If you need to make a prune jam, put water to boil and pour over prunes, Let stand for at least one hour, Drain prunes, but do not throw the water away, drink it in the morning for a better digestion). Blend prunes.
2. In a big mixing bowl combine almonds, flour, cocoa, cinnamon and salt.
3. In a small bowl combine coconut oil, apple cider and maple syrup.
4. Pour the wet mixture over the dry mixture and combine well.
5. Line a baking sheet with parchment paper and preheat the oven to 350F.
6. Using palms of your hands roll balls and arrange on the sheet. When you are done, press each ball slightly to flatten it a bit, and then, using your thumb or wooden spatula, make indentation in each cookie.
7. Fill cookies with prune jam (or any other you are using), putting approximately 1/3 tsp in each cookie. Bake them for 12 min.