I am waiting for the day when sardines become expensive fish! If it is to believe what fishermen say, there are not so many of them around in our seas as ten years ago, so you better enjoy them now! Although most of the people claim they are at its best only grilled or served as a carpaccio, I have to admit that after trying them out in this recipe, I like them even more. And right now they are the fattest and yummiest so hurry up…
It is Jamie Oliver's recipe from his early days (book "Naked Chef") which I only slightly adapted.
Take those beautiful sardines, then stuff, roll, bake. And that is pretty much how it works. Now here is the recipe.
STUFFED SARDINES (WITH TOMATOES, PARSLEY AND PINE NUTS)
(serves 2 as main)
Ingredients:
2 plum tomatoes (in winter I use canned, but you can use them anytime if you want to make the preparation easier)
8-10 beautiful meaty sardines
1 lemon – zest and juice
1 onion
1 garlic clove
2-3 Tablespoons olive oil
2 handfuls of breadcrumbs
1 handful of fresh parsley leaves (chopped) and 1 handful of basil leaves (chopped; you can replace it with another handful of parsley as well)
1 handful of pine nuts
1 red chili
salt and pepper to taste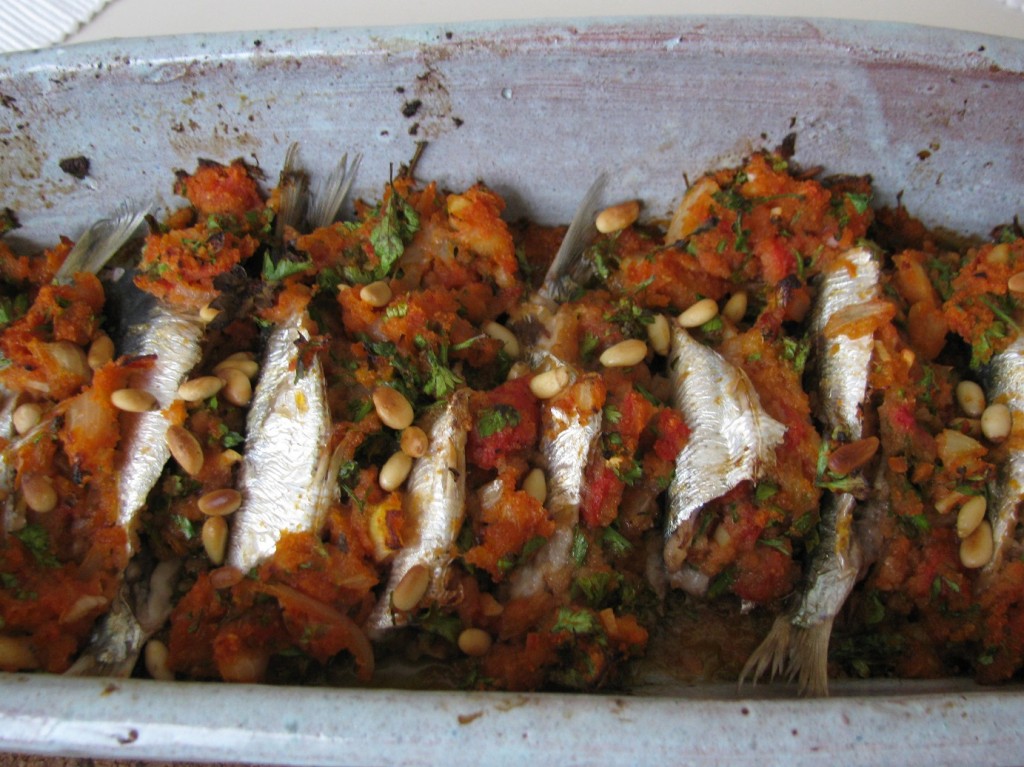 Instructions:
1. The trickiest part is to clean and prepare sardines for the filling. Using sharp knife take those little crystals of the fish skin. Clean them as usual, but then open them through, taking the bone out, and press each side onto working surface to get them look as open book.
Put them on the plate, season with salt and pepper, then add lemon zest and lemon juice.
2. Blanche your tomatoes in the boilling water, peel the skin off and chop them finely. If using canned tomatoes just chop them right away.
3.To make the filling, pour a tablespoon of olive oil in a skillet, heat well, then add chopped onions, garlic, tomatoes, chili, herbs and breadcrumbs. Combine and set aside to cool.
4. Preheat your oven to 450F (225C). Take your ovenproof baking dish, put some filling on the bottom of the dish then start arranging your sardines (still opened). Fill them with tomato-herb-breadcrumbs mixture than close them one by one.
5. Spread the remaining of the filling on them, sprinkle with pine nuts and olive oil and put in the oven for around 10 minutes, until golden and crispy.
Serve with rocket or lettuce salad aside, a piece of fresh ciabatta and a glass of red wine. Enjoy!