Would you mind if I keep it simple this time!? All my inspiration for writing is being spent on my Ph.D. at the moment and the most I can give you is a simple recipe for this silky, smooth, yummy dish. And it tastes better than it looks (I took a few shots in a real hurry…)
I have been doing all sorts of Thai curries for some time now and this is what I came up in the end as THE recipe. Don't get scared by its name or needed ingredients! You can get them in some of the newly opened shops in Zagreb (for example Svijet okusa, Ilica). Do yourself a favor and try this ASAP. It brings the right amount of exotic in your kitchen and it yet lets you keep the cooking simple.
MY SIMPLE GREEN THAI CHICKEN CURRY
Preparation time: 10min + Cooking time: 20 min
– serves 2 as a main –
Ingredients:
1 tbsp of vegetable oil (sunflower or sesame oil)
3 tbsp green curry mix (see recipe below) or green curry paste (ready to buy)
1 chicken breast (about 400g)
1 small or 1/2 big aubergine
app.3/4 cup (100g) fresh or frozen peas
app. 3/4 cup (200ml) coconut milk
app. 1/4 cup (50ml) water
1 knob of garlic
2 kaffir lime leaves
1 tbsp soy sauce
pinch of sugar
1 tsp arrow root powder or 1 tsp flour (used as a thickener)
salt to taste
bunch of fresh coriander or parsley to garnish
a bowl of jasmine/basmati rice or rice noodles to serve
*optional: black radishes as a side, seasoned with some vegetable oil, salt and rice vinegar
* to make a simplified – home version of green curry mix: 1 teaspoon ground coriander, 1/2 tsp ground ginger, 1/2 tsp ground lemongrass, 1/2 tsp ground cumin, 1/2 tsp ground green chillies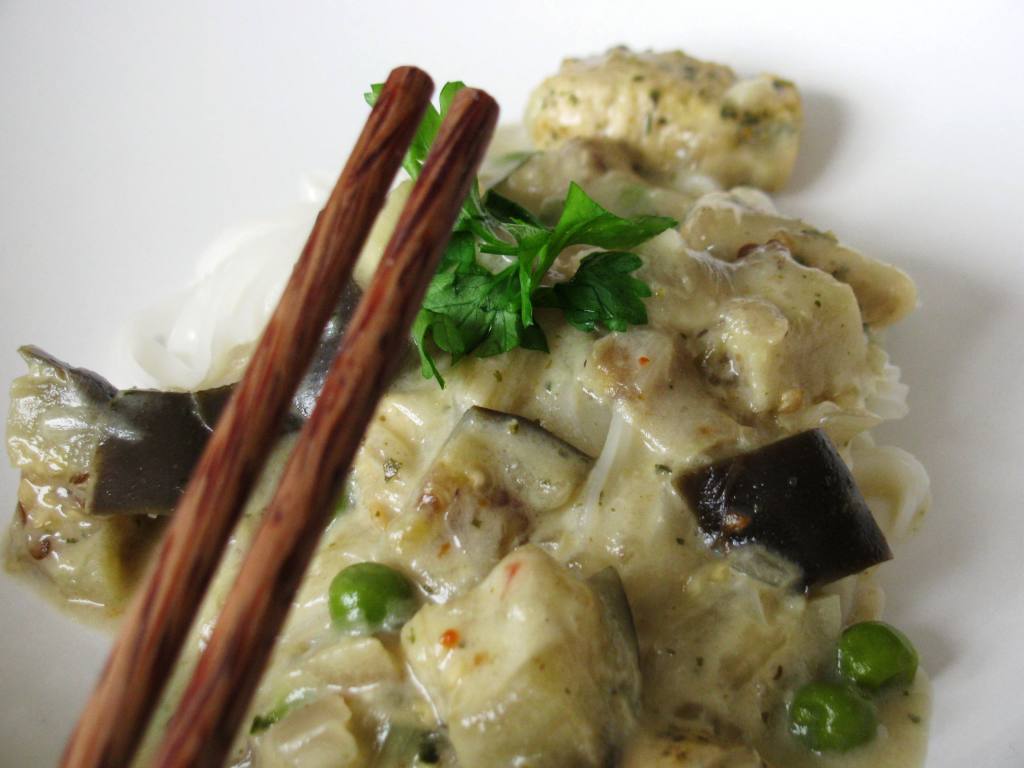 Instructions:
Clean chicken breasts from skin and cut it into bite size chunks. Salt, then marinate in green curry mix for 15 min, while preparing rest of the ingredients.
Clean aubergine and cut into bite size chunks. Peel garlic and get peas ready.
Pour oil in a deep frying pan or a pot and put it on the stove, heat up.
Fry/cook chicken on a medium-high heat about 6-7 minutes, stirring occasionally to make it brownish on all sides.
Pour coconut milk and water over it.
Add aubergine, garlic and kaffir lime leaves. If using frozen peas, add them at the same time, but if using fresh peas, add them after 5 minutes. Simmer for 10 minutes.
In a small cup prepare arrow root powder or flour with a pinch of sugar and stir it in your curry.
Cook for another 5 minutes until it thickens and meat and veggies are cooked through. Add soy sauce and stir.
Garnish with fresh chopped cilantro or parsley and serve with some rice or noodles.