This is a classical raw desert made with dried fruits and nuts, with no sugars or sugar replacements added. If you are new to raw desserts, you must make it, because it is fast and easy to make and it will win you over!
Be aware that these bars are loaded with sugars from raisins and dates, and watch not to eat too many of them at once. Besides, they also contain banana and spelt  bran, which makes them extra nutritious and possibly also a good breakfast or a snack. Still, they are as tasty as the best cake you've ever had.
Instead of groats you can also use oats, and if you want to eliminate grains, replace them with more walnuts (see the recipe for detailed instruction).
These bars are soft, creamy and sweet, with walnuts dominating in the flavor, with a hint of chocolate (from cacao only!). Additional walnut and cacao nibs crunch on top gives them an extra flavorful kick so do not skip it. Enough said, here is the recipe…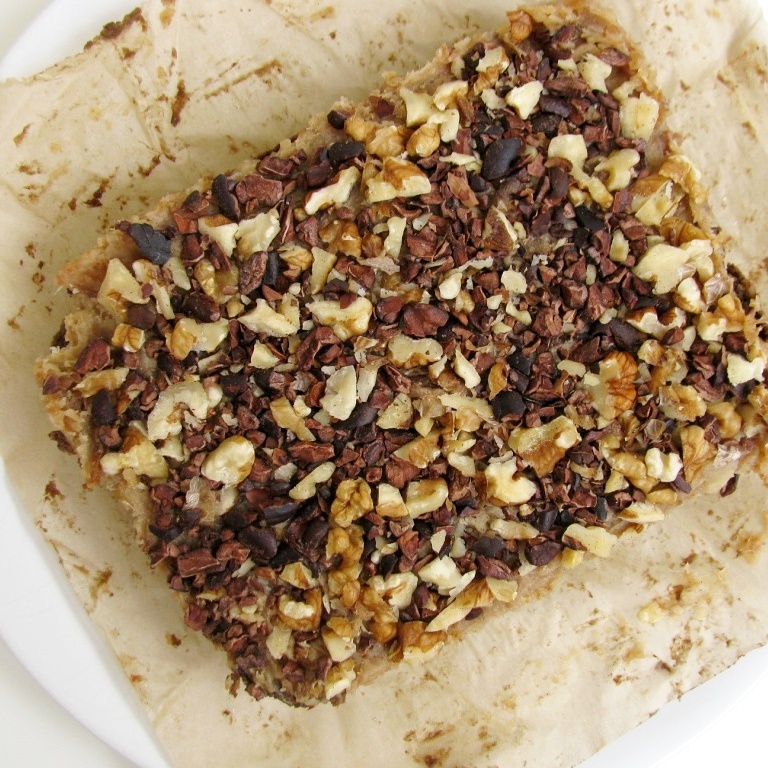 RAW WALNUT BARS WITH CREAM OF DATES (no sugar, vegan, with a GF option)
Prep time: 20 min (+ inactive 30 min)
yields 6 bars (as pictured below)
Ingredients:
1 large banana
1/2 cup (50g) walnuts
1/2 cup (60g) sunflower seeds
1/2 cup (25g) spelt bran (or oat bran)*
1/3 cup (40g) raisins
2 Tbsp (20g) cacao
2 Tbsp (20g) coconut oil
(cream)
8 fresh or dried dates (50g)**
2 Tbsp (20g) coconut oil
(crunch)
1 Tbsp cacao nibs***
1 Tbsp walnuts
*Instead of bran you can also use oats, but in that case grind them before throwing them into blender or place them together with the rest of the ingredients so there are no big pieces left. For a GF option, replace bran with an equal amount of walnuts.
** Best are medjool, but regular fresh or even dried ones will also work.
***If you do not like cacao nibs, replace with more walnuts.
Instructions:
Throw walnuts, sunflower seeds and raisins into blender and pulse shorty, then add banana torn into smaller pieces, cacao, coconut oil and bran. If using oats instead of bran, throw them in together with walnuts. Pulse everything until it resembles into thick sticky "dough".
Line a small pan with baking paper or foil then scoop out the dough in it, pressing it down well. Put in the fridge for at least 30 min to harden.
Now make the caramel: If using fresh dates, just pulse them together with the coconut oil until you get the creamy texture. If using dried dates, pour some hot water over them, let soak for about 10-15 minutes, then drain and proceed the same way.
When bars are done, spread the caramel over them and finish with adding more walnut pieces and cacao nibs on top. Press them in the cream so they don't fall down when you start eating.
Keep bars in the fridge and use in 3 days or freeze for later.