Good morning, müsli bars, and good morning to all of you who are reading this!
Breathe in. Breathe out.
They say it breathing is extremely important for our health and that we are not paying enough attention to it. I am still learning.
They actually say a lot of things about healthy eating and sleeping, grains and meat, ecological and organic, locally grown and imported, but I am trying to pay less attention to these stories and listen to my inner feeling. It comes with years.
I can tell you that these are really tasty, and I believe, good for you. Start a day with them, or eat them as a healthy snack when you need some energy boost.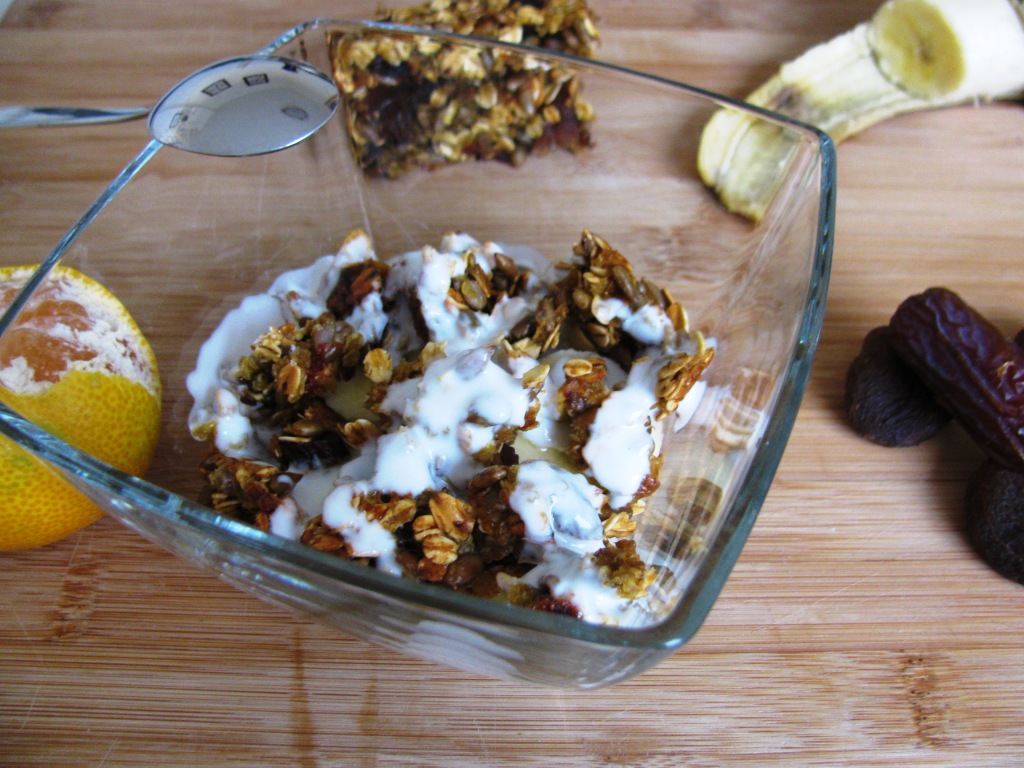 My inspiration was Martha Stewart's recipe for Quinoa, Apricot and Nut Clusters, but I made a few changes, and made the whole thing in form of bars. Enjoy!
QUINOA AND DRIED FRUIT BARS (gluten-free)
– makes 12 bars –
Ingredients:
(makes 12-16 bars, depending on the size of pan)
200 ml cooked quinoa (cook more, then use the rest for 

this soup

, or make yourself a salad)
300 ml oats (make sure they are labeled gluten-free)
100ml sunflower seeds
200 ml mix of dates and dried apricots
2 tablespoons brown sugar
1/2 teaspoon salt
50ml honey
2 tablespoons vegetable oil, olive oil or coconut oil
2 eggs
Instructions:
1. Preheat the oven to 325 F+fan (or 350F). Rinse the quinoa, then cook for 12 min. Transfer it to ovenproof dish and bake for 30 min, mixing occasionally. It should dry out and become a little bit crunchy. Put a side, let cool.
2. Meanwhile, toast oat flakes and sunflower seed in a pan, separately. You can also toast them in the oven, like quinoa, but they need less time (oats around 15 min and seeds around 10 min). I prefer doing it in the pan, it is faster and you can control it easier, plus you are saving time while preparing quinoa.
3. Mix quinoa, seeds and oats in a bowl.
4. Chop dates and apricots, add to a bowl. Add sugar and salt.
5. In a separate smaller bowl, combine eggs and honey, then add oil. Pour the wet mixture into dry ingredients and give it a good stir until everything sticks together.
6. Use parchment paper for your baking dish, take out the mixture and flatten it down. Using knife, cut the bars and bake on 350 F for around 20-25 min.*
7. Leave it to cool, then make bars and store them in the fridge or some place cold and dry. Eat them in 4-5 days.
* If you want to make granola, you do not have to cut bars. In that case, bake longer. After 15 min baking, stir it and continue baking for another 15 min.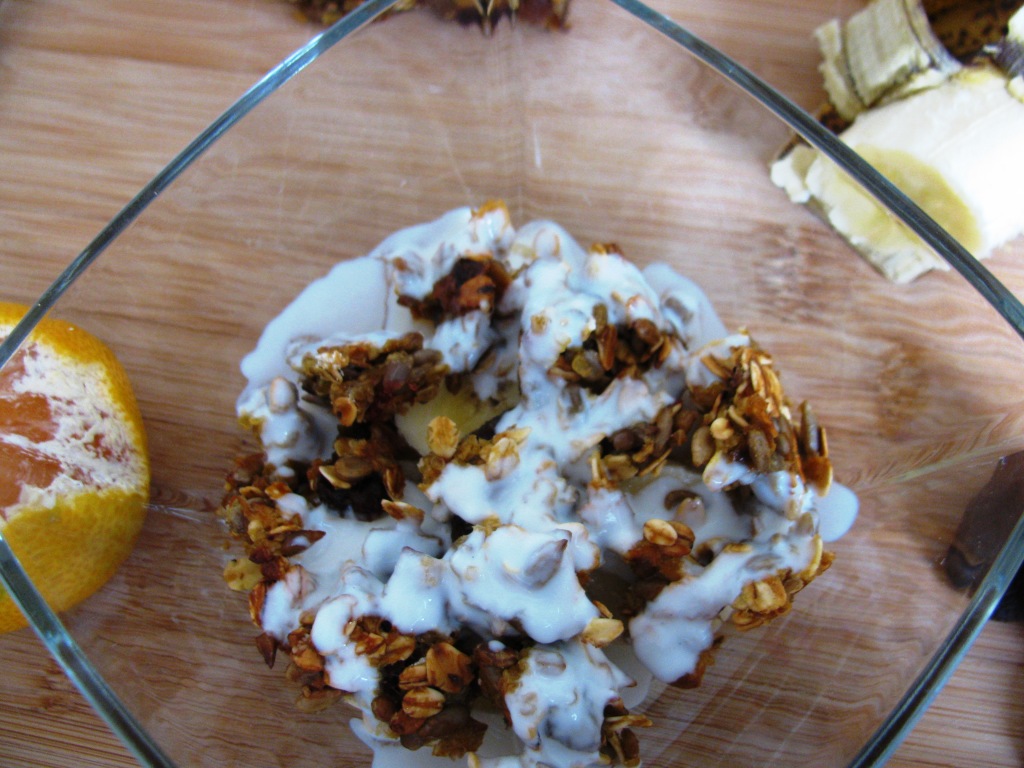 Serve for breakfast, with milk or yogurt and some fruits (banana, apple, tangerine…) or have them as a ready-to-go snack.