A delicious orzotto, less known sibling of risotto, made a bit differently.
But what matters the most: It is creamy, silky, cheesy and deep-flavoured.
And it takes only 20min hand-on time to make it.
I am guessing there is no need to talk about risotto. Is there anyone who didn't prepare a risotto at least once in their lives? No worries, just follow this link, I have a simple and nice recipe for you, which you can use as a base for any kind of risotto.
OK, now what about "orzotto"? Orzotto is just an risotto-inspired name for a very similar dish, only made with barley, orzo in Italian, instead of rice.
Orzo is a really healthy grain, which is not so popular worldwide like rice, but can add an extra deliciousness to your meals. But let's start with preparing it like rice…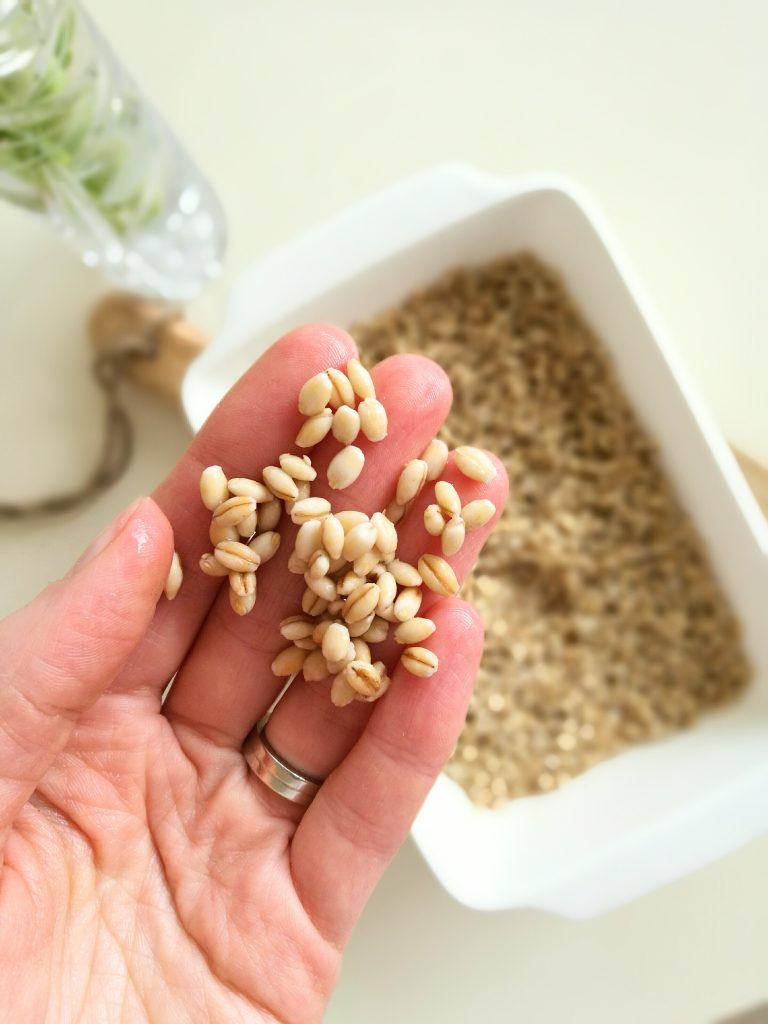 If by any chance you do not have barley, or dislike it, make this dish with rice, the one you usually use to make the risotto with (I always recommend Arborio or Carnarolli). This tehnique of cooking is really unique and very practical if you do not have time to stand beside to stove and keep adding that vegetable stock to your rice (or orzo) little by little… 😉
Instead of doing that (hard job), you simply put everything (EVERYTHING!) in your casserole dish and pop it in the oven. Yup, that's about it.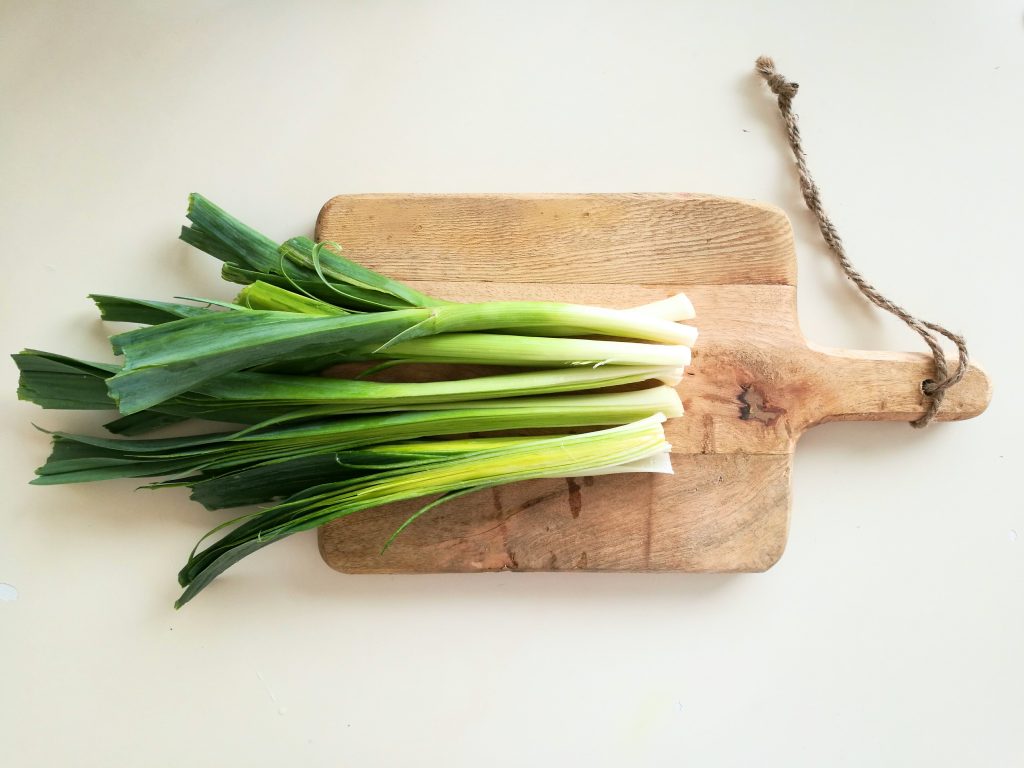 But except the tehnique used here, this recipe has another peculiarity. It is made using leftover Parmesan rinds.
If you buy regularly buy Parmesan (Parmigiano Reggiano) in wedges, you know what I am talking about. After grating it for your pasta and risotto for a few weeks, you are being faced with a piece of cheese that is getting thinner and harder to grate. A little bit later you come to that thick, hard crust and the only thing you can do with it is to throw it away. Actually not!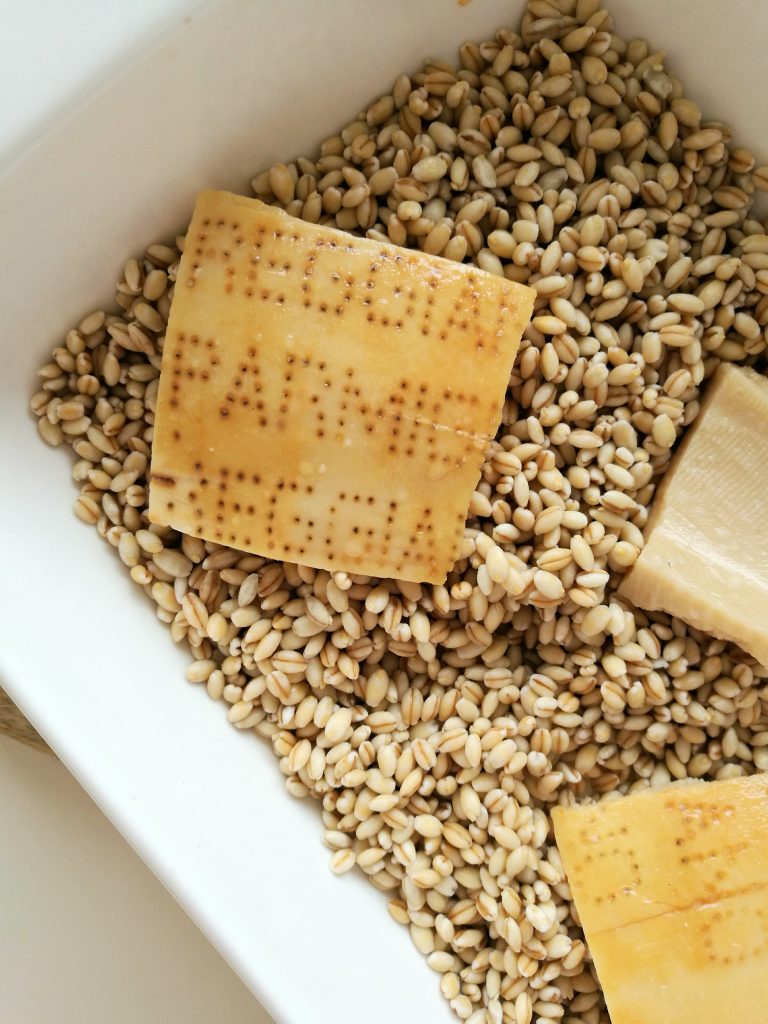 You can do quite a few things with it, but to me, this is the best use by far. While cooking it, Parmesan rind will become very soft and release all the flavor and creaminess that you need for your orzotto. As a matter of fact, the dish wouldn't be that delicious if you try to replace the rinds with freshly grated Parmesan cheese. Pretty cool, I know. 😉
Ok, so just one more note before jumping to the recipe. As you will see, I used only onions and leeks. I didn't choose much because there is no wide choice of vegetables at my farmer's market at the moment (and all of us actually love the combination of leek and barley). However, you could make this with some other vegetables, like spinach, or even add mushrooms to it, it would be delicious. I think I will make that next time.
OVEN-BAKED ORZOTTO 
Prep time: 10 min >> Cooking time: 1 hour (only 10 minutes hands on!) >> Total time: 1h 10 min
Ingredients:
1 cup pearl barley (orzo)
1 cup vegetable broth
2 cups water
2-3 leftover Parmesan rinds (optional)*
olive oil
1/2 onion
3-4 leeks (about 1/2 lbs)
1 garlic clove
salt and peeper to taste
Preparation:
Trim and clean leeks, slice in 1-inch pieces, then place in a bowl and cover with water. Leave for 5 minutes then take out with a draining spoon on a piece of kitchen towel.
In the meanwhile, measure barley and place it in a colander, then rinse under cold running water. Drain and place in an ovenproof dish that has a matching lid**.
Arrange Parmesan rinds on top of barley, with hard side on the out, "nesting" them a bit between grains.
Preheat the oven to 200C (400 F).
Chop onion and garlic finely.
Heat a lug of olive oil in a pan. Add onions and leeks to the pan and sautée them for about 7-8 minutes. Add garlic, season, and let it sautée for another minute or so.
Arrange leeks on top of barley and pour water and vegetable stock over it. Cover with a lid and place it in the oven on 200C.
After baking it for 40 minutes, remove the lid (cover) and bake for another 10 minutes. Take it out and leave for 10 minutes to cool down.
Carefully remove Parmesan rinds, scrapping inner side of melted cheese and stirring it around the orzotto. Check the seasoning.
Serve with a lug of olive oil and some extra Parmesan, if you wish. Goes well with a salad on the side.
Notes:
*Omit Parmesan if you want to make your dish vegan and produce the cheese flavor by adding approx 1/2 tsp nutritional yeast. Note that orzotto will not be as creamy.
** I guess Dutch oven could work fine as well. If you do not have a dish with a lid, use aluminium foil to cover it.