In the event of the New Year's Eve, I am sharing one of my (favorite) signature dishes – seafood recipes and accompanying lovely pics from my "food archive".
Those who know me know that I am mad about Thai and Vietnamese cuisine. This is rather a fusion dish, and the great thing about it is that you can do it at home, it doesn't take a lot of time and ingredients can easily be found even in our stores 🙂
Don't worry about decorating your table, just make sure your plates look yummy and ARE yummy!
Have a healthy, happy, prosperous and tasty New Year! 😉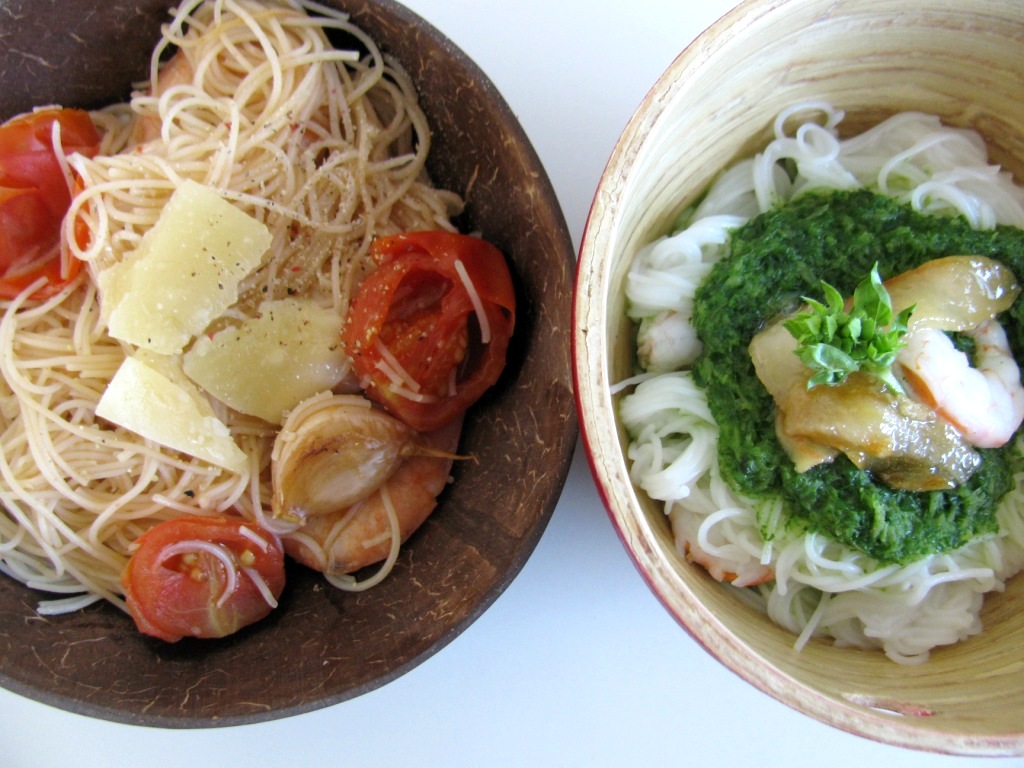 PRAWNS WITH RICE NOODLES IN TWO COLORS
Ingredients:
300g fresh prawns
200g rice noodles/vermicelli (0.8mm or more)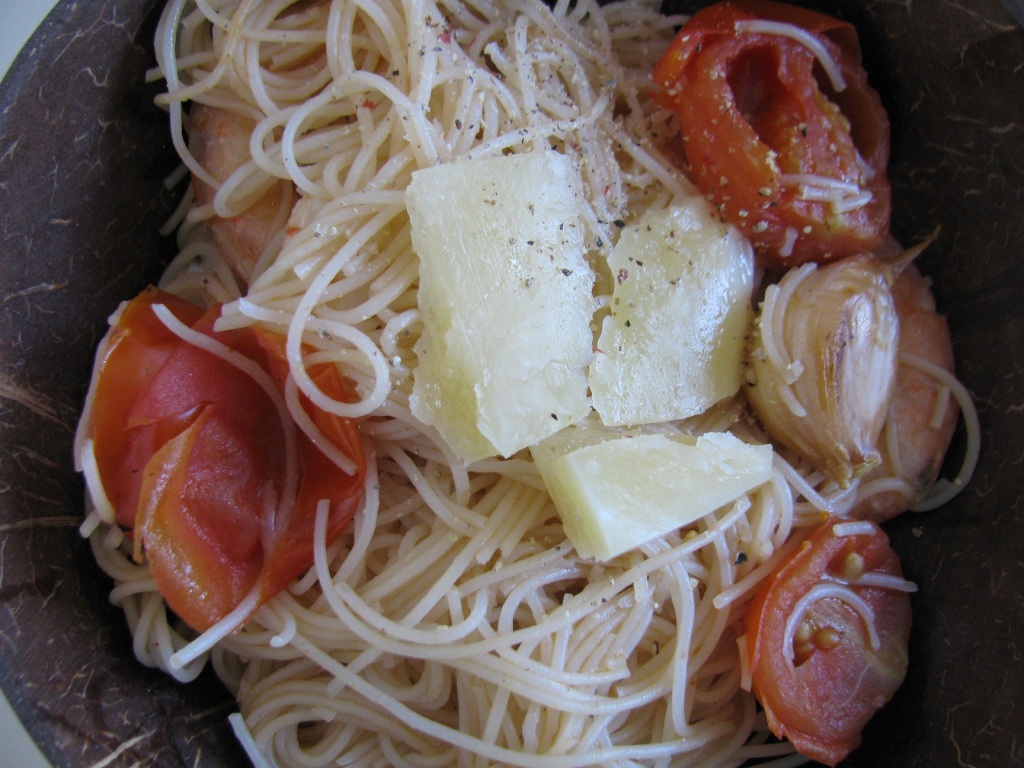 /red/
150 g cherry tomatoes (don't kill me for using them in winter time; it is originally a summer/autumn recipe but if you need red tomorrow, use them, noone everybody will forgive you when they start eating this J
4 cloves of garlic
100ml white wine
50g cube of Parmigiano Regianno
olive oil
salt, freshly grounded pepper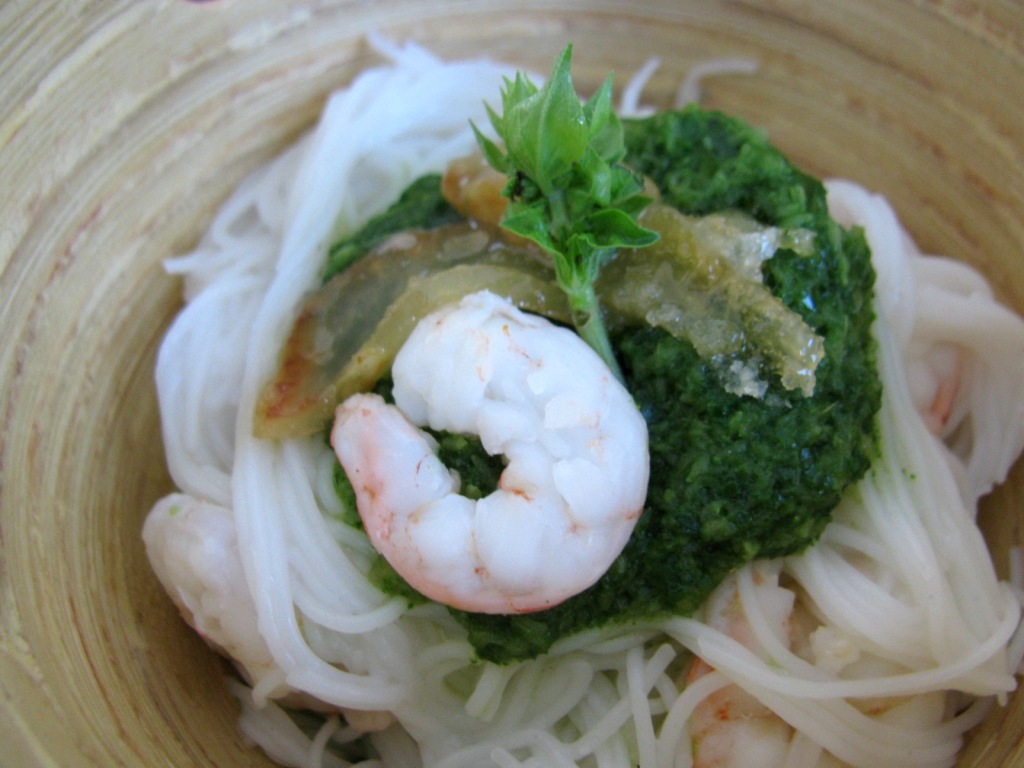 /green/
2 handfulls of fresh basil
1 tablespoon finely chopped fresh ginger
50ml olive oil
salt
1/2 pear
1 tablespoon butter
1 tablespoon sugar
Instructions:
1. Peel prawns so you get only clean meat. If you wish, leave few of them in the shell. Put then back in the fridge while you prepare rest of the meal.
2. Wash, trim and peel pear, then cut it in nice and thin. Take a small pan, put butter and sugar, let them melt, then add pear. they will need around 10 min to caramelize. If they need more, don't push it, take your time, it is worth waiting.
3.In a small pot boil some water (three fingers) then add ginger. Cook it for around 6 minutes until it softens, then add basil leaves for a minute. Drain and let cool.
4. Wash tomatoes and cut in half. Pour some (olive) oil in wok then add whole, unpeeled cloves of garlic and stir them few times. Add prawns, stir only few times and set on a plate.
5. Get tomatoes back in wok, after a minute or two add wine and then half of the noodles (100g; the rest you need for green dish). Stir it for two min. then pour 200ml of water over. Let them cook until soft but not chewy. When almost done, bring back those fried prawns and garlic and give it a minute or two so all the flavours combine.
***
6. Take another pot and boil water for noodles. While you wait for the water to boil, prepare green pesto. Put the ginger and basil you cooked (see at 3) in a high glass, add olive oil, salt and mix it until smooth. Add more oil if needed. You're done with the green part of the story.
7. In boiling water add the rest of the noodles (100g) and cook for around 8 minutes (if using thicker noodles you will need to cook them more). Put steamer over the pot and cook your prawns on the steam.
***
Take one plate to serve "red prawns" and another for "green prawns" (mix noodles and prawns then cover with pesto; put pear and fresh basil on top)