Refreshing salad with crispy fennel and sweet oranges. Addition of mild Ricotta cheese and a tangy-sweet honey and lemon dressing round up wonderful flavors in this rich winter salad.
Naturally gluten free.
There are almost no rules in my diet when I travel to Italy. Luckily, wherever you go in Italy, there is always so much good food. And I am not talking pizza and pasta.
Our trip took us to the most northern part of Italy – South Tirol (Alto Adige/Süd Tirol), which is historically and culturaly very Austrian. Everyone speeks German, architecture is similar to that in Salzburg or Vienna, and you will often see dumpling soup, Leberkäse, Kaiserschmarrn or even Linzer cake on the menu.
Except for the good food, we love Alto Adige for its lond sledding trails, beautiful nature and serenity.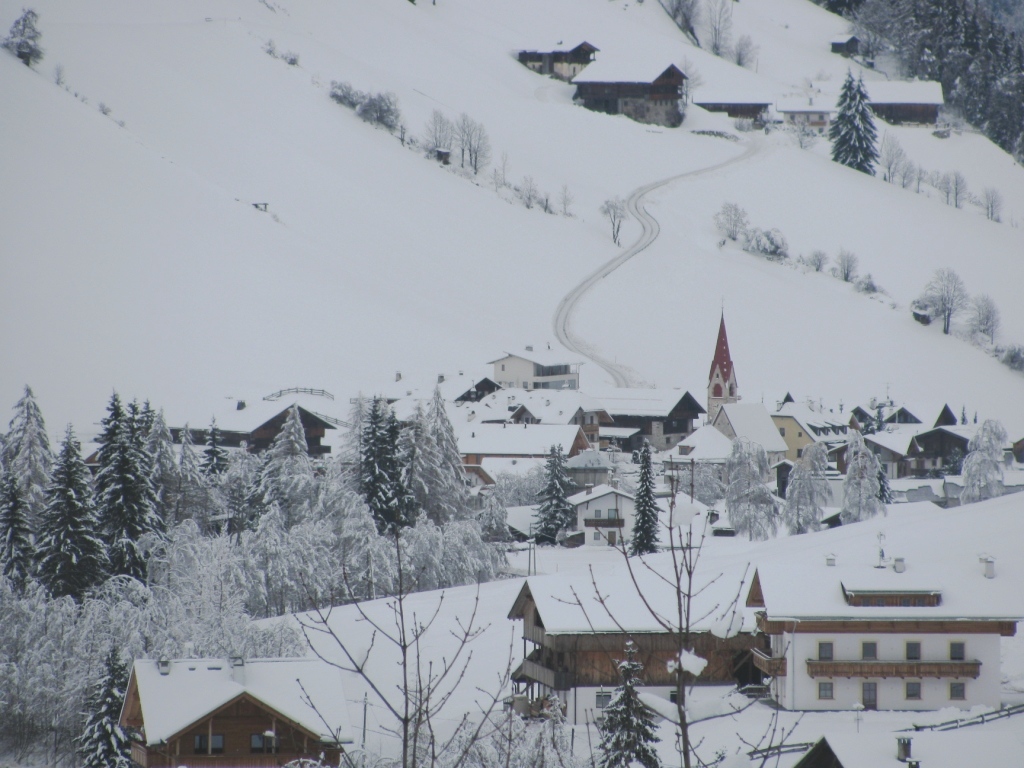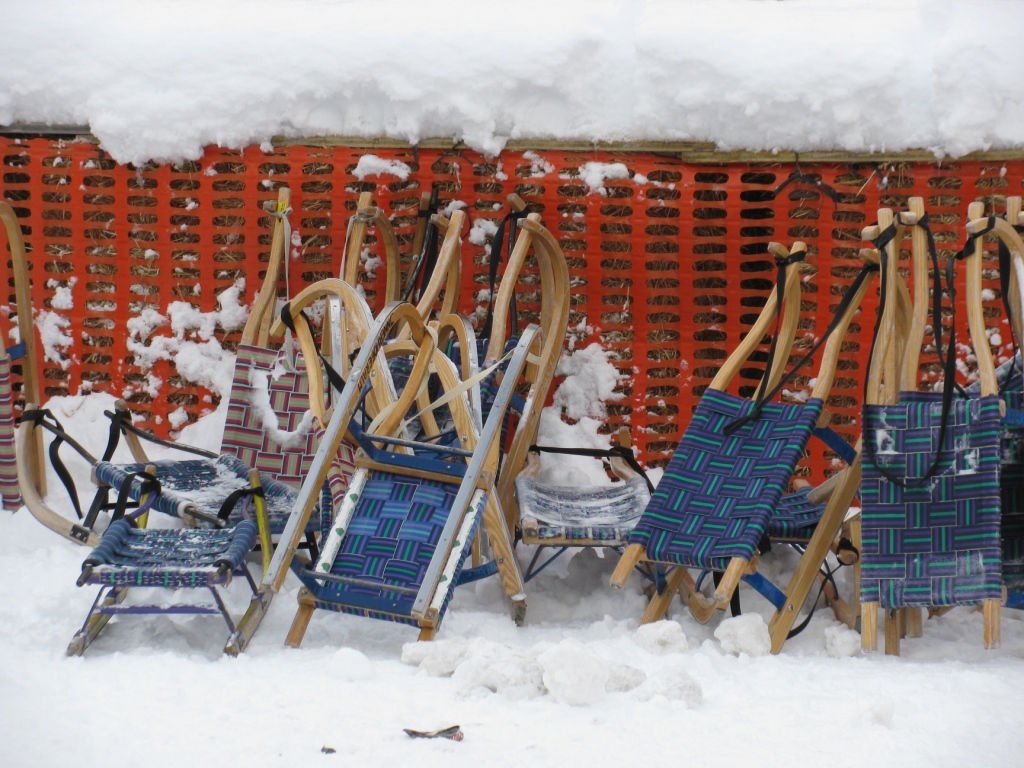 Now, with two little kids, there is a special bonus for going to vacation – it means no shopping, cooking or dishes. And since it included Italy, it also means I will get inspired to make some new dish upon our arrival back home.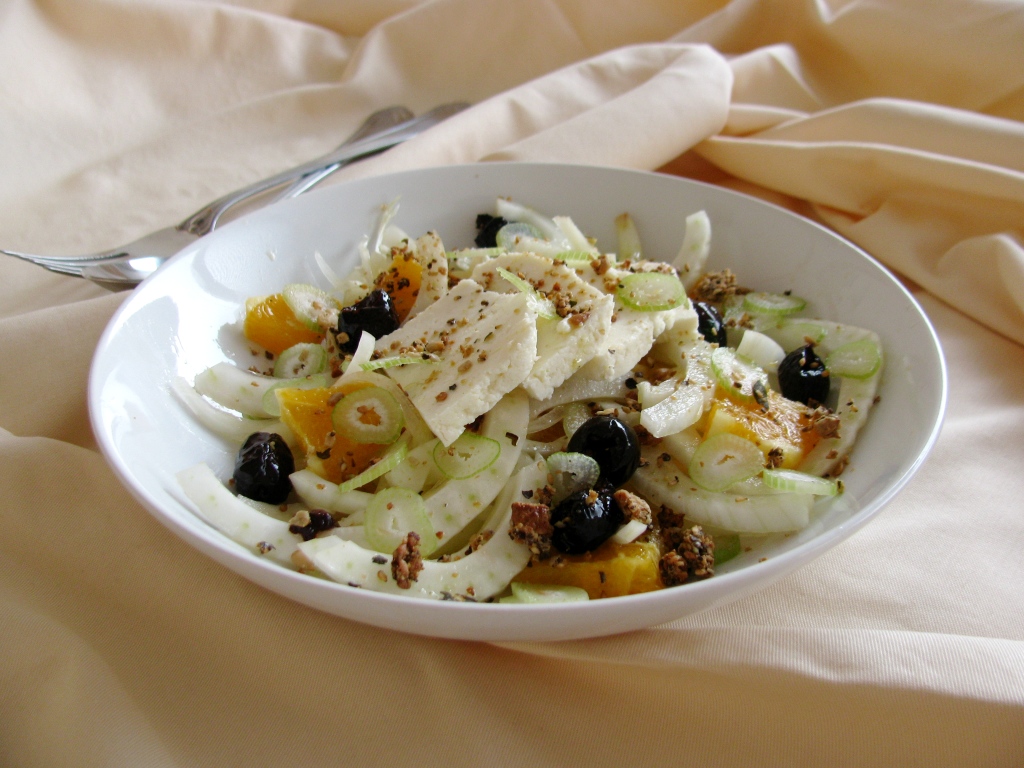 One of the vegetables I associate with Italy at most is fennel. I had fennel in many ways, but raw is my favorite. Therefore, I chose the crispy fennel as the base for this salad. And then I added some more wonderful things to it – oranges, ricotta cheese, olives…Italian at its best!
To make this salad a full meal, I also added some seeds to it. Crunchy pieces of seed crackers are just enough so you do not fall for a slice of bread and keep this meal a true healthy feast.
I hope you are already shopping the ingredients.
FENNEL AND ORANGE WINTER SALAD WITH CRUNCHY SEEDS
Prep time: under 30 min
-main for 2 / appetizer for 4-6 –
Ingredients:
1 fennel bulb
1 large orange
1/2 onion
10-ish oblack olives
4-6 slices od ricotta (150-200g)
1 Tbsp honey
juice of 1/2 lemon
salt to taste
3-4 Tbsp olive oil
5 Tbsp mix of seeds and nuts – sesame, sunflower, pepitas, hemp, chia
1 tsp ground flaxseed + 2 tsp water
Method:
Slice onion thinly. Salt it and pour water over it. Soak while you prepare rest of the ingredients.*
Wash and trim the fennel bulb. Slice it in half, then place the cut part on the board and slice. Place in a salad bowl.
Peel orange, discard white parts and slice, then cut each slice in four. Add to salad bowl together with olives.
Prepare the dressing: combine honey, lemon juice, salt and olive oil.
Drain onions, add to salad bowl, then pour dressing over it and massage into vegetables. Cover with foil and put in the fridge for 15 min.
Now prepare crunchy seeds. Combine seeds and nuts in a small bowl together with flaxseed and water. Preheat oven to 400F. Spread the dough on the baking sheet and put into oven for 15 min. Leave it for a few minutes to cool down then crush it in a mortar or put in the blender and pulse for a few times.***
Take out the salad, arrange ricotta slices on top, sprinkle with crunchy seeds and serve.
*you can skip this step but it helps to extract strong flavor from raw onion
**or use any combo you prefer
***instead, you can simply toast the seeds in the oven or on stovetop, but then omit the water