This is pure comfort, made a bit healthier. So I like to say to myself.
And a quick lunch. Very quick lunch. And so simple that it almost can not be cold a "recipe". 🙂
If you want a gluten-free version, substitute regular (wheat) pasta with buckwheat noodles, or cut down the calories with substituting it with raw zucchini spirals. Whatever you do, this is so good that you must try it. Must.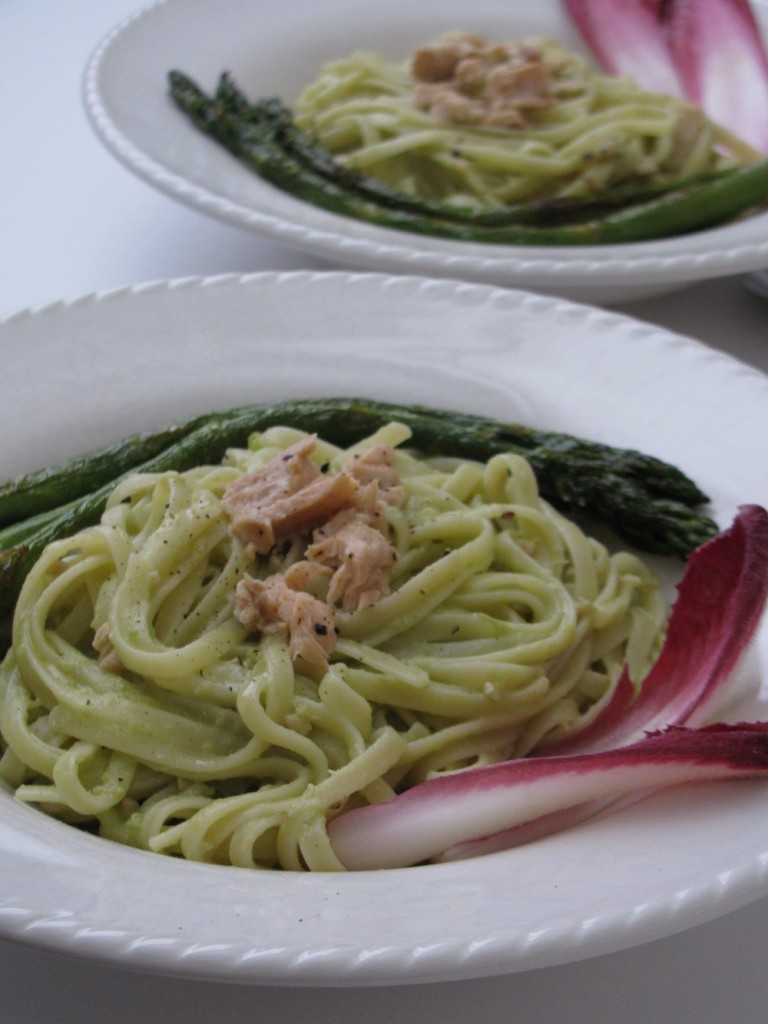 CREAMY SALMON AND AVOCADO LINGUINE with ROASTED ASPARAGUS (vegetarian, dairy-free, with a gluten-free option)
-serves 2 as main or 4 as appetizer –
Ingredients:
6 oz linguine or other long shaped pasta of your choice*
6-7 oz fresh salmon filet (but a canned one will work great as well)
"sauce"
1 avocado
1/2 lemon (juice)
2-3 tablespoons olive oil
salt and pepper to taste
side
1/2 lb asparagus
2 tablespoons olive oil
salt and pepper to taste
some lemon to drizzle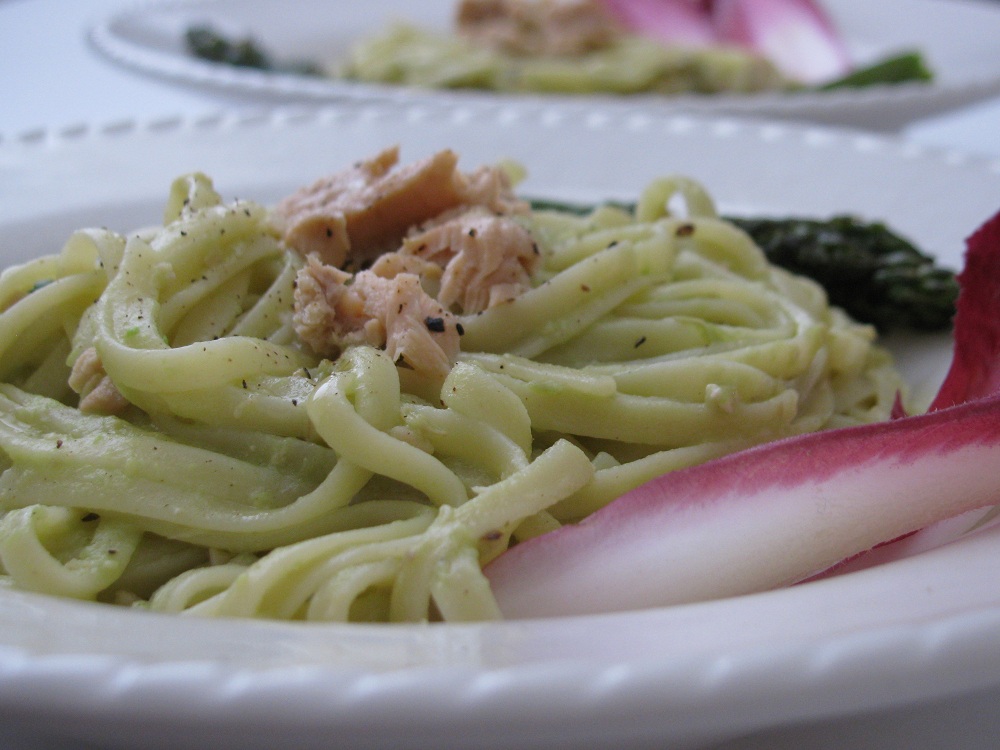 Method:
1. Put a pot of water on the heat to cook pasta.
2. Preheat your oven to 400F.
3. "sauce": using a fork, mash avocado in a bowl finest as you can (or use a blender), add lemon juice, stir. Slowly start adding olive oil, stirring constantly to combine it and get a nice mayonnaise-like texture. Salt and pepper to taste.
4. Wash, clean and trim asparagus, dry them with a kitchen towel. Put them in a baking tray in one layer, salt a bit, drizzle with olive oil and put in the oven. They will need about 10-12 minutes to start getting brown edges and become enough soft.
5. Cook linguine for 8-9 minutes.
6. Wash the salmon fillet and put in the smaller pot with a water. When water boils, cook for about 6-8 minutes, depending on the thickness of the fillet. You can also cook it over steam bath, but it will take much longer – in that case, start doing that as a step 3, before you start any other things.
7. Peel the skin from salmon, then using a fork tear it into smaller pieces. Stir in the sauce in the hot pasta, then add salmon. Combine carefully. If needed, add more salt, pepper or lemon juice, depending how you like it.
8. Take the asparagus out of the oven, drizzle with some lemon, salt and pepper.
9. Serve linguine with asparagus and a salad of choice (endive)
 *see intro for gluten-free substitutions