Once you start making risotto a proper way, like Italians do it, and get the best of your rice, you will never want to eat it any other way.
For me, rice is as versatile as pasta, and only in risotto, being so creamy and smooth, it gives me that eating comfort. With vegetables, fish or meat…you name it.
Although I used the brown rice (which I previously cooked half the way through), I followed the well learned risotto procedure and the final result did not lack anything. Bursting with fresh spring flavors of fava beans and chicory, contrasted with creamy nutty flavor of pine nuts, this risotto is the best healthy-style risotto I have made so far.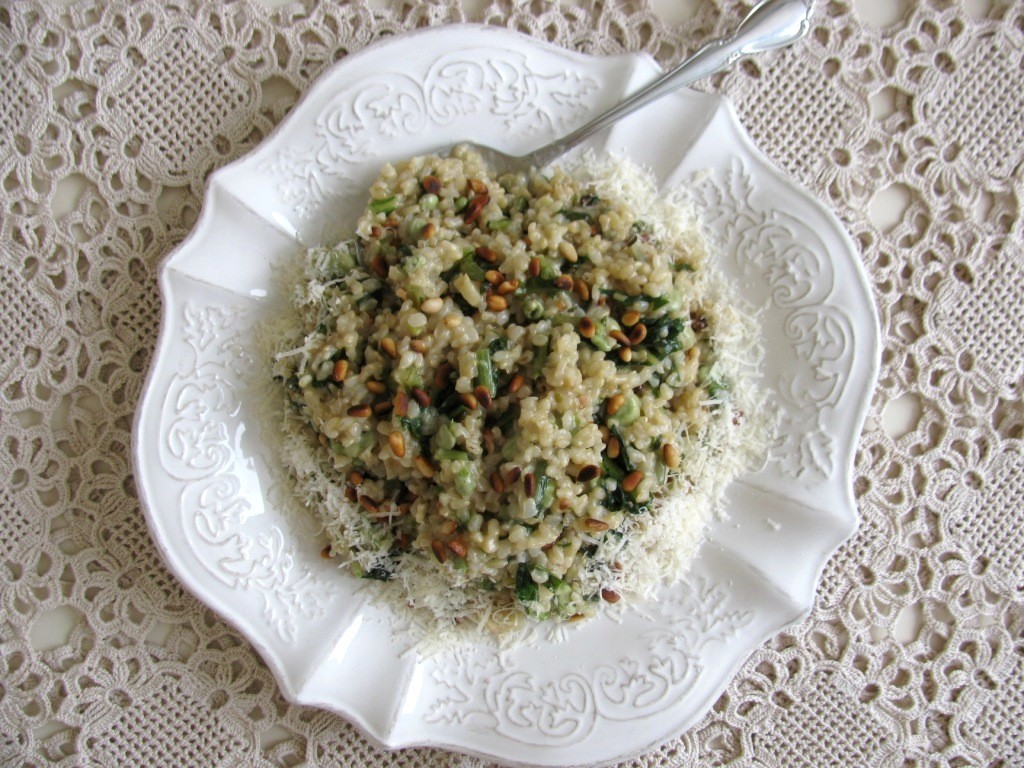 CHICORY FAVA BEAN RISOTTO
– serves 4 as appetizer or 2 as main –
Preparation time: 10 min >> Cooking time: 25-30 min (45-50)* >> Total time: 35-45 min (55-60)
Ingredients:
200g brown rice (white rice – Carnaroli or Arborio – is also fine)
water for precooking + 1-1 1/2 cups for adding while cooking risotto**
2 Tbsp olive oil
1/2 onion bulb
2 spring garlic or cloves
a piece of celery root (thumb size)
1/3 cup dry white wine
100g chicory leaves
100g fava (broad) beans (measured cleaned)
30g pine nuts
a knob of butter
30g freshly grated parmesan (Grana Padano or Parmigianno Regiano works best)
salt to taste
* cooking time will depend on the rice you choose (brown or white) – see explanation under preparation (step 1)
**If you have a vegetable stock, it would be even better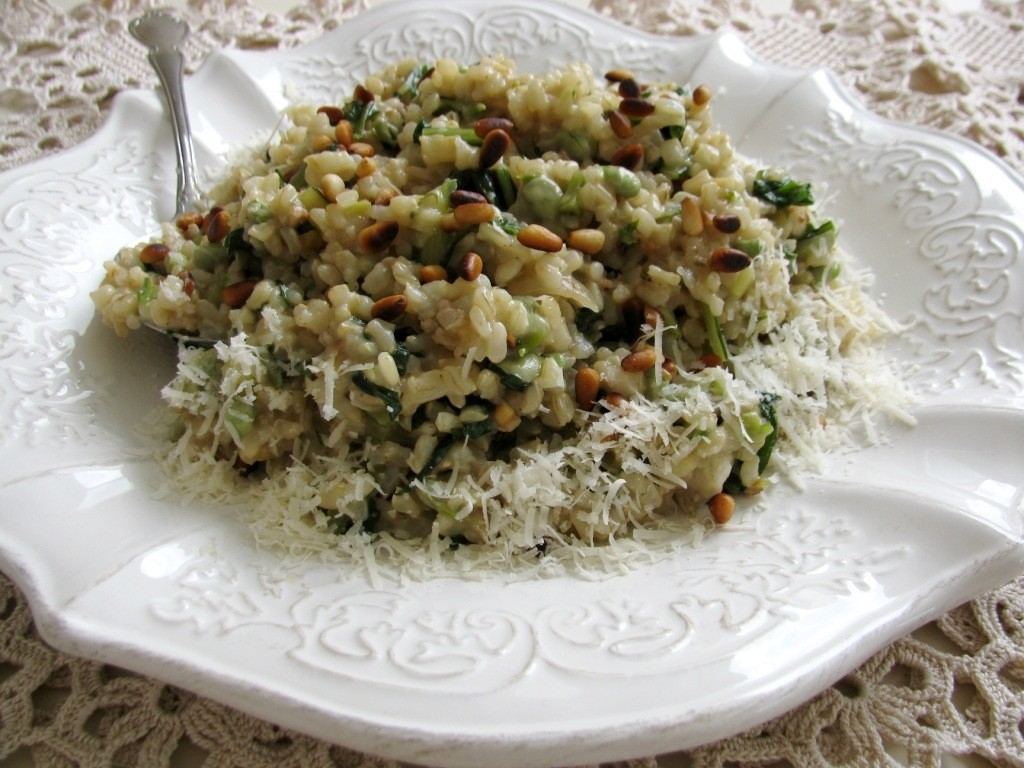 Preparation:
If you are making risotto with brown rice, start with cooking it in a salted water for about 20 min (half-way through) because most of the brown rice needs to cook longer (about 45-50 minutes). If you are using white rice, you can skip this step and add raw rice directly when the recipe calls for it.
Shell fava beans from pods, peel onion, celery root and garlic, wash and trim chicory.
Chop onion and celery finely, doing same with the garlic. Separately chop chicory in 1 inch wide strips.
Heat a heavy bottom pan with olive oil, then add onion and fry on gentle heat until it only starts turning golden brown, for about 8-10 minutes. Add celery and garlic and cook for another few minutes before you add rice.
Let rice fry a bit, but be careful it does not change its color. You just want it become translucent, then pour white wine over it, let it sizzle a bit and then start adding water (or stock) to it little by little, keeping risotto on a low heat. You want rice to absorb the liquid before adding new amounts, so it is bubbling quietly.
In the meanwhile toast your pine nuts on a pan over a low heat, for about 5-7 minutes and set aside.
After you have been cooking rice for about 15 minutes, add fava beans to it and let cook for another 5 minutes. This will largely depend on how fresh are fava beans – the younger they are (the smaller in size), less time they need. If you can get only big ones, peel the outer skin as well, which will also shorten their cooking time.
Add strips of chicory and pine nuts, stir them in few times and turn off the heat.
Add butter and 1/2 amount of the parmesan to risotto, stir and let sit for 2-3 minutes.
Serve warm with rest of the parmesan.
If now you are into more risotto, check the recipe for the prettiest ever – Beetroot risotto.