I am not sure how to start this post.
Most of you probably know about Schwa, an absolutely not typical Michelin star restaurant, which first opened its door in Chicago in 2005. If this is the first time you are hearing about it, then I have to mention that it is a place where Grant Achaz (the great Alinea chef), apparently loves to eat.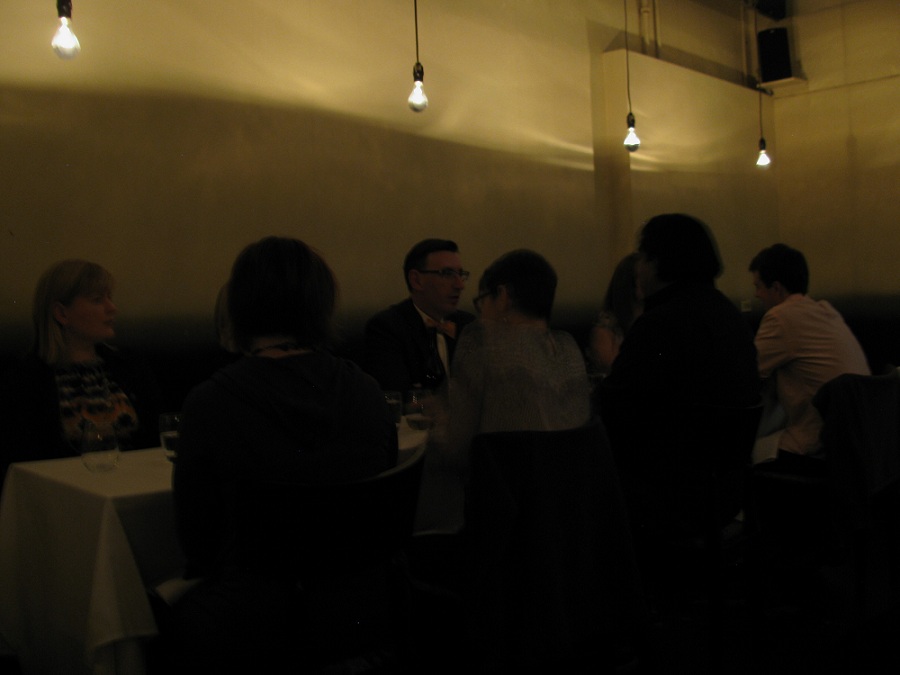 Word "schwa" actually marks the vowel ə, reflecting the approach of chef Michael Carlson towards food: "pared-down". To be honest, after everything I experienced in Schwa, I am not sure what is he trying to say, because to me nothing was "pared-down" there that evening.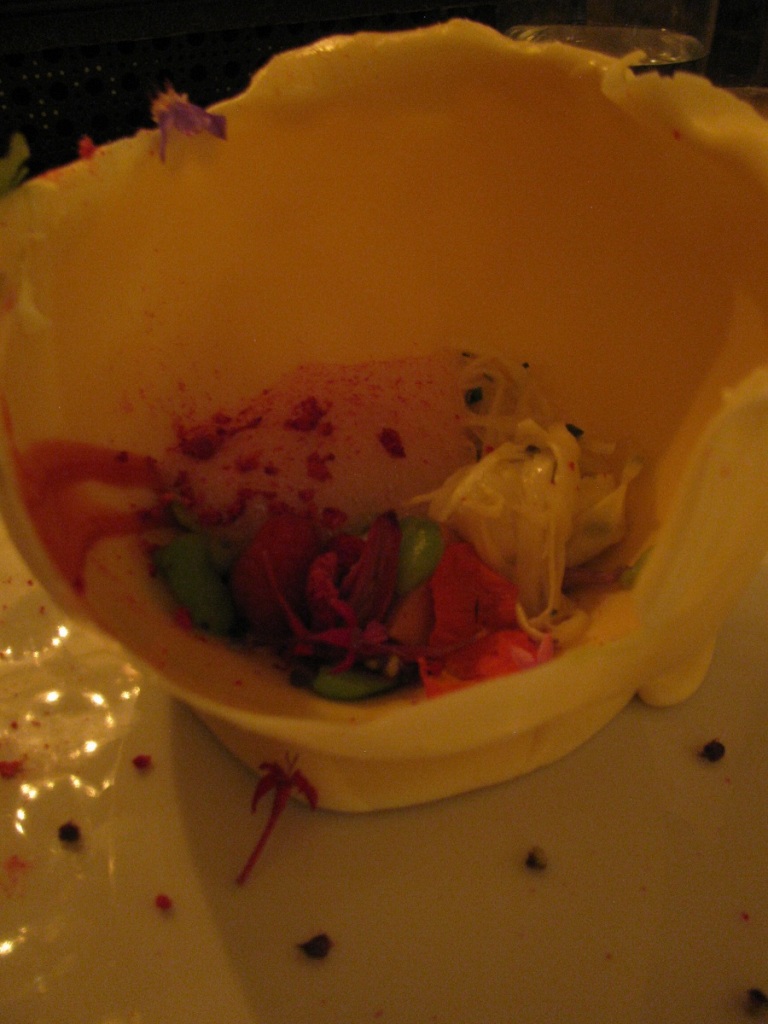 In a one-story house, in only about 800 square feet, fit the kitchen and the restaurant interior which seats 26.
There are no waiters. All work is done by those same chefs who cook and serve the plates.
In the background you can hear some techno sounds, bulbs are hanging down of the ceiling, it is dark, and guests are chatty and lively.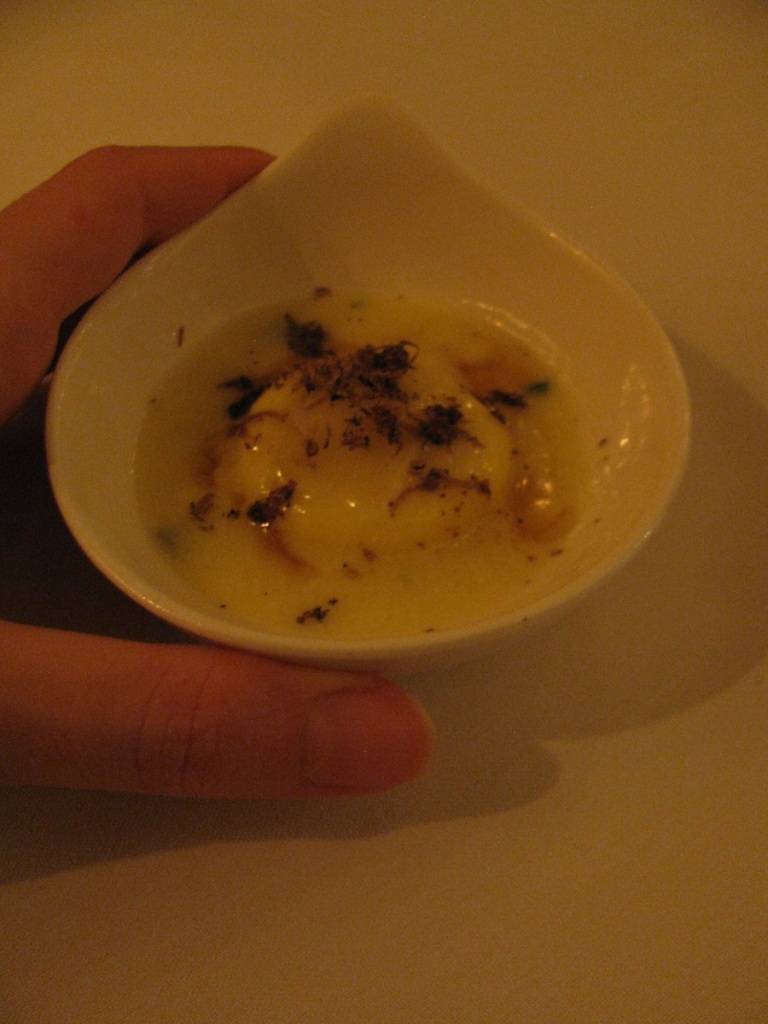 There is only one menu, and it changes seasonally. It has 9 courses, but maybe even more. I was not sure anymore which of those were amuse-bouche and which were regular ones.
I could easily finish after the seventh, but then more came, and more…food is very rich and quite heavy, so you need to be trained well to go all the way through. 😉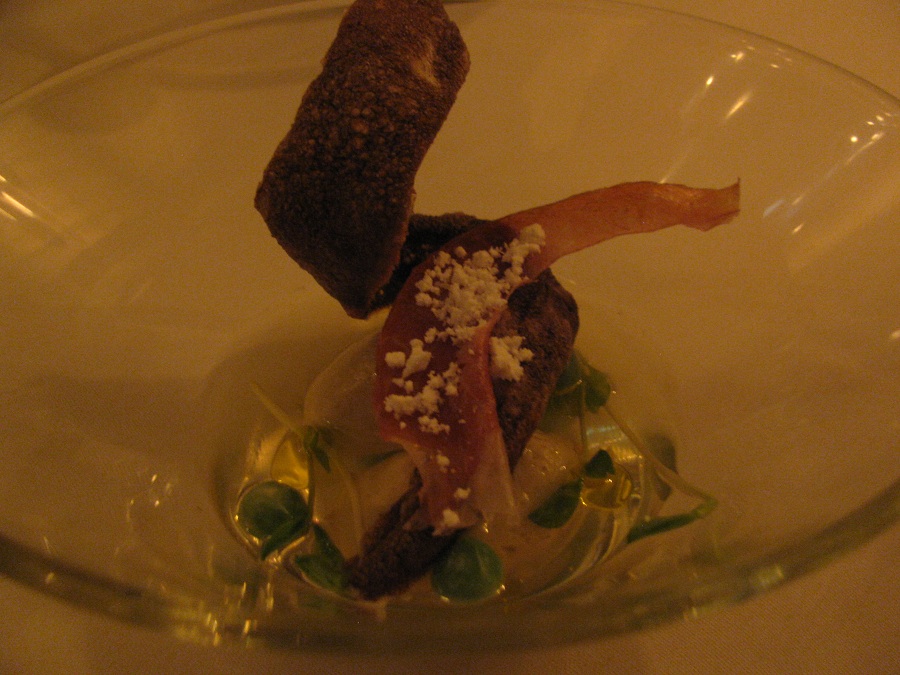 When we arrived first we got Rosewater sorbet with pickled cucumber, which was followed by the Cucumber jello, bubble juniper, and tapioca pearls in the straw. I liked it both a lot – very imaginative, playful and refreshing.
Right after it we got our (first) appetizer – a salad served in a giant white chocolate bowl (pictured above). I am looking at it and thinking. Salad. OK.
But the salad was absolutely phenomenal. Vegetables were crunchy, everything burst in flavors, and only now and then I would take a small piece of that chocolate shell just to get the whole picture of the dish and what was going on in the chef's head when he was creating it. Absolute madness!
We were still confused with everything that was going on at our table and around us. The food was coming out relatively quick, and my brain could not process all those flavors and feelings I had. I needed something salty.
Then came the Buffalo mozzarella ravioli, and the Black pepper warm ice cream dish (both pictured above). Ravioli was rich, creamy, buttery and heavy, but very tasty. The warm ice cream dish was unique – not quite describable, but I liked it.
However, at this point we already started to feel a bit full and got a bit nervous, waiting for a "regular" plate. This was the reward for our patience.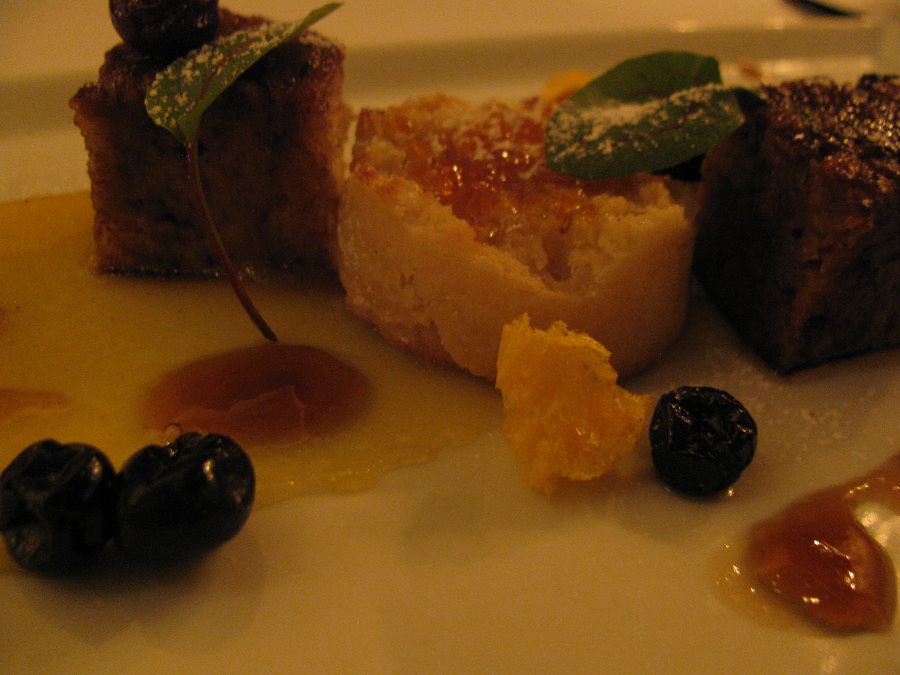 Breakfast? Are you kidding me? Can you please repeat one more time what is inside?
This was one of my favorite dishes that evening, although I thought it did not come at the right point. However, when I analyzed it all afterwards, I have realized that there was no better moment than this one to be served. Although I am not crazy about caviar, the way it was paired with those pickled, yet sweet blueberries, and the strong coffee flavor, it was an incredibly good experience.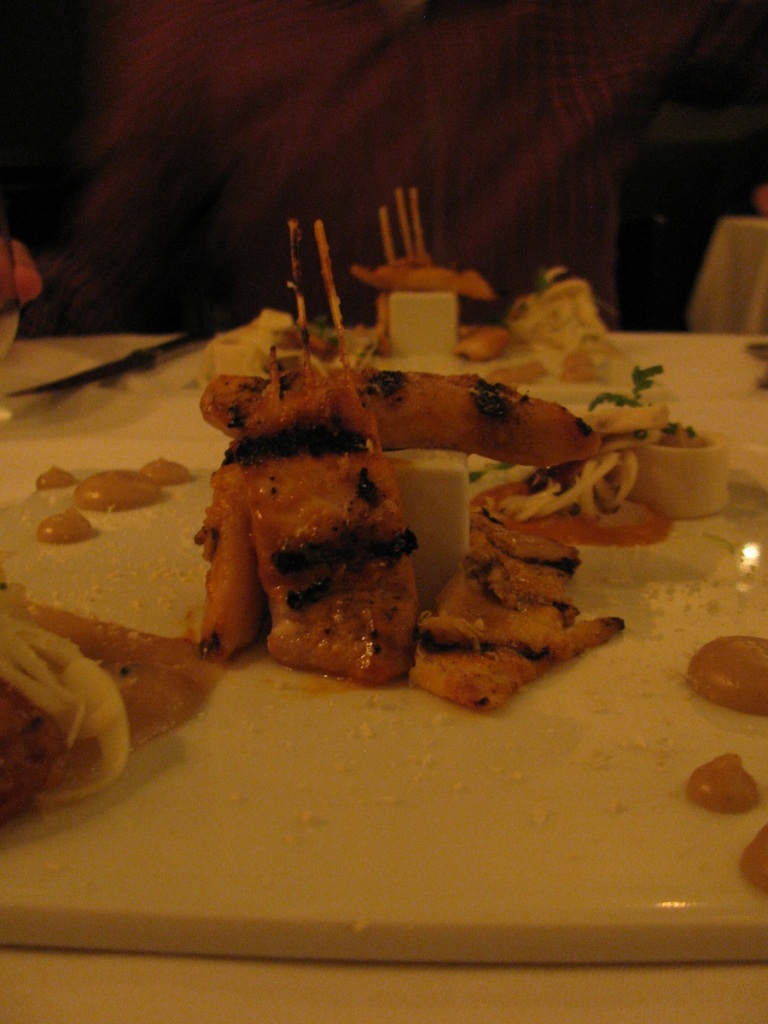 Another thing about Schwa, which I have never seen in another upscale restaurant, is that it is BYOB. Of course, things are not left to chance, but few days before coming for the dinner we spoke with the restaurant and they suggested us one red and one white which could go nicely with our menu. We picked the Zind-Humbrecht Pino gris (2010) which was very nice.
After our "breakfast", we finally got the long-awaited main course. Brian told me at least three time what was in our plates, before I finally put it on the paper.
Pacu is a big freshwater fish which lives in the rivers of Amazon, it is incredibly ugly and has large human-like teeth, which makes her look like a piranha. But on the plate, pacu fish is wonderful. It is soft, yet meaty. I suppose it does not have a distinct taste alone, but together with that smokey flavor and additions, it was one of the best grill ever.
This was followed by another "sea" course – clams, with apples, radishes, lychees, herbs, and Panna cotta. Very fresh (and pretty), tasty, but a bit too strong for my taste – probably just because I am not crazy about clams. My husband really loved this one.
I though we were going towards dessert, and then came this.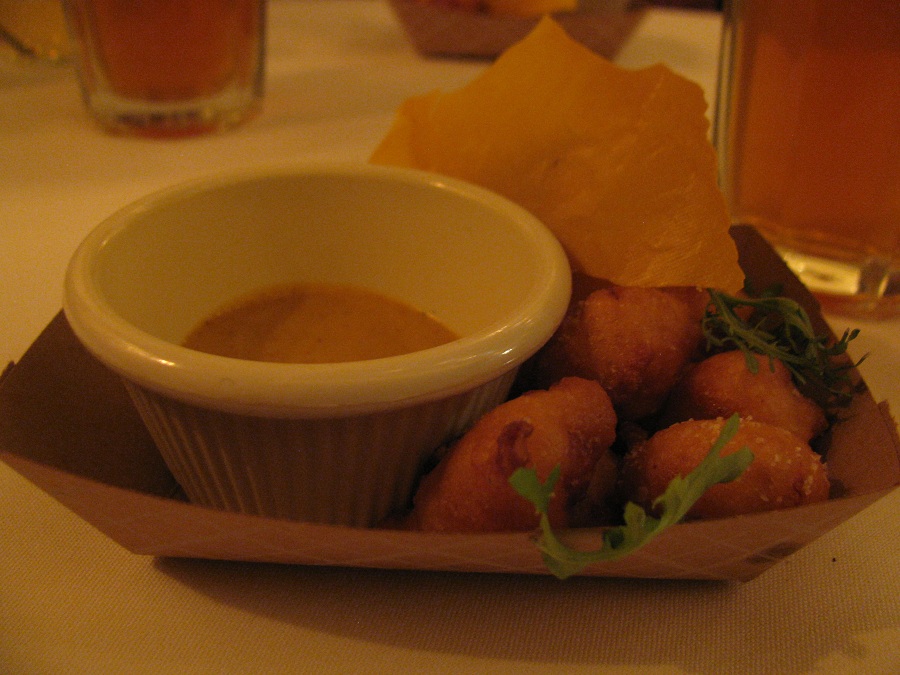 Sweet bread. I was not sure how I will like it, after eating it last time in a restaurant (see post on Restaurant "One"), but this…this was an absolute hit! Strong flavor of sweet bread diminished in a rich soft corn batter, and paired with all-mustard "sides" is was the best "snack' I had in my life
To help us with all of this, Brian brought us his favorite Zombie beer. And a Fernet liquer. We needed it. Badly. 😉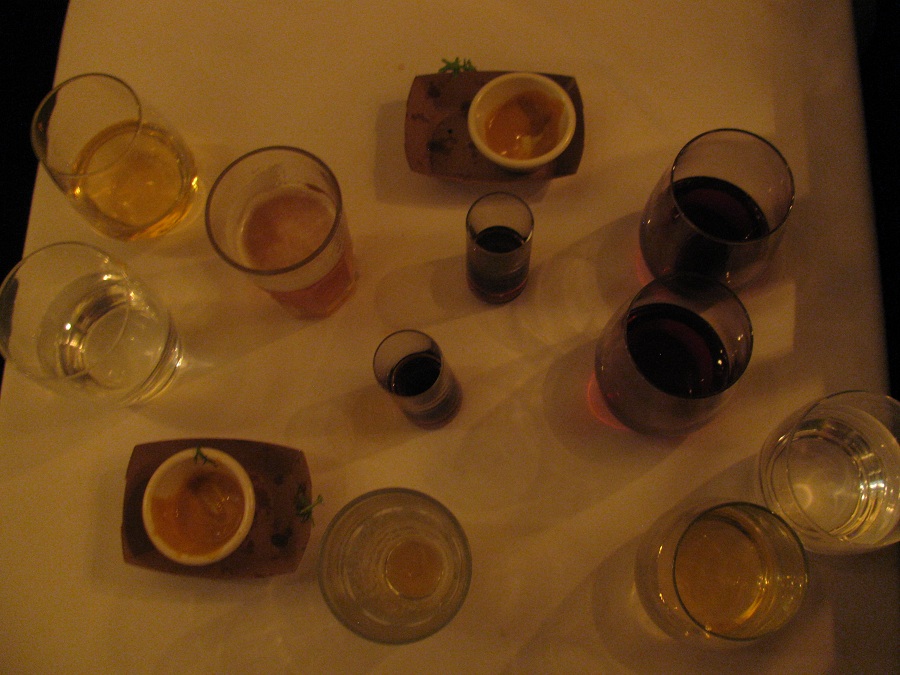 That was it. I was defeated. I could not open my mouth any more. I could not get up from the chair. I even did not want to eat a dessert.
And then another main course came. Not joking.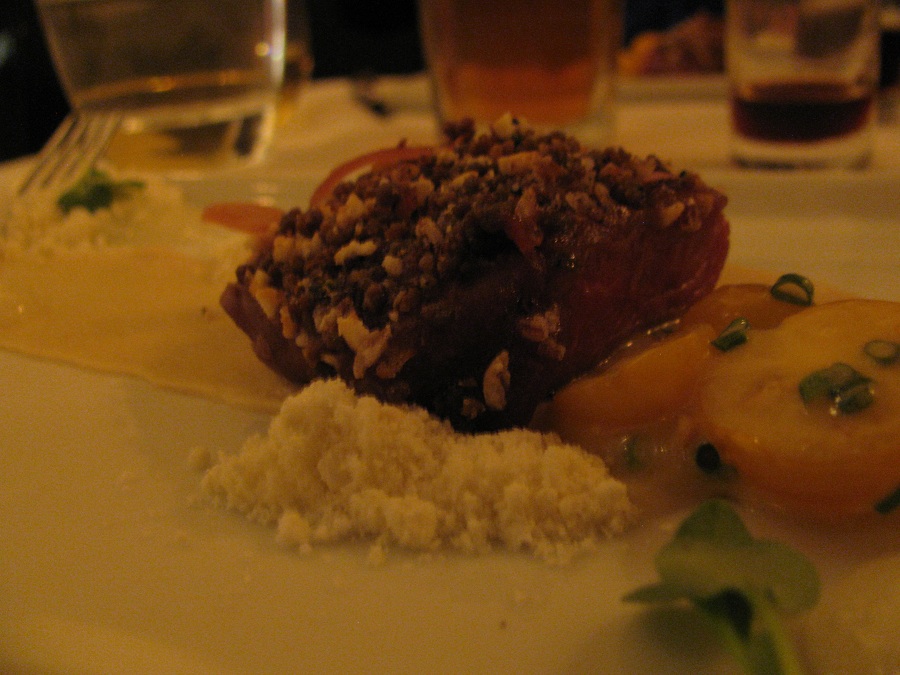 I love lamb, so I had to try this one. There is no much to say about it. This was perfect. Visually one of the simplest courses, but so good in every sense.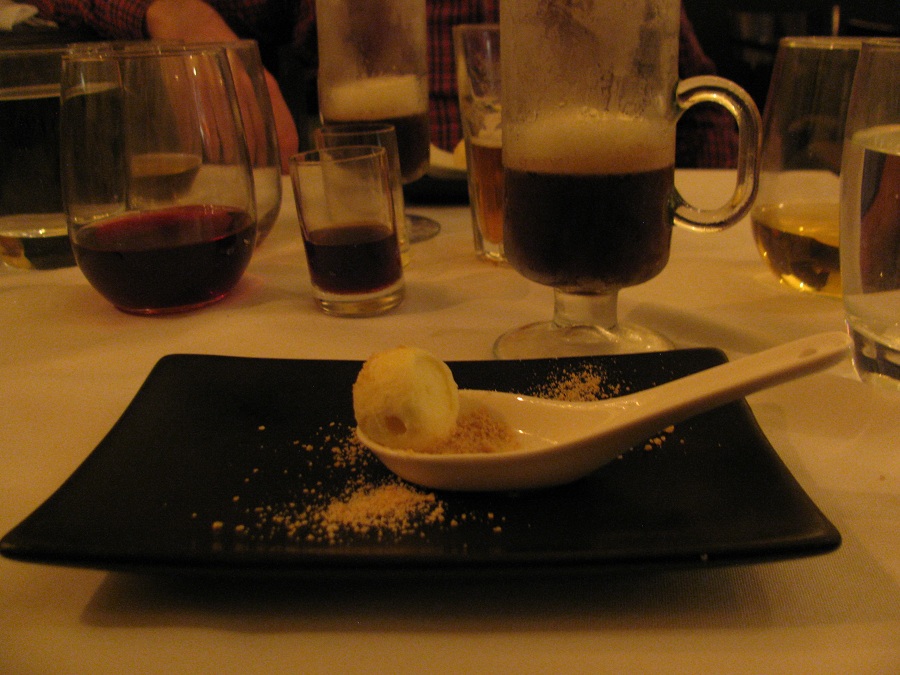 And then, at the end, came the Root beer float. In a way I was expecting something more special and complex, but this dessert course however managed to round up this spectacularly crazy gastronomic experience really nicely.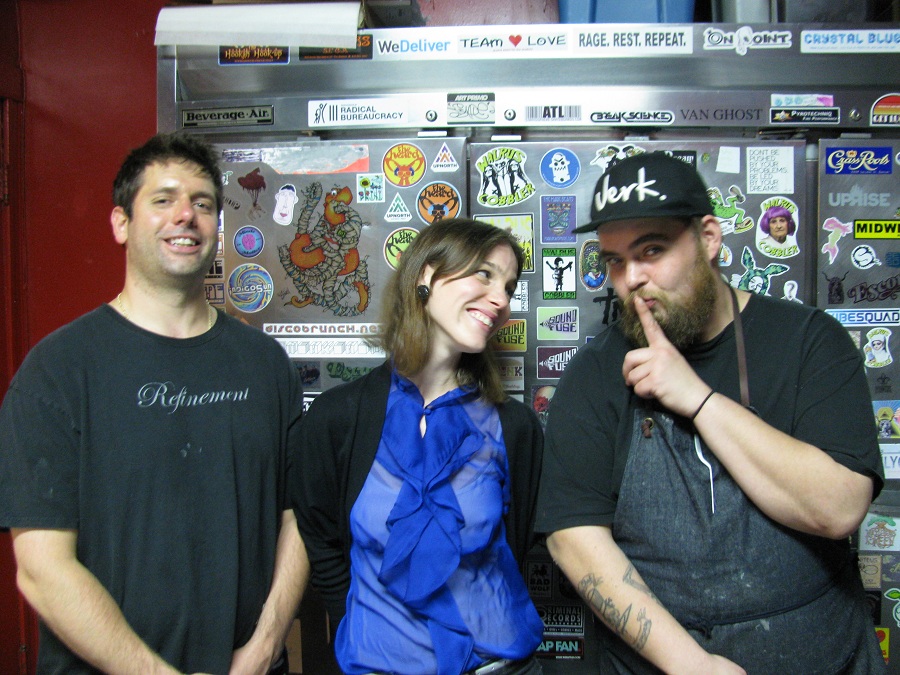 A visit to Schwa was much more than a dinner. It was one of the best nights ever, and I am not talking only about restaurants. Schwa is something that remains for your life.
Schwa
1466 N. Ashland Ave.
Chicago, IL 60622
(001) 773.252.1466
www.schwarestaurant.com