It's not London, or NY, nor Italy or France…it can't always be. 🙂 This time we made a short break from our everyday routine in Cologne, Germany. It's not that it was on my TOP 10 list of places to visit, but its relative vicinity, direct flight and cheap tickets, and a wish to see "something different" has brought us here.
I thought we were going to a smaller German town famous for its magnificent Cathedral.
It turned out I had no idea about it. First I realized that Cologne it one of the oldest German cities (from 1. century n.E.), and that it is the fourth largest German city with its population of little bit over 1 million. And as such, it has something to offer – historically, culturally, entertainingly, gastronomically. So, let's start…
Cologne's Cathedral (Dom zu Köln) is grandiose and you must visit it. This building was built for more than 600 years. Although work on it stopped in 1560, they were continued in 1842 and 38 years later Cathedral was built. In the late 19th century it was the tallest building in the world. Besides, Cathedral is one of those rare historic building sin Cologne, because city was devastated during II World War (1942-1945). In 1945 Cologne had only 20 000 inhabitants, compared to 800 000 (!) which lived there in 1942.
Cathedral was rebuilt in 1956 and in 1996 it got on the UNESCO's world heritage list.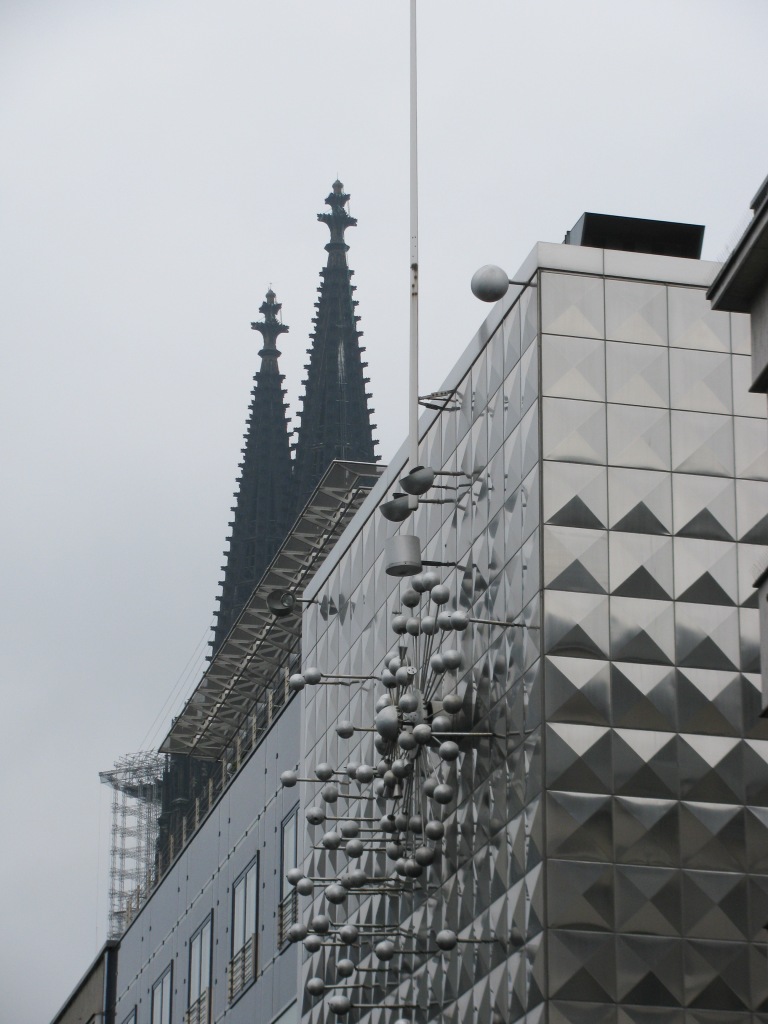 In its vicinity there are luxury hotels and another historically-cultural attraction: Roman-German Museum. For those who like, they can spend an entire day here, but we didn't have much time and we were very hungry so we went on the other side just below the Cathedral, in the liveliest brewery/beer garden in town – Gaffel am Dom. It can take up to 2000 people on 3 floors. Despite its touristic position, the atmosphere is superb and food and beer as well! It is interesting that everywhere in Cologne beer is drunk from little 200ml glasses, which perfectly sued my  needs. Regarding food, it offers a lot of meat and potatoes, typical for German gastronomy but there are also some typical  dishes such as "Himmel un Ääd" (in translation "Heaven and earth") – fried blood sausage with mashed potatoes and apple compote, served with fried onions, or "Crispy pork knuckle" (pictured below).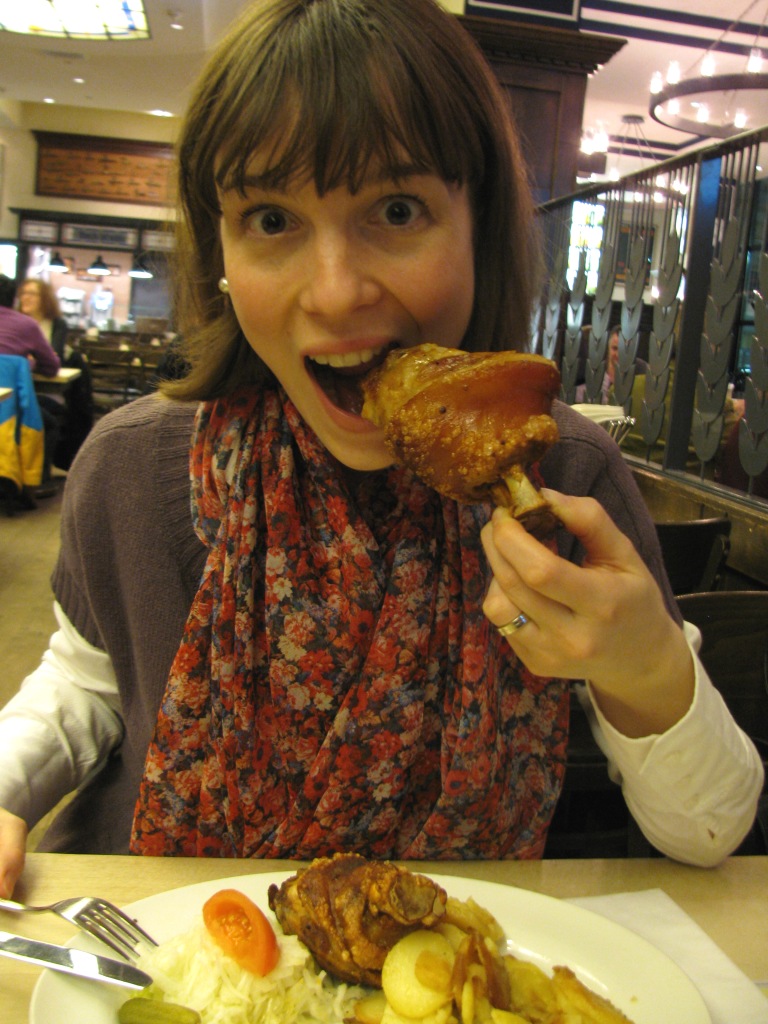 Cologne has many restaurants serving Middle-Eastern food, but you can also find Argentinian steak houses, nice tapas bars, Indian cuisine, fine restaurant…although, everywhere you look around you can't get away from a typical German fast food – sausages and french fries, and large patisseries filled up to top with chocolate figures and doughnuts…rest of the city's culinary scene is pretty good, so if you are not very hungry, skip the fast food. 😉
I have to admit there are many very nice and trendy places, especially in so-called Belgian quarter and around Rudolphplatz (Aachener Street). We liked Salon Schmitz – a place split in two parts – restaurant and night bar. you can sit where you like it more and order food and drinks from either the "Metzgerei" or the "Salon". Besides that, do not forget that Cologne has seven Michelin stars stared restaurants, and many other cute places to eat, so it is really hard to have a bad meal in this town.
I was surprised that we haven't ran into many Chinese and Japanese restaurants, nor fast foods, because I am used to see them in all western European cities. It looks that in the structure of Cologne's immigration  there is a domination of Middle east. In the western part of the city there is a Turkish neighborhood, packed with restaurants and sweet shops, so local people even call it "Small Istanbul". Unfortunately we didn't make it there because we had only 1,5 days in Cologne and on that day, metro workers were under strike.However, walk took us to another neighbourhood in the center of the city, with  many Moroccan, Iranian (Persian), Lebanese restaurants and shops (Hohenstaufennring – Jahnstrasse). Of course I couldn't resist to buy something Persian – who wouldn't take Persian cookies with pistachios, almonds and saffron as a souvenir from Cologne!? 😉
So, let's get back to sightseeing. A walk through the old town and city center is very easy and practical to spend few hours, since everything is so close. Walk down the Breite strasse (Wide street) and Hohe strasse (High street) for a shopping, and you can stop by the House 4711 in which famous "cologne water"  – Eau de Cologne – was invented.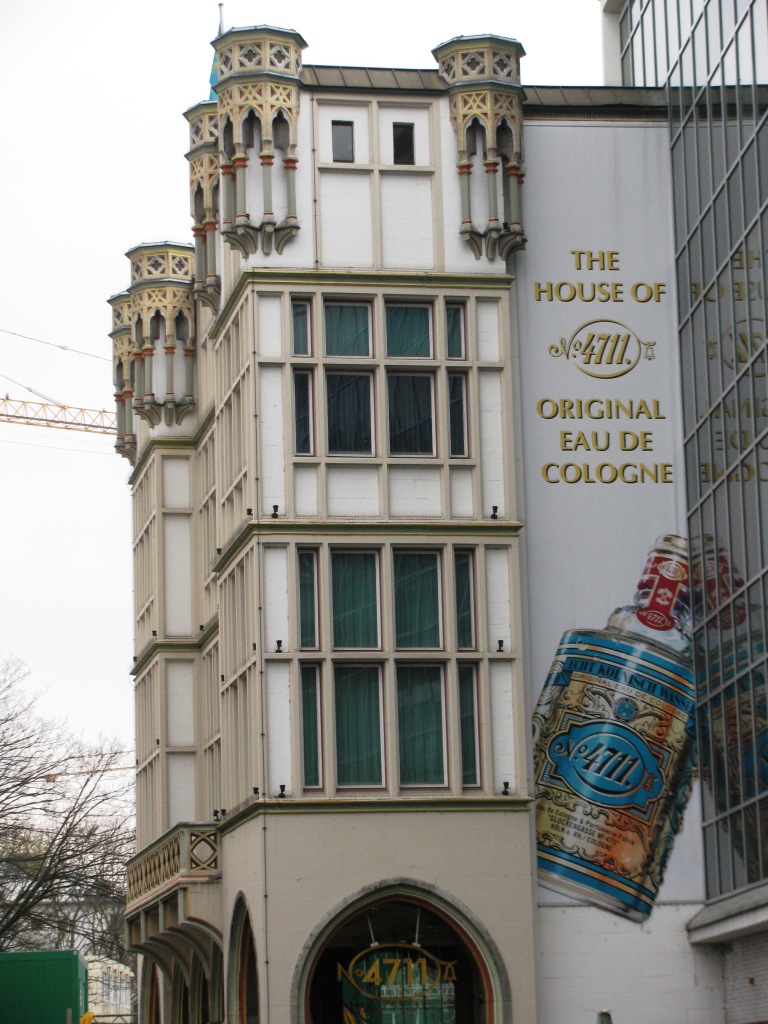 The Story says that in 1792 a merchant named W. Muelhens received a secret formula for miracle water. soon after he started producing it in this house as a vitalizing liquid which can be consumed as a drink or mixed with white wine. However, few years later, Cologne falls under French and Muelhens refuses to share its recipe so he says it is a perfume which Napoleon and french soldiers start to use in their hygiene…Regarding the name of the house, it was given by French when they changed names of all street sin cologne. Muelhens branded number 4711 which became very popular during 1950-1960's.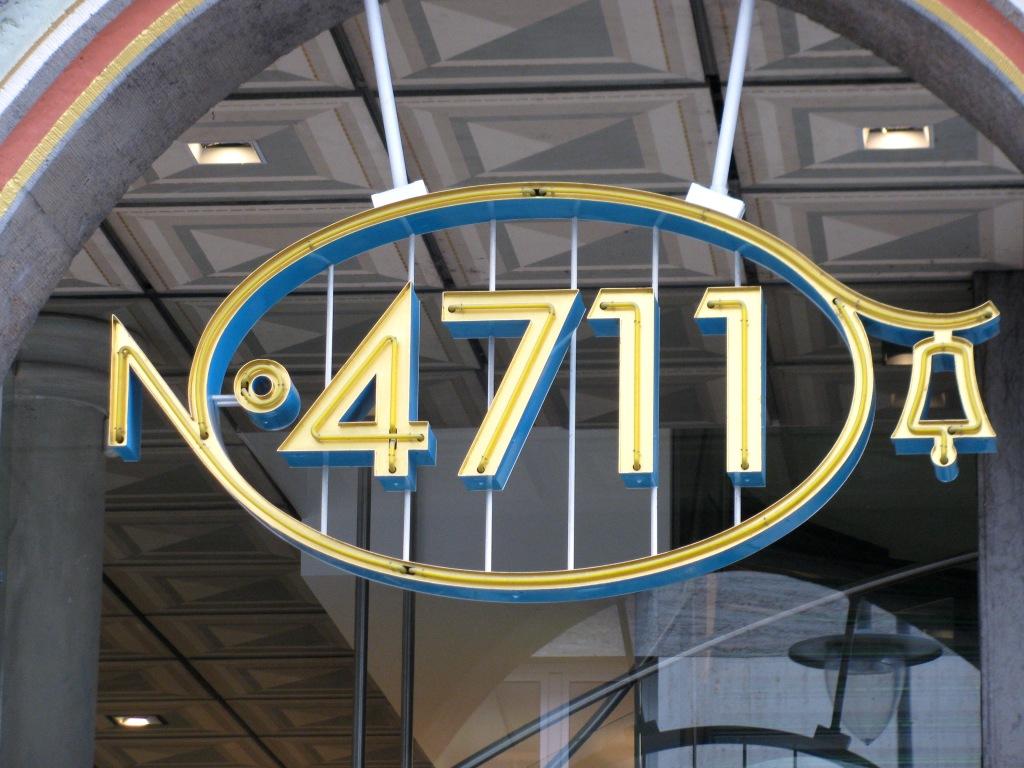 I also have to mention one more thing. Cologne has two culinary museums – Chocolate museum  and Mustard Museum. Both of them are situated by the river Rhine,  very close one to another (Holzmarkt street). We didn't spend much time there, but wanted to see the Mustard shop, and bought one with Riesling. The offer is wide, and beside mustard with beer, honey and spices, shop offers fruit spreads and jams which you can serve with mature cheese… All in all, you have a lot to do in this city.
But we are not even close to the end…our culinary adventure only starts – read about it in the next post! 😉