It is pretty awesome that I can do a giveaway with a help of Threadless and that two of you lucky readers of culinary postcards will get one of their great t-shirts!!!
I myself have few of them in my closet, and most of them are food-themed (the one on the post cover being one of them 😀
I simply love their style, their smart and funny messages, and their comfort. I am sure you will love it too!
Here are the models which we have selected for you. I know you will want to have both 😉
1. TOAST (Design by Vo Maria)
… to get you ready for the summer! 😉
This shirt uses UV ink, which magically appears in direct sunlight! So some parts of the design may not be visible indoors.
2. COFFEE THAT'S ALWAYS LATTE (Design by Lim Heng Swee)
…for those of you who just can't make it on time…or simply love Latte 😉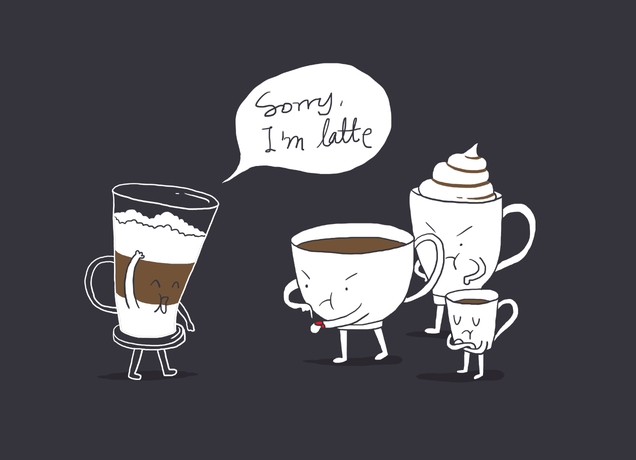 HOW TO ENTER THE GIVEAWAY
To enter this giveaway, you must let me know which model (mens or womens), which design (1 or 2)*, and which t-shirt size (S, M, L, XL or 2 XL) you want, by either:
a) leaving a comment under this post, or
b) leaving a comment under the Giveaway post on my Facebook page and sharing it on your timeline (with Public visibility).
…AND INCREASE YOUR CHANCES TO WIN 
If you enter your comments both here and on FB page, you can not enter the giveaway twice. However, if you want to increase your chances to win one of these t-shirts, you can do it by subscribing to culinary postcards. Only by doing that, you will enter the giveaway with two "passes", meaning you will enter the drum two times.
Giveaway ends on Saturday, January 24th, at midnight CST (i.e. Sunday, January 25th at 7:00 AM, UTC+1)
Winners will be randomly selected via the random number generator software program and will be announced here and on my Facebook page on Sunday, January 25th (there will be two entries lists – one for each model of t-shirt). Winners will be contacted to provide their contact information immediately. They must respond within 3 days or the prize will be forfeited and a new winner will be chosen.
* culinary postcards deserve the right to change the model in the case these get sold out before the end of the giveaway (in which case Threadless can not provide them until the new reprint)
—————————————————————————————————————————————————————————–
Disclaimer: culinary postcards assume no responsibility for fragmentary, late or misdirected entries due to SPAM, technological, or e-mail filtering issues or for prizes lost in transit. The use of any system, robot, agent, or software to automatically submit entries in connection with this Giveaway is prohibited.